Forget the Cold War: Millennials in U.S. and Russia embrace exchange programs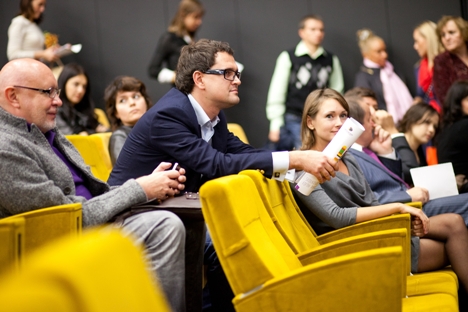 Skolkovo Moscow School of Management. Source: Skolkovo / Press Photo
In an era of globalization, educational exchanges between the U.S. and Russia are leading to new opportunities to work together and patch over Cold War tensions.
In an exclusive interview with Russia Direct, the President of the American Councils for International Education, Dr. Dan E. Davidson, discusses new models of U.S.-Russia educational exchange and accounts for the growing interest in Russia among American students.
Russia Direct: In what way does the current generation of Americans coming to Russia differ from the previous one?
Dr. Dan E. Davidson. Source: Russia Direct
Dan Davidson: The main observation I have made over the years is that students and young people are generally becoming more "global" in their orientation. They are more oriented toward the 21st century view of the world economy, than many of those who teach them or advise them at home.
Institutions, and educational institutions in particular, are conservative structures, slower to change than many of those they teach, who already think very globally. Some call this generation "Millennials" - they are more mobile, more socially oriented, and more global in their view of the world, than many who have gone before.
American schools from the time of George Washington until about the 1970s, – 200 hundred years! – defined language training as learning either German, French, Spanish, or Latin. That was an education. And it wasn't until the first Sputnik (satellite) went up that one additional language was added to that list – and it was Russian. Today about 50,000 Americans study Russian at about 750 schools and universities all across the U.S.
RD: Can you elaborate on any new format of educational exchange that involves Russia?
D.D.: Sure. The U.S.-Russia Innovation Corridor is another example of more involvement of Russia's universities and regional governments in U.S. educational and scientific exchange.
The Corridor projects grew from Project "EURECA", a pilot program funded by the U.S.-Russia Foundation, designed to engage Russian and American research universities in a new way, not merely through student and faculty mobility, but through longer-term engagement in research projects capable of helping regional economic developments, both in Russia and in the U.S.
The project takes advantage of recent changes that have taken place as a result of Russia's entrance into the WTO and passage of Federal Law 217 in 2009, providing recognition and protection of intellectual property produced at research universities. The new law opens up new pathways of cooperation for U.S. and Russian research universities.
What common challenges should Russia and the U.S. tackle just to improve the situation in U.S.-Russia educational exchange? How can the EURECA project and other educational programs overcome the Cold War legacy between the countries? What are the prospects of the Russian-American relations? Find the answers on these questions in the full version of the interview at Russia Direct.
All rights reserved by Rossiyskaya Gazeta.