US, EU free trade zone to rival Chinese expansion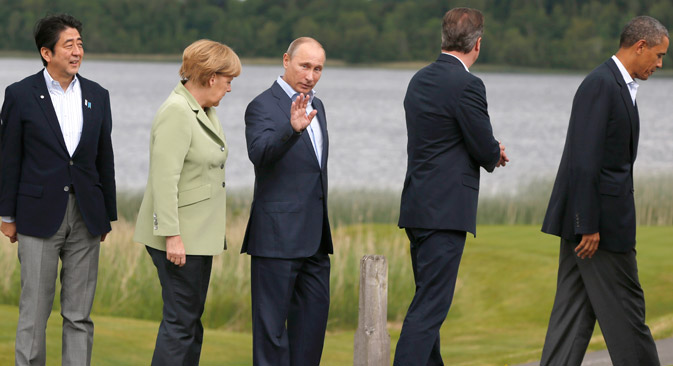 G-8 leaders (L-R), Japan's Prime Minister Shinzo Abe, German Chancellor Angela Merkel, Russian President Vladimir Putin, British Prime Minister David Cameron and US President Barack Obama in Northern Ireland, on June 18. Source: AP
Western leaders may be forced to reach an agreement as Beijing calls for free trade zones in Asia.
Washington and Brussels have been discussing ways to create free trade zones. Observers note that the U.S., along with Western Europe, is trying to form a union that is not only economic but also political in essence, in order to protect itself from the expansion of China.
Experts interviewed by the newspaper Vzglyad think that much depends on whether or not Beijing will come to an agreement with its neighbors.
As early as February of this year, U.S. President Barack Obama, made an announcement about two massive international trade projects in his State of the Union Address — the Trans-Pacific and Trans-Atlantic.
The most ambitious of these may become the Transatlantic Partnership. It bears mentioning that German Chancellor Angela Merkel first put forward this idea. In spring 2007, Berlin introduced a package of proposals for the harmonization of EU and U.S. legislation in economics and trade spheres.
However, the U.S. considered itself a world leader without need of allies during the Bush years, and it took six years for Washington to "ripen" to the ideas proposed by Merkel.
Observers note that, if negotiations with the 27 states making up the EU are successful, the U.S., like Western Europe, can safeguard itself against Chinese expansion in world trade. It is true that talks will not be easy, and it is doubtful an agreement with the EU will be achieved quickly.
Fyodor Lukyanov, the editor-in-chief of the Russia in Global Politics journal and chairman of the Presidium of the Council on Foreign and Defense Policy, explains that the U.S. initiated the creation of the "Trans-Atlantic Trade Investment Partnership" because its influence in the world is noticeably weakening.
In the opinion of the expert, the new union will also affect NAFTA members Mexico and Canada. If this move is successful, it will be a force capable of imposing its rules on other members of the world economy — China in particular. "In the West, they are very concerned about the transfer of production capabilities to Asia. The restoration of jobs is important to them," says Lukyanov.
Researchers, however, agree that the partnership is dictated not by economic stimuli alone. "Before all else, the creation of a partnership is an attempt by the West and the U.S. to return to their former leading positions," Lukyanov says. "The developing nations of Southeast Asia — especially China — are seen as opponents."
However, some experts are doubtful that partnership between the EU and U.S. will bring economic benefits. As Dmitry Abzalov, political scientist and vice president of the Center for Strategic Communications, reminds us: "The U.S. and EU compete not only with China but also, to a large degree, with each other in a significant number of spheres, including electro energetics, machine-building, light manufacturing and certain areas of agriculture."
According to the political scientist, free trade mechanisms work weakly. In crisis conditions, all countries can implement certain barriers against competitors. Laying jobs at the altar of some sort of integration will stand in neither Washington nor Brussels.
Most experts believe that, if a free trade zone does in fact come about, things will only be equal on paper. "Europe will have to comply. The issue of industrialization in conditions of the existence of an America with cheap energy will be solved on its own. The base of production will become concentrated in America," says Lukyanov. "And when only the service sector develops, nothing will remain for Europe but to retrain for the service economy."
Aleksei Maslov, the dead of the Department of Eastern Studies at the National Research University Higher School of Economics, has no doubts that the initiative by Washington and Brussels was a mirror reaction to China's analogous call to its neighbors in Asia. He notes that Beijing has been calling for the creation of several free trade zones over the past four years — especially with the countries of Southeast Asia (SEA).
"Today, the SEA countries are collectively one of China's largest trading partners. If all trade barriers are removed and special conditions are created for trade, then it will become one of the largest trade regions," Maslov told Vzglyad.
The realization of another one of China's propositions would be the most dangerous for the United States: the creation of a China-Korea-Japan trade axis. Beijing has also repeatedly offered removing trade barriers to the republics of Central Asia.
Maslov believes that Washington is forced to take action in such a situation: If one of these projects is carried out successfully, a large-scale free trade zone will be created that severely weakens U.S. influence in these regions.
First published in Russian in Vzglyad.
All rights reserved by Rossiyskaya Gazeta.