Trade war brewing between Russia and Belarus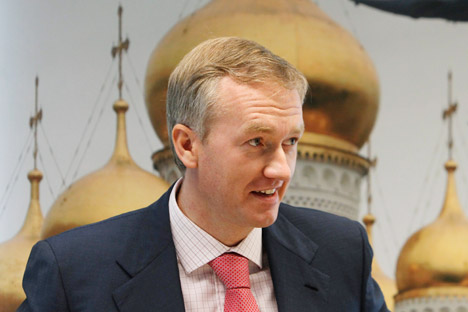 Uralkali CEO Vladislav Baumgertner had been detained for two months and charged with abuse of power and authority - an offense punishable by 3-10 years in jail under Belarusian law. Source: Reuters / Vostock Photo
Experts believe Moscow will continue punishing Minsk to avenge the arrest of Uralkali's CEO.
Russia's reaction to the arrest in Minsk of Uralkali CEO Vladislav Baumgertner has followed the traditional pattern. Rospotrebnadzor has called Belarusian products (especially dairy) unsafe, and Transneft is warning of oil supply cuts, citing the need to repair the Druzhba pipeline. Experts believe Moscow has yet to engage its "heavy artillery" in this developing conflict.
Rospotrebnadzor — Russia's consumer protection agency — is unhappy with the quality of the dairy products imported from Belarus. "Dairy products manufactured in the Republic of Belarus raise particular concerns," a Rospotrebnadzor statement claimed on Wednesday, Aug. 28.
According to political observers, Rospotrebnadzor's claims are a totally predictable response by Russia to the arrest of Uralkali CEO Vladislav Baumgertner by Belarusian law enforcement.
"This was to be expected," Alexei Makarkin, senior vice president of the Center for Political Technologies, said. "Rospotrebnadzor is a powerful weapon for Russia, both within the WTO [when conflicts arise with Ukraine] and within the Customs Union [for use against Belarus]."
News of the arrest of the Uralkali CEO broke on Monday, Aug. 26. He was detained by Belarusian law enforcement as he prepared to board a flight from Minsk, after negotiations there with the prime minister of Belarus, Mikhail Myasnikovich; Baumgertner had come to the country on the prime minister's invitation in the first place.
It was initially reported that Baumgertner had been detained for two months and charged with abuse of power and authority — an offense punishable by 3–10 years in jail under Belarusian law.
On Wednesday, however, when Russian lawyers and the detainee's mother attempted to bring the basic necessities to him at the pre-trial jail, they were only able to hand over toothpaste and a brush. The officer on duty said the rest was "not allowed," because the head of Uralkali had not been arrested but detained for 72 hours.
Pavel Traulko, an official spokesman for the Belarus Investigative Committee, announced that Baumgertner's status was that of an accused person subject to detainment.
According to Andrei Dmitryev, deputy head of the Belarusian civil campaign and pseudo political party Tell the Truth, the Belarusian authorities — primarily Alexander Lukashenko—are using Baumgertner's arrest to provoke Russia and pursue a number of their own objectives.
"First of all: to demonstrate that it's Lukashenko rather than Putin who has the final say on the terms of post-Soviet integration," said Dmitryev. "Secondly: to show that the Belarusian president is capable of standing up to the Kremlin. The former is intended for external consumption and the latter for his domestic target audience." Dmitryev believes that Lukashenko is confident Putin will be the first to blink.
Moscow's response has not been confined to pressure exerted by Rospotrebnadzor. Transneft said on Wednesday that it was planning to cut oil supplies to Belarus by 400,000 metric tons.
Quarterly deliveries of 5.7 million tons are scheduled for this year. Nonetheless, some sections of the Druzhba pipeline linking Russia to the neighboring country are in need of repairs, according to Mikhail Barkov, vice president of Transneft.
"Without a doubt, the reduction in supplies also has to do with Baumgertner's arrest," said Konstantin Simonov, head of the National Energy Security Fund. "The arrest of Uralkali's CEO came as a shock to the Russian government; for all practical purposes, it's a personal challenge to Vladimir Putin."
The Kremlin is now going through its deck of aces. As usual, Rospotrebnadzor is there to fire the opening shot, followed by energy pressure — another favorite tool in Moscow's arsenal.
According to Simonov, though, the "heavy artillery" has yet to be brought in. The NESF head believes that, down the road, oil supplies will be reduced even more.
"What is more, Russia might abandon the project for building a nuclear power plant in Belarus [contracted by Rosatom]," said Simonov. "In fact, Russia doesn't even need this power plant, which will become a direct competitor to the nuclear plant that Rosatom is building in the Kaliningrad region."
First published in Russian in Gazeta.ru.
All rights reserved by Rossiyskaya Gazeta.