Snowden waiting for public excitement to die down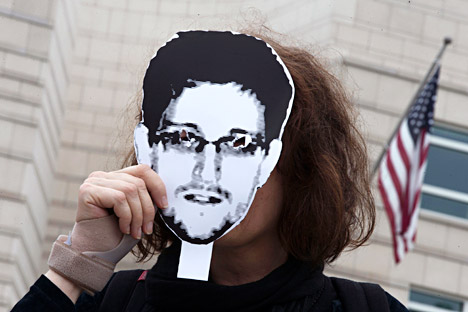 According to his lawyer, Snowden realizes that he is still in danger and has to take certain precautions. Source: Reuters
The former CIA operative Edward Snowden is low on money and still fears American secret services.
Edward Snowden is gradually recovering from three weeks of living in an airport and adjusting to Russian realities. In fact, Snowden has already learned several Russian words, says his Russian lawyer, Anatoly Kucherena.
"Now everything is going great. He is slowly recovering. There is no psychologist attending him. It's enough for him to just be in normal conditions," said Kucherena in an interview with Moskovsky Komsomolets.
Snowden keeps in touch with his relatives, travels, is getting to know Russian and is interested in many things, including world news. According to Kucherena, Snowden realizes that he is still in danger and has to take certain precautions. "The conditions he is living in now are acceptable in terms of everyday needs and acceptable in terms of his safety," said the lawyer.
The fugitive whistle-blower does not have any specific plans for the future yet. He is receiving many job offers, but he has not decided on any of them. "While he is considering these offers, we will arrange for a meeting with his father, and things should become more concrete after this meeting," Kucherena said.
The lawyer revealed that Snowden has "very little money." Thus, the attorney is now trying to arrange for money to be transferred to Snowden from funds that previously collected donations for the whistle-blower.
Meanwhile, Snowden continues to study Russian culture. He is reading books that his lawyer brought to him in the airport—first of all, "Crime and Punishment" by Fyodor Dostoyevsky.
"I am going to bring him a number of other books: a selection of Russian classic literature in the English language. I want to bring him some books by Tolstoy — at least, he asked for those — and a number of other books related to our customs and traditions. He is very interested in that area," said Kucherena.
The former CIA contract employee is also working his way through the Russian language. He is studying the Cyrillic alphabet and can already can say some words — for example, "tyazhko, tyazhko" ("it's difficult"), or "stakan" ("glass"). Of course, if he stays in Russia for long, he will have to study the language in earnest.
From Kucherena's story, it seems that Snowden is tired of the publicity and is keeping a low profile now. He is living a modest life and waiting for the public excitement to die down, so that he can live a quiet life in Russia or elsewhere afterwards.
Based on materials from Moskovsky Komsomolets.
All rights reserved by Rossiyskaya Gazeta.