G20 leaders find common enemy in offshore havens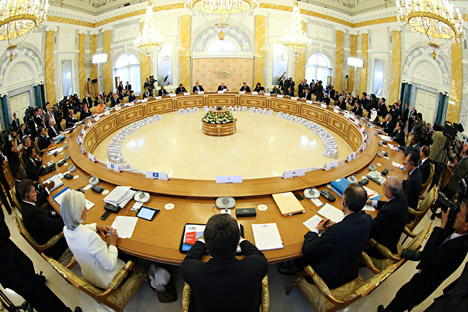 G20 countries made progress on tightening up cooperation on tax enforcement across borders, but big differences persisted between developed and developing countries over national debt levels. Source: Reuters
G20 leaders failed to find common ground on the Syrian crisis in St. Petersburg last week, and made little progress resolving differences over national debt levels. Yet member countries did find one common enemy – offshore havens.
The G20 summit is not typically a war conference. It is, in fact, usually about finance. So while the unresolved crisis in Syria overshadowed all other business at the St. Petersburg conference last week, many observers watched closely for the G20 to carry out its core function as a staging ground for concerted action on the international financial system.
Indeed, in recent years, the group has played a vital role in calming the waters during the worst of the financial crisis. So, Syria aside, how did it do this time? In short, the scorecard was mixed.
Member countries made progress on tightening up cooperation on tax enforcement across borders, but big differences persisted between developed and developing countries over national debt levels.
"One of the key items on this summit's agenda was structural reform," explained Evsey Gurvich of the Group of 20 Expert Council. "These are reforms aimed at improving the efficiency of the economy and the investment climate. Each country adopted an individualized plan for doing this, including plans for lowering the tax burden on entrepreneurs and improving infrastructure."
BRICS united?
Syria aside, one of the most attention-grabbing announcements came from Vladimir Putin, who signaled that the BRICS (Brazil, Russia, India, China and South Africa) group of developing nations had agreed upon creating a $100 billion reserve fund to steady currency markets, a de-facto alternative to the IMF and Bretton Woods-based global financial system.
The move would mark the first major step toward building common institutions within the group and adding substance to its decisions.
"Developing countries like China and Russia are demanding a larger say in how organizations like the IMF spend their money as they are now the creditors," said Martin Gilman, former Director of the IMF in Russia. "This move sends a serious signal to the IMF that there will be serious competition if it remains dominated by the old powers."
G20 on debt
On paper, debt topped the summit's agenda. G20 countries had earlier examined targets for debt reduction, an idea that made little headway.
Yet the issue of public debt management and sustainability was essentially "tabled" at the summit, Gilman, said, perhaps because of the vast differences in the positions of the various member states.
Host country Russia has a record low debt-to-GDP ratio of 11 percent, compared to the Eurozone's 92.2% at the end of March and America's 103 percent (at $16.7 trillion).
"With over $500 billion in reserves the Russian authorities can put the currency wherever they want it," Tim Ash, chief strategist at Standard Bank, told bne.
Thus far Russia's authorities have resisted attempts to weaken its currency and thereby stimulate exports, focusing instead on achieving sustainable long-term economic growth through an improvement of institutions.
At the summit, Russia touted structural reforms as necessary steps both locally and internationally.
"Russia has made commitments to lower administrative barriers and reduce state regulation of the economy. It has committed to increasing the number of economic activities not requiring any form of regulation from 36 to 50 by 2018. This will help increase the investment component of the economy to 27 percent by 2018," Gurvich said.
Fighting tax evasion
While austerity and debt reduction have indicated a growing rift between developed and developing countries, tax evasion and offshore havens were surprising points of mutual understanding.
"The most constructive and specific agreements reached at the G20 concerned international taxation," argued Gurvich. "In order to fund the other initiatives of the summit like job creation and infrastructure, you have to find ways to optimize finances. First – a new automatic system of exchanging information on where international companies pay taxes will be in place by 2015. This is directed at minimizing both legal and illegal ways companies use to reduce their tax burden. Second – tax legislation across different countries will be standardized within one-and-a-half to two years to minimize loopholes. Finally – rules governing companies' abilities to change tax residences in various jurisdictions will be optimized."
Russia's international promotion of this point follows the adoption of unprecedented anti-corruption laws domestically over the last year banning officials from holding bank accounts or real estate abroad.
The specter of war
Much of the above-mentioned initiatives were overshadowed by the looming threat of a US attack on Syria. "The G20 agenda was hijacked by the Syrian issue," said Gilman. "Debt reduction and structural reforms did not get the attention they deserved."
Click to enlarge the infographics
All rights reserved by Rossiyskaya Gazeta.