Fulbright: 40 years in Russia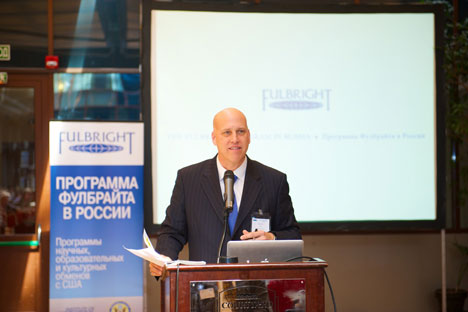 Fulbright Program Director Joel Ericson taking the floor at the celebration of Fulbright's 40th anniversary in Russia. Source: Fulbright / Press Photo
With the Fulbright program celebrating its 40th anniversary in Russia in 2013, its Director Joel Ericson talks about the latest challenges it faces in an exclusive interview with Russia Direct.
The Fulbright program is celebrating its 40th anniversary in Russia in 2013. Annually, it sends about 140 Russians to the U.S. and about 70 American scholars, professors, and graduate students to Russia in all academic fields with the exception of business administration.
Russia Direct talks to Fulbright Director Joel Ericson to find out how educational exchanges between the U.S. and Russia have been evolving and what challenges Fulbright has been facing in Russia since the 1970s.
Russia Direct: This year the Fulbright program marked its 40th anniversary here in Russia. So, what are the most important achievements of the program in Russia?
Joel Ericson: First of all, since the historic meeting of our two leaders 40 years ago, when then-President Richard Nixon came to visit General Secretary of the USSR Leonid Brezhnev, you've seen a big acceleration in Fulbright and the program has now about 1,800 Russians who have been participants of the exchange and are now alumni of the program.
I think that the biggest and the first achievement is that this number of participants has been able to be a part of the program since 1973.
Another achievement is that, at first, the program was meant to support Russians who were interested in participating in the program in the fields of social sciences and the humanities. And now, for about 10 years, the program has enlarged to include other areas of study including hard sciences, physics, chemistry and other academic areas where Russians have always been strong.
RD: With your experience of working in Russia, what do you think about Russia's educational system and the rankings of its universities?
J.E.: Even though U.S. universities are ranked higher than Russian universities, what I know – and it's an absolute fact – is that Russian graduate students that we recruit here as a part of the Fulbright program and send to the United States are absolutely excellent.
So, my feeling is that, maybe, your Russian university system has not done the things that American universities have done in order to achieve these high rankings. But there is a case to be made that Russian universities are much better than the world rankings show that they are.
And one thing that Fulbright can really do to support great relationships is to work with the Russian educational system, to work carefully not just with the students that we recruit but alumni who come back to Russia for joint projects and reinforce the idea that Russia has great universities too.
RD: Since the 1970s, what types of challenges has Fulbright faced in Russia?
J.E.: The biggest long-term challenge has been to show Russia that Fulbright has never been about creating a brain drain. And, in fact, given 1,800 alumni of the Fulbright program who've come back to Russia – it has really been all about the goal of the program that has created mutual understanding between our countries.
And education is, probably, one of the greatest areas that America and Russia can work together to improve the world as we shifted through Cold War, as you've seen the collapse of the Soviet Union and its replacement by the Russian Federation, the country that has a great Constitution that are in many ways similar to our own, a country that has a strong presidential administration that wants to lead the country forward.
Yes, of course, there are areas of conflict – sometimes we disagree. But there are so many areas where we can work together.
Where can Russia and the U.S. find common ground? What are the most important achievements of the Fulbright program in Russia? Why have some exchange programs such as the Edmund Muskie program been suspended? How has Fulbright managed to cope with problems and keep afloat? Find the answers in the full version of the interview at Russia Direct.
All rights reserved by Rossiyskaya Gazeta.