Jailed Sunrise: 7 questions to Sinyakov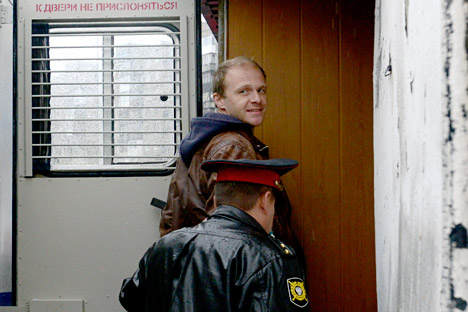 Denis Siniyakov: 'A jail may steel a part of your life, but there is a possibility to obtain an internal growth of oneself as a human being.' Source: Reuters
On Monday 30 people arrested in relation to a Greenpeace protest in the Arctic were moved from Murmansk to Saint Petersburg. Before the transfer jailed photographer Denis Sinyakov took the time to reply to questions from the media in a note gone public.
Russian photographer Denis Sinyakov was among those arrested as Greenpeace activists attempted to board the Prirazlomnaya drilling platform in September. Sinyakov and the others being detained are accusation of being a "pirates," "thugs" and "invaders."
1. Some justify the Russian authorities' actions in detaining you by saying that, while you claim you are a photographer, you might have been on the Greenpeace vessel as an expedition participant or activist. Could you please clarify the situation?
A number of colleagues who justified Russian power authorities' actions discussed my role at Arctic Sunrise vessel, so I would recommend studying the Russian legislation attentively. Should they succeed in studying them, they would ask themselves other questions.
The brief search in Google — who is Denis Sinyakov? — would easily answer the question they discussed. For example, whether or not Criminal Procedure Code articles were applied correctly upon selecting preventive measures, and whether or not "Piracy" and "Ruffianism" articles were incriminated correctly to the vessel crew as a whole and to me in particular.
2. Is your personal opinion important when you work as a photographer with a nongovernmental organization?
Until September 19, 2013, my journalist position was such that I had to tell a story about people who have something to tell. Make it objectively to the utmost and omit no details. Telling one more point of view on the oil production problem in the Arctic is important. I have already worked with Gazpromneft, trying to reflect their point of view. Now, though, they have forgotten about it deliberately. My Arctic history was born not on September 7, when I stepped onboard the vessel. It was already several years old, and I threaded various positions of parties on its ridge, uncommon sometimes.
3. What are, in your opinion, professional ethics while operating within the conflict situation?
For me, photojournalism is a research of the world around me, with the camera being a guide to it. When taking pictures of history, I answer my own important questions and do not become someone's mouthpiece. So, I try asking such questions to various parties - being as far apart as possible. In my opinion, photojournalist's ethics are to gather as many opinions of parties as possible.
4. Do you share Greenpeace values?
Of course, I share the majority of values Greenpeace believes in. Such things would not cancel the fact that we sometimes argue about Russian Greenpeace. How would I not wish the ecologic security and healthy future for my children, generally? I first of all believe that any companies engaged in the development of petroleum deposits in the Arctic — whatever countries they come from — must communicate with folks and extend guarantees of their safe work there.
5. What depresses you most of all in the pre-trial detention center?
I have no specific claims to pre-trial detention center staff, some of them are rather proper and serve their term along with us. I'll be released from here sooner or later, but they will pace long "galleys," eye to eye with prisoners. I should say that they have a good library here. We have searches down to briefs after each return from investigation committee, which is certainly uncomfortable, but these are due to instructions.
6. What lets you preserve courage and struggle with low spirits?
I'm even ashamed to consider my confinement as something terrible. I don't lose my spirits at all, though I do get bored. I accept my confinement here as the research of myself.
At first, everything depressed me: impossibility to do habitual things, absence of information about relatives. Not a single call was allowed until now. Incompleteness of home affairs, absurdity of accusations and unreal 10 years of prison "just for the hell of it." I had nothing with me when we were thrown here. Then a strange thing happened: after a day spent with brutally kind warriors, when you are chained to their hands by handcuffs when travelling to the investigation committee, you want to return to your small cell - to books, to notebooks and to the possibility of drinking tea.
7. How did your definition of personal freedom change?
My personal freedom did not change at all considering the fact that freedom is the wish and possibility to live and work according to one's personal convictions and conscience. A jail may steel a part of your life, but there is a possibility to obtain an internal growth of oneself as a human being.
I became grateful to my fate at some moment for such an invaluable experience. It was just the thing that had happened that helped me to fall in love anew with my wonderful wife, such a brave and strong woman. With my colleagues, such men of fair and principle. And it is worth a lot.
The full article is available in Russian at Russkiy Reporter.
All rights reserved by Rossiyskaya Gazeta.