Sergei Polonsky detained in Cambodia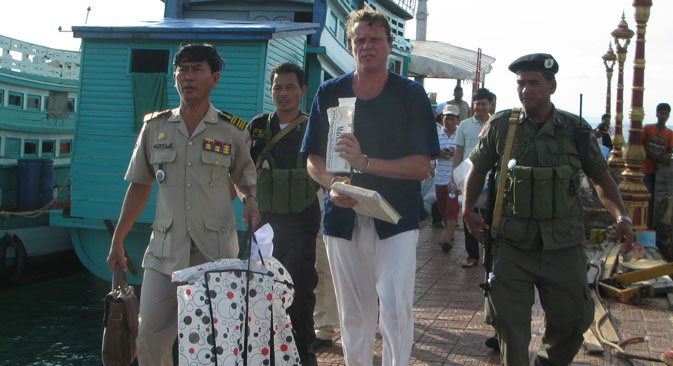 In the early hours on Monday the Cambodian authorities launched an operation to detain the Russian businessman, who had been put on an international wanted list. Source: AP
Cambodian authorities plan to send the former Mirax Group owner to Russia as soon as possible to face charges of fraud.
Cambodian authorities have detained former Mirax Group owner Sergei Polonsky and plan to send him back to Russia, where he will face charges of defrauding stakeholders in the Kutuzovskaya Mile residential development project.
According to preliminary reports, Polonsky was arrested on the morning of November 11 as he was trying to flee from the Cambodian police and hide out in a jungle area.
The businessman's lawyer, Aleksandr Karabanov, said he learned of his client's detention from a journalist who happened to be at the scene.
"I heard of it from a TV journalist who was at the scene. I am waiting for an official confirmation from the authorities or from Polonsky," Karabanov said. The lawyer said he believes his client was detained because of a Facebook video in which a Cambodian law-enforcement officer is allegedly extorting $1 million from Polonsky in exchange for not extraditing him to the Russian authorities.
In the early hours on Monday the Cambodian authorities launched an operation to detain the Russian businessman, who had been put on an international wanted list. According to his lawyer, Polonsky left the island he owns and hid in the jungle.
"We saw how Polonsky, handcuffed, was brought out of the jungle, where he tried to hide from the policemen," Rossiya 24 news channel correspondent Aleksandr Rogatkin said. "The island was surrounded and, really, he had no chance. He was brought out of the jungle, handcuffed; he had nothing on apart from a beach towel."
Rogatkin said Polonsky managed to alert them that as the authorities were detaining him, then the policemen fired their weapons into the air. The detained businessman appeared agitated, and demanded that his lawyer be called in and that Russian diplomats be present, since they were not there at the moment of his arrest, Rogatkin said.
In Russia, the former Mirax Group owner is wanted in connection with an investigation into embezzlement of funds from investors in a luxury residential development project, Kutuzovskaya Mile. In August Polonsky was put on an international wanted list, while Moscow's Tverskoy court, in absentia, issued a warrant for his arrest. Last week the Russian Prosecutor-General's Office sent an official request to Cambodia for his extradition.
The Cambodian authorities confirmed that they were ready to extradite Polonsky back to Russia.
"We are still not clear whether Polonsky was detained in connection with the ongoing Cambodian criminal case against him, in which case he will serve his term in Cambodia, or whether he was detained following the Russian Prosecutor-General's Office's request to the local Interpol for his extradition, in which case he will, naturally, be extradited," Karabanov explained.
Deputy secretary general of the Cambodian Interior Ministry Phon Bunthal said Polonsky was detained in the province of Sihanouk and would be held in a high-security prison until he is handed over to the Russian authorities.
"A special-purpose taskforce took part in his arrest. Weapons were not used. Polonsky hid on an island, and we found him. The businessman did not put up resistance; he just tried to flee to the jungle," Bunthal said.
Polonsky will be brought to Phnom Penh, where he will be processessed and handed over to the Russian authorities in the nearest future. He will not be allowed to see his lawyer, and all issues to do with his lawyer will be addressed after he has been handed over to Russian Interior Ministry officers, Bunthal said.
"His upkeep is a heavy burden for our country. Until he is sent to Russia, Sergei Polonsky will be held in a high-security prison," the Cambodian official said, as quoted by Life News. "Polonsky is a high-profile and famous person, and we do not want him to stay here long. We tried to assist the Russian Federation in arresting Polonsky, and this is what we did."
Based on materials from Kommersant.
All rights reserved by Rossiyskaya Gazeta.