Russia to rejoin the UN Council on Human Rights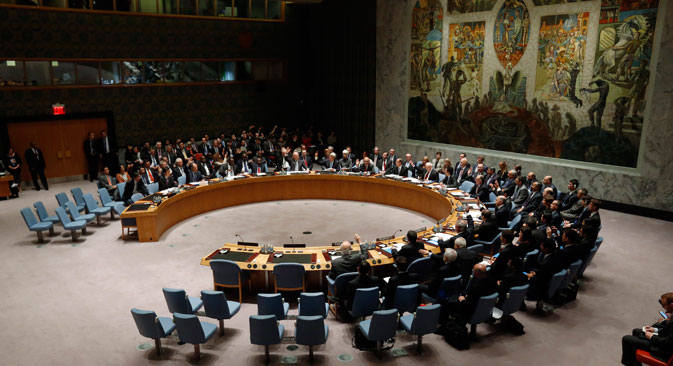 Russia's permanent representative to the UN said that while on the council, Russia will give priority to combating racism, xenophobia, and other forms of intolerance, as well as to protecting traditional values. Source: Reuters / Vostock photo
Moscow's representative vows to fight xenophobia and defend traditional values from renewed seat on the UN HRC.
The United Nations General Assembly elected Russia to the UN Human Rights Council (HRC) for a three-year term beginning in 2014.
Russia received votes from 176 out of 193 countries. In total, 14 new member countries, including China, Cuba and Saudi Arabia, were elected to the HRC.
The Human Rights Council assesses the human rights situation in each member state of the UN. This intergovernmental body is composed of 47 UN member states that are elected by the UN General Assembly. It was created by a resolution of the UN General Assembly on March 15, 2006. Its first session was held from June 19 to 30, 2006.
The council is responsible for promoting universal respect for and protection of human rights around the world and for examining cases involving violations of human rights, as well as issuing recommendations. The council is tasked with discussing all issues and situations related to human rights that require its attention.
Vitaly Churkin, Russia's permanent representative to the UN, said that while on the council, Russia will give priority to combating racism, xenophobia, and other forms of intolerance, as well as to protecting traditional values.
"We will also pay special attention to issues such as preventing human trafficking, business and human rights, traditional values, the integrity of the judicial system, and others," Churkin said.
During its previous term on the council, Russia established itself as a reliable and responsible partner in matters of human rights, Churkin said.
"We are consistently increasing our participation in international human rights treaties, and we cooperate with the special procedures of the HRC and the Universal Periodic Review," he added.
He also pointed out that Russia is actively cooperating with the Office of the UN High Commissioner for Human Rights. Since 2006, Russia has been paying its $2 million voluntary contribution to the UN office annually.
Russia was a member of the UN Council on Human Rights when it was created in 2006 until 2012. Churkin said Russia's one-year hiatus from the council was because of HRC rules that do not allow countries to be a member for more than two consecutive three-year terms.
Even before the vote, the Human Rights Council elections drew criticism from some international human rights organizations. Representatives of Human Rights Watch announced that the candidacies of Russia, China, Saudi Arabia and Cuba, which consistently appear on lists of human rights violators, discredit the ideas of the council.
Based on materials from ITAR-TASS and the "Voice of Russia".
All rights reserved by Rossiyskaya Gazeta.