RBTH establishing cooperation with Vietnam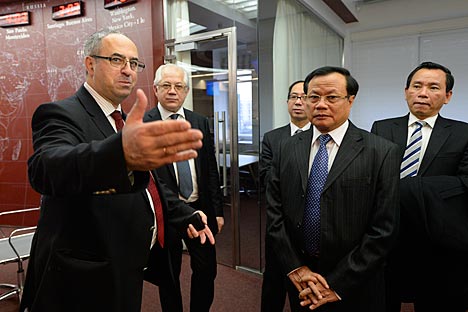 The Vietnamese delegation visited RBTH on Nov. 20. Source: Mikhail Sinitsyn / RG
Russia Beyond the Headlines plans to expand its global reach by launching a special supplement for a Vietnamese publication.
In a recent visit to the headquarters of RBTH's parent company, Rossiyskaya Gazeta, Vietnamese President Truong Tan Sang expressed a strong interest in establishing cooperation between his country and Rossiyskaya Gazeta.
Truong visited the Rossiykaya Gazeta headquarters in early November. According to Truong's interviewer, deputy editor-in-chief Yuri Lepsky, he supported the newspaper's plan to launch a digest of Russian affairs as a supplement for a Vietnamese publication.
About RBTH
Russia Beyond the Headlines, Rossiyskaya Gazeta's international project, was launched in 2007. It has at its core monthly digests of Russian affairs in a variety of languages, circulated as supplements to leading international publications.
In Asia Pacific, RBTH supplements are present in China, Hong Kong, Japan, South Korea, Australia, and Indonesia. A supplement for Vietnamese readers will launched in the near future.
His interview was given in conjuction with Russian President Vladimir Putin's visit to Vietnam.
On Nov. 20, Rossiyskaya Gazeta hosted a business breakfast for a Vietnamese delegation led by Pham Quang Nghi, Secretary of the Hanoi Party Committee. The delegation is visiting Moscow at the invitation of mayor Sergey Sobyanin, as part of a cooperation program between the two capitals.
Rossiyskaya Gazeta's CEO Pavel Negoitsa introduced the Vietnamese delegation to the publishing house's publication projects. "A lot gets written about Russia, but not all such pieces are of good quality; this often leads to misunderstandings of what is going on here," he said.
Yevgeny Abov, deputy CEO for international projects and head of Russia Beyond the Headlines, noted Rossiyskaya Gazeta is "interested in extending its international outreach to Vietnam."
Rossiyskaya Gazeta regularly publishes such supplements for a variety of foreign newspapers in the framework of its international project, Russia Beyond the Headlines.
Pham said that, in the interests of greater information partnership, it is "extremely important to establish a channel for exchanging topical and constructive information between Russia and Vietnam."
While in Moscow, the delegation met with Petr Biryukov, deputy mayor for housing, utilities, and redevelopment.
The Vietnamese guests participated in a Russia-Vietnam roundtable, which discussed bilateral cooperation in trade and tourism. They also attended the inauguration ceremony for the Hanoi-Moscow Vietnamese culture and business center.
All rights reserved by Rossiyskaya Gazeta.