Russia won't interfere in Ukraine, says Lavrov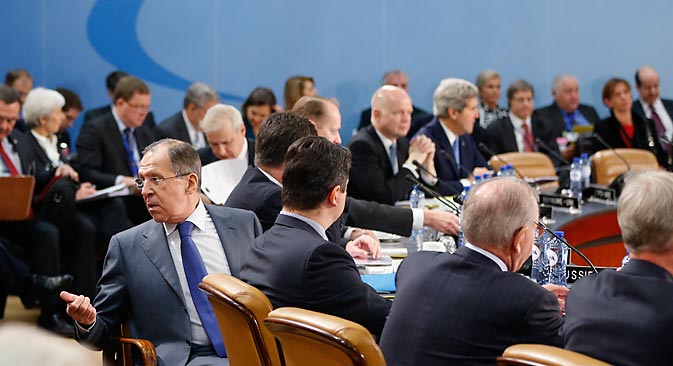 The NATO-Russia Council held a meeting of foreign ministers in Brussels on Dec.3-4. Source: Reuters
Russia's Foreign Minister expressed frustration at having to answer questions about Russia's stance on Ukraine during a Russia-NATO Council meeting in Brussels.
Russian Foreign Minister Sergey Lavrov said Russia would not interfere in the ongoing Ukrainian political crisis and criticized NATO's questioning of Russia's stance on the issue, saying it was a domestic affairs best left alone by outside countries.
"I am not sure why NATO is making such statements, or why its secretary general is answering questions as to whether Russia will send troops to Ukraine," Lavrov said in a rather brusque manner.
"I am not sure why such questions are being asked at all. They paint a distorted picture, and such signals can lead some people with a fevered imagination to misunderstand the situation completely."
Ukraine's anti-government protestors are now in their second week, where demonstrators are demanding that President Viktor Yanukovych step down after his government refused to sign a long-awaited trade and political association agreement last month.
Lavrov's comments came this week in Brussels, where he was attending a NATO-Russia Council (NRC) meeting of foreign ministers. On Dec. 3, NATO foreign ministers urged the Ukrainian government "to stop excessive use of force" against anti-government protesters.
The NRC meeting's agenda was to focus on pressing issues facing the members of the partnership, Afghanistan, Syria and Iran. However, Lavrov expressed frustration as the dialogue diverted to the situation in Ukraine.
Lavrov said he believed the NRC enables its participants to achieve tangible positive results, however, unnecessary statements must not be allowed to hamper the cooperation between Russia and NATO.
"We have just held a good session of the NATO-Russia Council," Lavrov said. Discussions included agreements reached on the Syrian chemical weapons, on holding the Geneva II conference, and on the Iranian nuclear program.
"All of this clearly demonstrates that political and diplomatic measures are the way to resolve difficult crises. We believe that our NATO partners are increasingly arriving at the same understanding," he said.
The NRC meeting discussed the results thus far of the establishment of a system than provides for early identification and escort of aircraft that are not responding to instructions from the ground - i.e. planes hijacked by terrorists.
Russia and NATO are also working on a complex technology project called Stand-off Detection of Explosives (Standex), which aims to prevent terrorist attacks during mass gatherings.
Russia and NATO continue to cooperate in Afghanistan, including the transit of ISAF cargo to and from Afghanistan, and training Afghan, Pakistani and Central Asian law-enforcement personnel involved in countering drug trafficking. As of late November, about 3,000 people from seven countries have been trained as part of that program.
Another important cooperation project is training the Afghan technicians who provide maintenance for Russian-made Mi-17 and Mi-35 helicopters, which make up the core of the Afghan helicopter fleet. Russia is also providing an uninterrupted supply of spare parts for the Afghan helicopters.
The cooperation plan for 2014 includes continued efforts to bolster the Afghan Air Force's medical evacuation capability. According to minister Lavrov, Russia is predictably worried about the situation in Afghanistan after 2014 due to the two countries' close geographic proximity.
"That is why it is important for us to maintain regular dialogue so as to stay abreast of all the plans being discussed regarding the establishment of a new NATO mission and a separate U.S. mission in Afghanistan after 2014, and to understand the objectives, the goals, and the mandate of the presence being discussed. Obviously, all that presence must have a clear international legal basis in the form of a UN Security Council resolution," the minister said.
New areas of cooperation between Russia and NATO include an agreement to coordinate the responses to any threats to the security of diplomatic missions in crisis-torn countries.
Russia and NATO are also expected to launch a pilot project in Kaliningrad Region to dispose of old Russian munitions. The project will be controlled by Russia and implemented in accordance with Russian legislation.
Russia and NATO made a joint statement voicing their support for efforts by the United Nations and the Organization for the Prohibition of Chemical Weapons to destroy Syrian chemical weapons.
The 29 foreign ministers also reiterated the need for holding the Geneva II peace conference on Syria, although the date has now been pushed back to January 2014.
Lavrov and his U.S. counterpart, State Secretary John Kerry, discussed Geneva II at a separate meeting behind closed doors. Lavrov said after the meeting that "if the Iranian problem is resolved and the Iranian nuclear program is placed under full and strict IAEA controls, this will remove the justification currently being used to deploy the European segment of the missile defense system."
All rights reserved by Rossiyskaya Gazeta.