Moscow willing to negotiate with Ukraine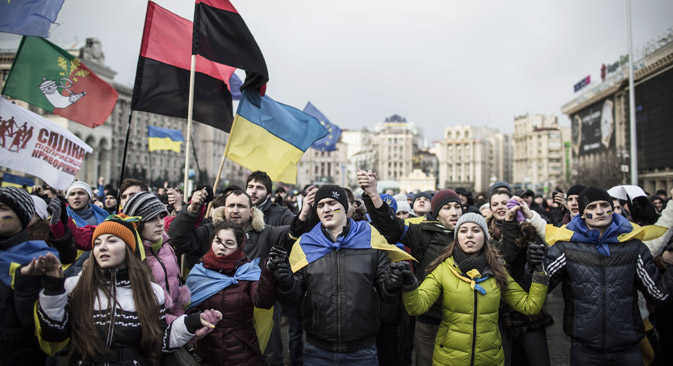 Protests in Kiev's central Independence Square started on Nov. 21, after the Ukrainian government said it would not sign a trade association agreement with the EU at the Eastern Partnership summit in Vilnius. Source: AFP / East News
Putin says there's room for avoiding a confrontation between the European Union and the Eurasian Union.
Seeking to ease tensions and move the discussion on Ukraine in a constructive direction,Deputy Prime Minister Igor Shuvalov said Russia is ready to negotiate on any type of customs agreement, even one with the participation of the European Union.
In addition, he said, Russia is open to industrial cooperation with Ukraine, regardless of whether Kiev creates a free trade zone with the E.U., or participates in a customs union with the Commonwealth of Independent States (CIS).
Shulalov's comments to reporters came after statements from President Vladimir Putin at his annual address to to the Federal Assembly, in which he said Moscow does not want to set the Eurasian Economic Union in opposition to other integration projects, "including, of course, such a mature integration project as the European one."
Putin said in his address that earlier this year, "Ukraine expressed a desire to attend all meetings of the troika (Russia, Belarus, and Kazakhstan) as an observer and to participate in discussions, and previously they repeatedly expressed interest in joining the customs union in a separate agreement."
In converstations with reporters in Washington after the speech, Shualov, said Russia is trying to ease tensions and move the discussion on Ukraine in a constructive direction.
"We are ready to negotiate in various formats. So, we will work in whatever format will be convenient to our partners," he said. "As far as I understand, we are all interested in the events in Ukraine ending as quietly as possible. And that is impossible to do under the influence of the mood on the streets or the rigid influence of the opposition. The fate of the country is being determined, and it should be done after weighing all the pros and cons."
Shuvalov assured reporters that Moscow will support whatever decision Ukraine makes. "In any case, whatever Ukraine's decision will be, we must act responsibly towards this country, it is a serious partner for us. As for industrial cooperation, we will in any case support it," he added.
The deputy prime minister noted that the Ukrainian side is now offering Russia serious industrial cooperation ties. "We have connections with Ukraine in high-tech industries. Production of missiles, engines, aircraft and many other areas are of interest to us," Shuvalov said.
Meanwhile, political observers in Moscow urged the government not to interfere in the events in Ukraine.
"If we were suddenly able to force [Ukrainian President Viktor] Yanukovych to agree to this step, Kiev's membership in the customs union would likely be illusory and short-lived. We don't need to chase after an external effect. It makes sense to focus on practical agreements that would link the economies of the two countries together," said Mikhail Rostovsky of RIA Novosti.
He stressed that if such agreements would be mutually beneficial, they would provide a stronger link, because sooner or later there will be a new leader in Kiev who will most likely be more focused on close cooperation with Brussels.
According to Rostovsky, practical agreements with the Russian Federation that would damage Ukraine's national interests if they were broken would be a deterrent, even if Ukraine's leadership favored an anti-Russian policy.
"Russia should be extremely careful until the 'Maidan effect' disappears into thin air. It is not Moscow's business to grapple with Ukrainian political turmoil. We should not try to do Viktor Yanukovych's job for him. We would not be able to do it even if we wanted to. Either Yanukovych handles it himself, or he will fall on his face himself," he said.
Ukraine's leaders also seem to have realized the seriousness of the situation and are calling for protesters to also defend the interests of the country. Recently Prime Minister Mykola Azarov announced that Ukraine is seeking €20 billion from the EU as part of the agreement.
"Those who went to Maidan are demanding we immediately sign an association agreement with the EU, the government also supports signing of the agreement as soon as possible, but we want to minimize the losses for the Ukrainian economy," Azarov said.
"Who are these protests for, European officials or the people of Ukraine, who are in urgent need of economic and financial aid? We have the same goal -- a successful integration with Europe. Let's sit down at the negotiation table and defend the interests of Ukraine together," he continued.
Based on materials from RIA Novosti.
All rights reserved by Rossiyskaya Gazeta.