Moscow to penalize diplomats that illegally received Medicaid benefits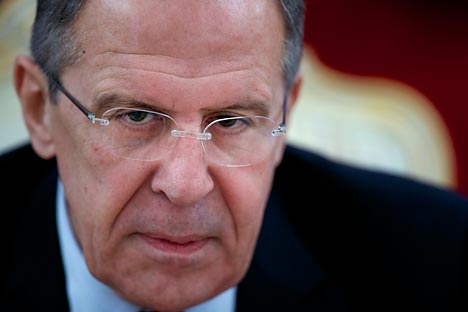 Sergei Lavrov suggested that the Americans have been deliberately "watching the story build" since 2004. Source: AP
Russia's foreign minister says the issue was blown out of proportion.
Russian diplomats caught cheating the U.S. health insurance system will be punished, according to Russian Foreign Minister Sergei Lavrov. However, he suggested that the timing of the scandal was no accident: the Americans waited 10 years to accuse the Russians.
Additionally, Lavrov said, some of the Russian diplomats accused of fraud actually were entitled to American medical assistance.
In the U.S. there are laws in different states that allow foreigners to receive Medicaid funds. Second, it is not completely true that the Russian diplomats' incomes did not entitle them to receive such payments under Medicaid, he said.
"We specifically examined the personal information of these colleagues, and at least some of them, at the time when they applied for the aid, had salaries at a level that would allow them to request such assistance from Medicaid. We are not talking, of course, about all of the employees, but about a very small part," Lavrov was quoted in an ITAR-TASS report as saying.
The story started when 49 Russian diplomats in the U.S. (former and current diplomats), as well as their family members, it turned out, underreported their incomes in order to receive assistance from Medicaid.
The total amount of aid received by members of the Russian diplomatic mission is estimated at $1.5 million.
The diplomats accused of fraud are awaiting disciplinary actions. No one is denying their guilt.
"It is an offense requiring disciplinary action, because by submitting fraudulent applications and reporting false incomes to get benefits, they violated the rules and regulations of the host country, which a diplomat has no right to do. I will emphasize once again: they are subject will be subject to disciplinary penalties," Lavrov said.
At the same time, Lavrov advised the Americans consider ethics and rights. According to him, diplomats of foreign countries, including the U.S., "fairly regularly" violate Russian laws, but "we don't try to make information bombs out of it. We immediately call the embassy and attempt to resolve the issue without letting tensions rise."
Lavrov suggested that the Americans have been deliberately "watching the story build" since 2004.
"It's possible they wanted more cases to accumulate so that the number would be more impressive. If they had said in 2004 that one person was trying to get something that he shouldn't, probably we would have dealt with this employee somehow. But they accumulated nearly 50 people," said Lavrov.
"Probably to make it sound more impressive, they waited 10 years."
According to the foreign minister, some members of the diplomatic corps that were involved in the scandal have already returned home. The rest will return to Russia in the near future.
First published in Russian in Vzglyad.
All rights reserved by Rossiyskaya Gazeta.