Russia shipping chemical weapons out of Syria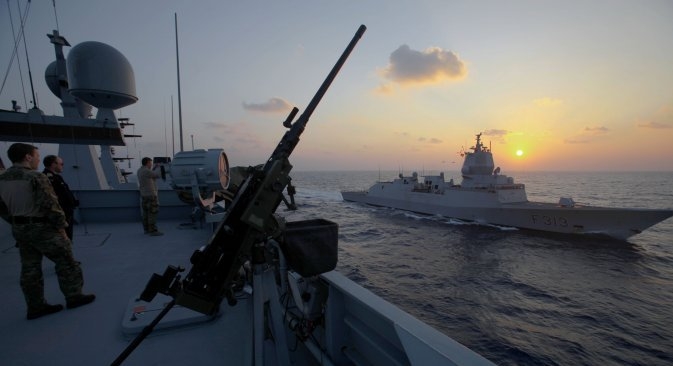 The OPCW plan calls for all components of Syria's chemical weapons to be destroyed by the end of June. Source: AP
Amidst an increase in fighting in Syria's brutal civil war, Russia has started its role in the international operation to remove chemical weapons from the country.
As fighting in Syria continue to intensify, Moscow has provided armored trucks that will deliver chemical weapons to the port in Latakia, as part of an international cooperation to dismantle and evacuate the embattled Syrian government's chemical weapons stock.
Russia has allocated $2,000,000 for the operation. In addition, Russia is responsible for the safe loading of containers with toxic substances onto transport ships, after which vessels from the Russian Navy will work with China and Norway to escort the cargo to Italy.
Representatives from the Organization for the Prohibition of Chemical Weapons (OPCW) confirmed that the Danish commercial vessel Ark Futura left the Syrian port of Latakia on January 7 with nine containers containing toxic substances.
Initially this was planned for December 31, but because of fierce fighting between government forces and opposition groups, the transportation of the hazardous cargo had to be postponed.
Once the containers with chemicals is delivered to Italy, the most toxic substances will be loaded onto an American military transport ship, the MV Cape Ray, for disposal in international waters.
Norwegian and Danish vessels will transport less toxic substances for disposal at commercial facilities.
In mid-November, the executive board of the OPCW approved a plan for the liquidation of Syrian chemical arsenals. According to this plan, the most dangerous ammunition was to be removed from Syria by the end of 2013, along with all materials necessary for the manufacture of chemical weapons removed by February 5.
Syrian authorities are responsible for the phased delivery of chemical weapons to Latakia. To assist in the process, Russia has provided Damascus with heavy armored trucks, while the United States provided metal drums and satellite navigation devices.
Russia is responsible for the safe loading of ships in Latakia, while the U.S. provided the equipment for these stage of the plan. China sent Latakia 10 ambulances and surveillance cameras, and Finland sent a team specialized in emergency situations.
The OPCW plan calls for all components of Syria's chemical weapons to be destroyed by the end of June.
According to Alexander Ignatenko, the president of the Institute of Religion and Politics, a non-governmental analytical center, the major powers "understand the danger of losing control" over chemical weapons, and are trying to evacuate them from Syria as soon as possible.
Ignatenko, in an interview with Gazeta.ru, said that the evacuation of chemical weapons would be carried out as the situation in Syria continues to deteriorate because of the increased activity of Islamist groups.
Based on materials from Kommersant and Gazeta.ru.
All rights reserved by Rossiyskaya Gazeta.