Russia seeks lead in BRICS for foreign investment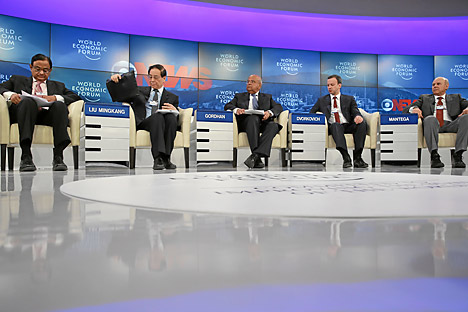 Competition for investment will become tougher among developing economies. Source: World Economic Forum / Nicola Pitaron
Russia's main competitor for U.S. investment during the next three years will be Brazil as the developing world looks to tap into growing rates of investment after 2015.
Developed countries' investment into developing economies will recover during the next two to three years, according to a forecast from Russian Deputy Prime Minister Arkady Dvorkovich made in Davos. However, competition for investment will become tougher, while the amounts of funds involved may become lower than they used to be. So far Russia's main rival in that playing field is Brazil, which will be hosting the 2016 Summer Olympics.
Recovery 2017
The timeframe and scenarios for the resumption of investment flows from the United States, the European Union and Japan into developing countries were the main point on the agenda of the World Economic Forum in Davos on January 23 to 24. The head of the Russian delegation, Deputy Prime Minister Arkady Dvorkovich, commented on this topic at the relevant panel session and in an interview for the Rossiya 24 TV channel.
Comments from other interested parties, namely the president of Brazil, Dilma Rousseff; the head of the Bank of Japan, Haruhiko Kuroda; officials from the European Central Bank; the U.S. Federal Reserve System; and corporate leaders, on the whole, confirmed: the current period of instability on the world markets is likely to last two to three years rather than five or more. Everybody agreed that stabilization will partly restore capital flows from the developed world into developing markets. However, there was a great variance of views as to in what shape the years 2016 to 2017 will find the recipients and donors of that investment.
Russian Economic Development Minister Alexey Ulyukaev voiced a rather conservative view: recovery will be at considerably lower levels than those prior to 2009. According to him, the new model implies a slower growth rate, although one can expect that from 2015 the situation in the world economy will start to get better faster. Ulyukaev believes that growth drivers for the world economy will remain the same—economic development in China, India and Southeast Asia—although one cannot expect a repetition of the unique combination of factors that contributed to the peak global growth in 2005 to 2006.
China analysts are largely more optimistic in their forecasts. Liu Mingkang from the Hong Kong-based Fung Global Institute believes that China's economic slowdown in 2013 was merely accidental. Together with analysts from China and from investment banks operating there, he is convinced that the country's economy will have a practically guaranteed growth of 6 percent to 7 percent GDP until 2020, under any scenario.
Furthermore, under these scenarios, China will slow down its race for investment; the country's economy is supposed to become less dependent on exports, which implies less foreign investment in export-focused sectors. A similar strategy has so far been pursued by India too; its Finance Minister Palaniappan Chidambaram presented a program for increasing the country's GDP growth rate from 6 percent in 2014 to 8 percent in 2016 based mainly on developing domestic demand. Finally, South African Finance Minister Pravin Gordhan announced that his country's economy was in a situation of "the new normal" and did not need to adjust its course in view of the ongoing world economic crisis.
Geography of investment
The de facto contenders for investment expected to be thus "freed up" from 2015 to 2016 (or later) could be the other major BRICS economies, Russia and Brazil. Dilma Rousseff's presentation made it clear that Russia faced a strong competitor, primarily for U.S. investment: Brazil announced (like Russia three years earlier) a large-scale program of privatization, railroad construction and deregulation of some sectors of the economy. Rousseff said that Brazil was a country of the middle classes, which now made up more than 55 percent of the population, and assured the forum that preparations for the 2016 Olympics in Rio de Janeiro were a success. Interestingly, participants in a Sberbank-hosted event in Davos also concluded that Brazil was a key competitor for investment.
At the same time, there are no guarantees to BRICS countries that the amount of investment will be comparable to what it used to be. Traditionally, direct foreign investment into BRICS economies comes mainly from the U.S. and the E.U. However, at the forum a lot was said about America's "manufacturing renaissance" and major industrial growth, which makes the U.S. more attractive in the long-term as a recipient of investment rather than a donor. As for the E.U., the forum considered the slow recovery rate experienced by its economies. For Russia, the E.U. has traditionally been a more important trade partner than the USA. Moreover, the issue of restoring U.S. companies' investment activity in Russia has political implications and will in any event require a lot of time. Without restoring these two sources of investment, neither Russia nor its rivals in BRICS can expect to see a mid-term economic recovery. For Russia in the short-term, it would be more important for demand in the E.U. to pick up, since the situation in Russia is more affected by economic instability in Europe than by the U.S. "manufacturing renaissance".
All rights reserved by Rossiyskaya Gazeta.