Russia proposes fresh round of U.S. trade talks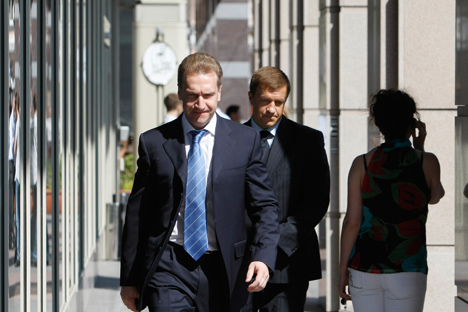 First Deputy Prime Minister Igor Shuvalov leads trade negotiations with the United States. Sours: Reuters
Russian officials are looking to open talks on reducing trade barriers with the country's former Cold War adversary, despite facing a host of political disagreements in other areas.
Russia has proposed a new round of trade negotiations with the United States, aimed at kickstarting economic ties, at a time when political relations between Washington and Moscow have been otherwise increasingly strained.
Hopes for U.S.-Russia trade relations have been high since the U.S. Congress finally repealed the Jackson-Vanik amendment in December 2012. The provision, which had been in place since 1974, placed trade restrictions on Russia as punishment for Soviet laws restricting emigration of Soviet Jews. While Russia had regularly been granted a waiver from the restrictions since the mid-1990s, analysts said its revocation was symbolic of deepening trade relations between Russia and the U.S.
The initiative stands in contrast to a series of other political problems between the two former Cold War adversaries, ranging from Russia playing host to secret-document leaker Edward Snowden to disagreements over the civil war in Syria.
"We have proposed...establishing a comprehensive economic agenda that would...mean creating a kind of a free trade zone by a certain period," First Deputy Prime Minister Igor Shuvalov told reporters in Washington in mid-December. During the trip Shuvalov met with Secretary of Commerce Penny Pritzker and U.S. Trade Representative Michael Froman, as well as with private American investors.
President Barack Obama and Russian President Vladimir Putin are expected to discuss the proposals at the next G8 summit, scheduled to take place in the Olympic host city of Sochi in June 2014, Shuvalov said.
Despite mounting political difficulties, however, trade has been something of a silver lining in U.S.-Russian relations in recent years.
"Politics is on one side of the table, business is on the other side of the table, and fortunately they don't interfere with each other," Dmitry Akhanov, head of Rusnano USA, the Russian state technology firm that has carried out more than a billion dollars of investments in U.S. start-ups and venture capital funds, told Russian Business Insight earlier in 2013, before the trade initiative was announced.
"In the business climate, we see interest growing from both sides," Akhanov said.
U.S. exports to Russia rose 38% in 2011, 29% in 2012 and 11% in the first quarter of 2013, according to figures from the U.S. Trade Representative's Office, which linked the improvements to Russia's entry into the World Trade Organization.
Between 2004 and 2011, U.S. exports to Russia rose an average 16% per year. Russian exports to the U.S. rose 35% in 2011.
"Market-opening changes made by Russia during the course of its WTO accession process may already have brought benefits to U.S. exporters," the U.S. agency said in a report released during the summer of 2013.
Several U.S. companies have moved into Russia in recent years.
Memphis, Tenn.-based International Paper Co. has invested $1.2 billion into Russia, primarily to upgrade a paper mill intended to turn Siberia's vast forests into paper products for neighboring China.
U.S. car makers General Motors and Ford have pushed into Russia to access the country's automotive consumers.
Irving, Texas-based ExxonMobil has teamed up with Russian national oil champion Rosneft to spend billions of dollars exploring for oil in the Arctic and also exporting liquefied natural gas to Asian markets.
General Electric Co., America's biggest conglomerate, and Russian state-controlled power trader Inter RAO have established a joint venture to manufacture gas turbines.
Reporting from RIA Novosti was used in this story.
All rights reserved by Rossiyskaya Gazeta.