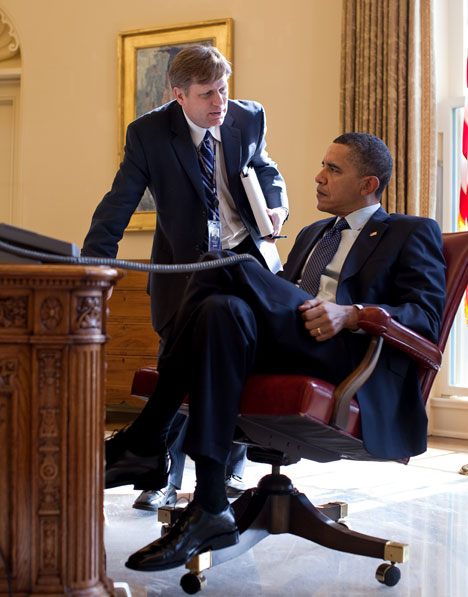 Outgoing Ambassador Michael McFaul (left) was previously an advisor to President Barack Obama. Photo was taken on Feb. 24, 2010. Source: Official White House Photo by Pete Souza
Spaso House, the neoclassical villa that is the longtime home of American ambassadors to Russia, awaits a new occupant to warm the frosty bilateral air. Outgoing U.S. Ambassador to Russia Michael McFaul was due to leave Moscow on February 26 after saying his goodbyes and chronicling his achievements.
The name of the next top U.S. diplomat in Russia remains unknown, but the challenges he or she will face are substantial. RBTH spoke to former foreign-service officials and foreign policy experts from both the U.S. and Russia to get a sense of what kind of person is needed for this key role in the bilateral relationship.
McFaul served just over two years in Russia, one of the shortest tenures in recent history, and his promising mantra for U.S.-Russia relations – the "reset" – fell short of expectations.
In fact, during McFaul's time in Moscow, bilateral relations suffered some serious setbacks.
Of course, McFaul cannot be blamed for U.S.-Russia tensions over Syria and Iran, but some early missteps affected his working relationship with Russian officials.
There's no doubt that McFaul's first actions, such as a controversial meeting with opposition leaders that was set up before presenting his diplomatic credentials to President Vladimir Putin, raised eyebrows in the Kremlin.
His public, off-the-cuff comment early in his term that Russia is a "wild country" offended rank and file and also contributed to his mixed reception in Moscow.
Who's next?
Several candidates have been mentioned by observers as successors, from Assistant Secretary of State Rose Gottemoeller to Celeste Wallander, who serves as special assistant to the president and senior director for Russia and Eurasia on the National Security Council.
Washington, D.C.-based observers point to Gottemoeller as the obvious choice. She is an acknowledged expert on Russia and arms control, and much of the credit for the landmark New START treaty in 2010 should go to her, observers say.
Gottemoeller, who was formerly the head of the Carnegie Moscow Center, speaks superb Russian and has connections among officials, business and civil society in Moscow.
Should Obama tap Gottemoeller, she would be, like McFaul, a political appointee. Since 2009, 37 percent of the president's ambassadorial appointments have gone to political appointees instead of career diplomats, according to the American Foreign Service Association.
Yet the conventional wisdom says that the next head of the U.S. Embassy in Moscow will not be a political appointee. Commentators expect to see an experienced career diplomat who will stick to classic diplomacy.
Sergei Karaganov, who heads the Council on Foreign and Defense Policy, a Russian think-tank, said the next ambassador to Russia needs to adhere to two criteria – limit his or her activity on social networks and attract different groups of people.
"From previous ambassadors, John Beyrle can be mentioned as an outstanding diplomat in this regard who, unfortunately, had to prematurely leave our country because the of Wikileaks scandal," Karaganov said.
Ambassador James Collins, who headed the American Embassy in Russia from 1997 to 2001, also said that the United States may well need a trained State Department bureaucrat to do the job.
"Frankly, Russia still expects an ambassador to work with the government of the Russian Federation. In order to do that, you need to be able to have a discussion with those people and have their confidence. Essentially, you have to be aware of the way in which you can do this most effectively," Collins said.
McFaul had never worked for the State Department, and sources close to the Russian Ministry of Foreign Affairs (MFA) confirmed to RBTH that no real trusted relations emerged between McFaul and his counterparts at MFA headquarters on Smolenskaya Square.
Challenges ahead
Experts say that it will be harder for the new U.S. ambassador to improve relations easily between Washington and Moscow, given the geopolitical challenges facing the two countries, including lingering divisions over Syria, Iran and missile defense in Europe along with the political crisis in Ukraine and Russia's controversial human rights dossier.
Thomas Graham, who served two tours as a foreign service officer in Moscow and now focuses on Russian and Eurasian affairs as a managing director at Kissinger Associates, Inc. acknowledged that "the new U.S. ambassador will arrive at a time of deeply troubled relations, assuming he or she arrives in the next few months."
"His first task should be building good working relations with the Russian government – and, to give him a chance to succeed, the government should show him the respect due an American ambassador.
Gradually, over time and with great tact, the new ambassador should reach out to a broad segment of Russian society, including opponents of the regime, something that Americans expect of their ambassador and is essential to his maintaining credibility with the American political establishment," Graham wrote in an email.
The new tenant of Spaso House will also have to focus on the economy, according to Daniel Russell, the president and CEO of the U.S.-Russia Business Council.
"Economic relations are a growing part of the bilateral agenda. Something that did not exist in the 1990s…. I think whoever is the next ambassador to Russia should make this a priority," Russell said.
No matter how qualified the candidate is, it's no secret that the nominee will have a difficult time during confirmation hearings. The ambassadorial pick could be blocked by conservative U.S. lawmakers aiming to use Obama's nominee as a tool to extract political concessions on the Russian front.
All rights reserved by Rossiyskaya Gazeta.