Military sanctions against Russia: Who stands to lose more?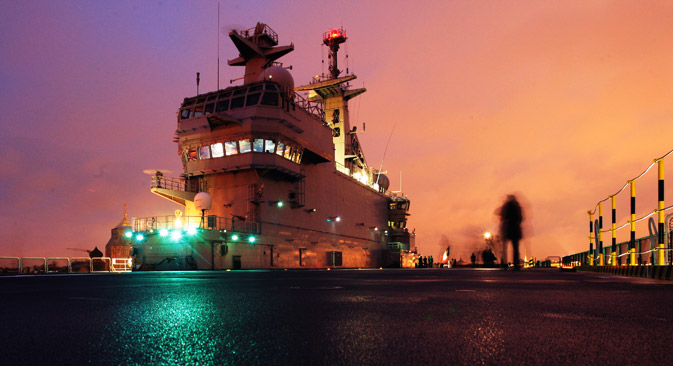 Russia's biggest military partner is France: One contract alone, for the supply of two Mistral-class helicopter carriers, should bring in over $1.66 million for France. Source: Alexei Danichev / RIA Novosti
Why an EU ban on arms and military hardware supplies to Russia in response to the events in Crimea will not become an effective means of applying pressure on the Kremlin.
Military cooperation with Russia has been suspended by the UK and Germany in the wake of the recent events in Crimea.
However, EU sanctions on military-technical cooperation represent one of the weakest links in the "fight" against Russia. Suffice it to say that exports of European armaments make up not more than 1 percent of the total amount of export-import contracts for Rosoboronexport, the Russian state intermediary in arms deals.
After the U.S., Russia is the second largest supplier of arms and military hardware in the world. Russian defense industry enterprises have a full production cycle, from the base material to the end product. So, in fact, EU sanctions on military-technical cooperation will have no serious effect on Russia's defense capability.
Losses - on both sides
Having said that, the 1 percent of contracts nevertheless do exist. In the case of the UK, those were for the supply of material for military uniforms. As a result of the sanctions, London loses some $133 million.
Berlin supplied sniper weapons and was involved in the construction of a combat training digital centre in Mulino (in the Nizhny Novgorod Region). The amount at stake in that case is $100 million.
However, Russia's biggest military partner is France, which for the time being has adopted a wait-and-see stance. One contract alone, for the supply of two Mistral-class helicopter carriers, should bring in over 1.2 billion euros ($1.66 million) for French companies DCNS and STX - half of which Moscow has already paid.
In addition, France anticipated building two more of these ships in Russia. Paris is also involved in three large Russian contracts for the supply of armored vehicles and Su-30MKI and MiG-29K fighters to India. These contracts are worth millions of euros.
Who is doing whom afavor?
Yet the most interesting thing is that the Russian military-industrial complex is all for military sanctions against Russia, especially from France. It is not only that the Russian military have no need for French Mistral helicopter carriers (neither the defense minister, nor the chief of the General Staff have yet been able to explain what these ships were being bought for).
If sanctions are introduced, France will have to pay a cancellation penalty big enough to allow Russia to build at least five similar ships on its territory.
According to a senior representative of the Russian military-industrial complex, the Mistral carriers were forced on Russia by the then-defense minister, Anatoly Serdyukov. According to rumor, the deal was a "gift" to Nicolas Sarkozy ahead of the French presidential election, in return for his support of Moscow in the 2008 conflict in South Ossetia.
The French president had to preserve jobs and voters. Furthermore, at the time manufacturer DCNS was in a crisis, so the contract with Moscow was a lifeline.
Interestingly, Washington has not said a word about military sanctions. The U.S. would stand to lose far more from sanctions than its NATO partners. We need only recall that the Russian plant VSMPO-AVISMA in the Urals town of Verkhnaya Salda supplies over 40 percent of titanium components for the U.S. Boeing 787 Dreamliner.
In addition, NATO has a transit base in Ulyanovsk that handles nearly 60 percent of cargoes bound for the alliance's troops in Afghanistan.
Thus, it would appear that putting too much pressure on Moscow is not at all in Western partners' interests.
All rights reserved by Rossiyskaya Gazeta.