Russian Internet twitters with talk of Ukraine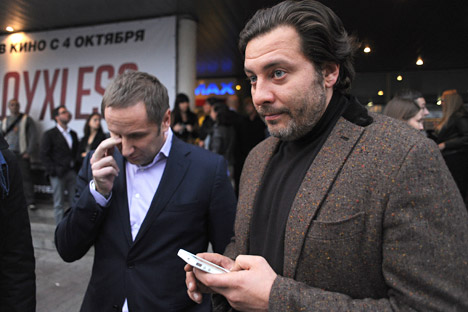 Writer Sergei Minayev does not sanction the actions by the authorities in Kiev. Source: ITAR-TASS
Russian bloggers and politicians use social media to discuss the conflict in the Donbass.
While Russian state television is giving one perspective on the events in Eastern Ukraine, politicians and opposition bloggers alike have been expressing different views online.
Konstantin Dolgov, the Special Representative for Human Rights, Democracy and the Rule of Law of the Russian Foreign Ministry tweeted on April 15: "Tanks have been thrown in against the people of the southeast who are demanding respect for their legitimate rights. Is this "inclusive political dialogue and constitutional reform"?" Dolgov has doubts whether free and democratic elections in Ukraine are possible under such circumstances.
Pro-Kremlin writer Sergei Minayev also does not sanction the actions by the authorities in Kiev, tweeting: "That is, Yanukovych who did not send the army into Kiev is "scum" and a "bandit", while Turchynov who is throwing the army into the East is a hero and a fighter against terrorism."
Gennady Gudkov, an opposition leader and co-chairman of the Alliance of Greens and Social Democrats party, fears for the future of Ukraine: "I fear that a civil war in Ukraine can NO LONGER be avoided. Kiev will ask for help from the West, and the latter will need to act. This is very bad."
On April 16, businessman and blogger Ilya Varlamov tweeted that he was very sad to read the news about the events in Ukraine: "this stupid situation with the army is unexplainable." The same day, opposition leader and writer Eduard Limonov made it clear that he thinks the Ukrainian military action is just a show.
"There is only one convincing explanation of yesterday's raid on the airfield: it was a demonstration performance by the Security Service of Ukraine and the Armed Forces of Ukraine. It appears that the authorities in Kiev have decided to conduct a propaganda war by using their armed forces as instruments of public relations," he wrote in his blog.
According to Limonov, the authorities in Kiev are waging a war against the people just to receive money from their "white-skinned Western brothers."
The Russian blogosphere has also actively discussed the Ukrainian military's surrender of combat equipment to the Kramatorsk volunteer corps. Alexei Navalny, an opposition leader and the founder of the Progress Party, tweeted: "What an interesting army in Ukraine! They gave up their armored combat vehicles to those whom they call 'terrorists.'"
Rustem Adagamov, an oppositionist blogger who presently lives in Prague, thought that the action was actually part of a bigger plan. He tweeted: "A clever maneuver, there's no doubt about it. The whole Ukrainian army would defect to the separatists and demoralize them from the inside! It was clearly well thought out!" Ilya Varlamov also saw the action this way: "As I understand, the Ukrainian army gave the combat vehicles as a gift, didn't they? A cunning plan!"
All rights reserved by Rossiyskaya Gazeta.