Ukrainians flee violence in southeast of the country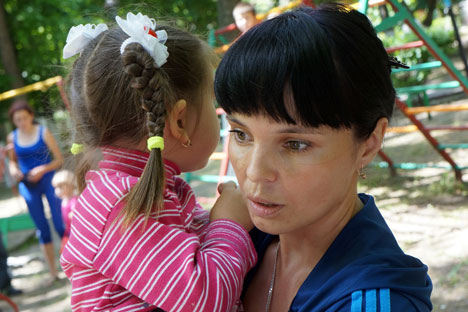 Russian media reports that growing numbers of Ukrainian citizens are leaving the areas around Slavyansk, Lugansk and Donetsk as military operations continue, with several thousand already reported to have arrived in Russia's Rostov Region and others appearing in Kiev and even in Poland.
Source: Yelena Melikhova, Viktor Pogontsev
As fighting continues between separatists and Ukrainian army forces in southeastern Ukraine, the number of people fleeing the violence is increasing. Authorities in Russia's Rostov Region, which borders Ukraine, are assisting those who cross into Russia, and Ukrainian President Petro Poroshenko has called for the creation of "humanitarian corridors" for those who want to leave areas in the zone of military operations.
Vasily Golubev, the governor of Russia's Rostov Region, which borders Ukraine, has declared an emergency situation. "The emergency situation will make it possible to quickly set up additional temporary accommodation centers for refugees," Golubev said.
The Rostov Region has prepared 49 temporary accommodation centers for people arriving from Ukraine, and Russia's Emergency Situations Ministry has constructed a tent camp in the region. The Rostov government is also providing 10 buses to shuttle people from the border to temporary housing. Russian news agency ITAR-TASS reported that as many as 20,000 Ukrainian citizens have arrived in the Rostov Region since June 6.
ITAR-TASS also reported that the Rostov regional government has published a special memo for Ukrainians containing the telephone numbers of district authorities, the labor and social development ministry and representatives of the region's governor.
Some of those arriving in Russia are have family in the country and stay in temporary housing only briefly before moving on. Voronezh Region administration official Sergei Tkachenko said that in his region, families who had arrived from Lugansk were staying with relatives, although the region was also providing two houses for Ukrainians who arrived in Voronezh without a place to go.
On June 3, the head of Russia's Federal Migration Service, Konstantin Romodanovsky, said that about 4,000 Ukrainian nationals have applied for temporary asylum or refugee status in Russia. Most Ukrainians arrive as tourists, since under current immigration laws, Ukrainian nationals can stay in Russia for 90 days out of 180 without a visa.
Not just Russia
People from southeast Ukraine are seeking refuge not only in neighboring Russia but in Kiev, Euronews reported.
The channel's correspondent quoted Petro Bereza from the eastern Ukrainian city of Kramatorsk, who complained that people fleeing to Kiev do not receive state support: "My wife had a baby yesterday. We want our state to take care of refugees, of people from Crimea and the Donetsk Region. There are many refugees from Lugansk too. We receive help not from the state but from charity organizations and volunteers."
Meanwhile, the Ukrainian newspaper Segodnya tells the story of a priest from a suburb of Kiev who has taken out a loan in order to refurbish an abandoned factory to give people shelter there.
Several Ukrainian media outlets have also reported on a Ukrainian family with many children who have fled from Kramatorsk and asked for asylum in Poland.
This story includes reporting from Rossiyskaya Gazeta, ITAR-TASS, Interfax, Euronews and Segodnya.
All rights reserved by Rossiyskaya Gazeta.