Visiting Britain: An impossible dream?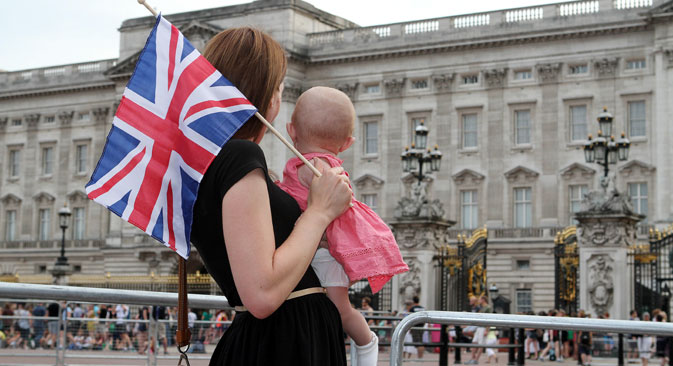 The UK is a popular destination for Russian visitors. It welcomed 214,000 visitors in 2013. Source: ITAR-TASS
A serious disruption of the UK visa processing service for Russian visitors that began in March this year shows no signs of abating with the peak tourist season upon us. With snowballing travel cancellations due to visa delays, tour operators warn of lost revenues for the British tourist industry and an adverse impact on Britain's image in Russia.
This year was supposed to bring the people of the UK and Russia closer together through a programme of cross-cultural exchanges. An agreement signed by the Russian Minister of Foreign Affairs Sergei Lavrov and Foreign Secretary William Hague declared that the 2014 UK-Russia Year of Culture would "further deepen our cultural ties and boost people to people links".
The lead organisation on the UK side, the British Council, promised "to work together with our British and Russian partners and the Russian authorities to make sure it is an unforgettable experience". To a growing number of Russian applicants for UK visas, however, the year so far has become an experience they would rather forget.
Dream or nightmare?
The UK is a popular destination for Russian visitors. It welcomed 214,000 visitors in 2013. They each spent an average of £1,205 making a total contribution of £258 million. But the UK was one of only two EU states to see Russian inbound volume decline in the last six months of 2013 (the other was Croatia, whose accession to the EU in July 2013 affected its freedom to contract bilateral visa-free agreements).
Source: ETOA
The Tchaikovsky Symphony Orchestra's opening concert at the Royal Festival Hall in February hung in the balance until quite late in the day because of a prohibitive visa fee quoted by the British side. The understanding of many participants in the cultural exchange was that visa fees would be waived, so frantic efforts had to be undertaken to make the orchestra's two UK concerts possible. Other Russian performers who are due to come to the UK this year are biting their finger nails in anticipation of visa problems. They say that, unlike other countries, Britain insists on a work permit even for a single concert and even if there is no commercial gain. In their view this is hardly conducive to cultural exchanges.
The UK-Russia cultural exchange year was long in the making and one would have expected all aspects to be well planned in advance. On the face of it, there has been no shortage of effort to make it work smoothly. To counter Russian perceptions that visiting Britain is costly and complicated, VisitBritain, a public-private partnership for promoting tourism, launched a marketing campaign in Russia under the slogan "Britain, an affordable dream". It brought 47 British tourism businesses to Moscow in February for its Destination Britain trade mission to capitalise on the year of cultural exchanges. The event was part of VisitBritain's efforts to achieve a 75 per cent increase in Russian visitors by 2020, worth £536 million in annual visitor spend.
Christopher Rodrigues, Chairman of VisitBritain expressed "hope to welcome 370,000 Russian visitors a year to Britain by 2020". Instead, this year has already seen a four per cent drop in Russians coming to the UK and the numbers keep declining as more and more visa applicants complain about delays in processing their applications. Maya Lomidze, Executive Director of the Association of Tour Operators Russia (ATOR) says the number of complaints has reached a critical mass.
Teething Troubles
It somehow happened that the Foreign and Commonwealth Office changed its visa processing partner right at the start of the year of UK-Russian culture and shortly before the traditional annual upsurge in visa applications by Russians in time for the long May holidays in Russia.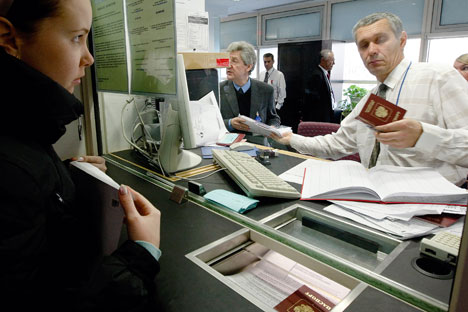 Hundreds of Russians were unable to spend May holidays in the UK because of visa problems. Source: RIA Novosti
To begin with, the process of handover from the outgoing partner, VFS Global to the new one, Teleperformance was handled in a way that saw panic among Russian tour operators and tourists. The announcement of the closure of the existing visa processing centres did not immediately make it clear that they will be replaced with new facilities. In the climate of the unfolding Ukraine crisis and ensuing sanctions against Moscow, Russians were quick to believe that the changes in visa procedures were part of the West's response. British representatives hastened to reassure applicants that the new rules had nothing to do with sanctions. Many Russians remain unconvinced. Their visa tribulations worsened when Teleperformance in partnership with Hinduja Global Solutions took over the processing of their applications.
On April 4, the FCO acknowledged teething problems experienced by some applicants. But according to the travel industry, no other country where Teleperformance works, reported any issues with tracking visa applications, passport return delays and misspelling of names. Indeed, shortly before Teleperformance started processing Russian applications HM Passport Office hailed Teleperformance for delivering "excellent customer service" across the world. Later, the British Embassy in Moscow admitted delays to some applications but insisted they accounted for less than 10 per cent of the overall volume.
However, British consular workers on condition of anonymity acknowledged that the situation has hardly improved since April. One particular cause was a new requirement to raise the number of additional checks for visa applications from 30 to 50 per cent. These checks are made in Sheffield and, despite British assurances that sending documents to Sheffield would not slow down the process, it has slowed it down. Irina Tyurina, the spokesperson for the Russian Union of Tourist Industries cannot understand why a change in procedure should cause such long delays.
Seeking improvement
Russian tour operators have written to the British Embassy twice since March urging improvements. The FCO reported that it was working hard with Teleperformance to "bring the service back up to our normal standards". However, the European Tourism Association said on June 19 that "initial predictions that the problems would be solved in a matter of weeks have proven unfounded". Some passports are being delayed by two to three months. A large group of Russian schoolchildren that applied for British visas in February for travel in March, received their visas on 8 May, missing both March and May school breaks.
One major issue is that passports are returned without a date stamp, which makes it impossible to claim insurance compensation for missed trips. As a result, says the Russian Tour Operators Association, bookings for travel to Britain are down by 30 per cent, representing millions of pounds in lost visitor spending. In response to RBTH's questions, Teleperformance said that the company and the UK Government were completely committed to offering a fast, efficient visa application service for all involved. Neither the Home Office visa service nor Hunduja Global Services responded to RBTH's requests for comment at the time of publication.
All rights reserved by Rossiyskaya Gazeta.