Ukrainian sanctions on Gazprom could threaten European economy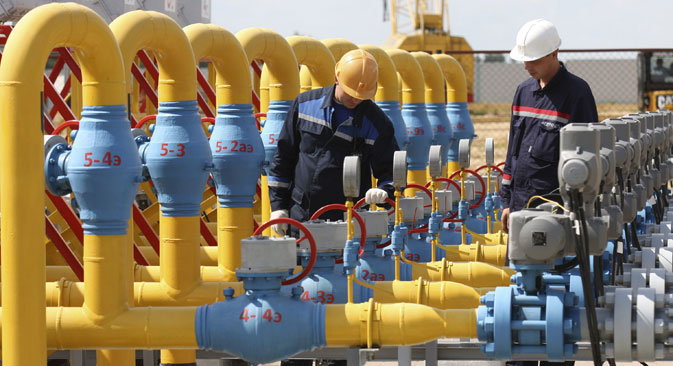 Ukraine is now trying to establish reverse gas supplies from Europe. Source: RIA Novosti
On August 14, the Ukrainian parliament passed a law enabling Kiev to introduce sanctions against Russian companies, meaning that if measures are introduced against Gazprom, the transit of Russian gas through Ukrainian territory will be blocked. What threats does the European economy face if Russian gas supplies are disrupted and do U.S. gas companies have a chance? RBTH asked two Russian economics experts for comment.
Valery Nesterov, analyst with Sberbank CIB
If the transit of Russian gas through Ukrainian territory is stopped, it will result in very serious losses for all three parties concerned: Russia, as represented by Gazprom; Ukraine, and the European Union. The consequences will be the most severe for Ukraine.
First, the ban on Russian gas transit could bury Ukraine's image of a reliable supplier for Europe. Ukraine had spent quite a lot of time building it and always sought to take part in international consortia. In addition, having severed its relations with Gazprom, Ukraine will lose several billion dollars a year. Third, the cancellation of gas transit through Ukraine would finally convince Europe of the need to implement the South Stream pipeline project.
In 2013, Gazprom supplied 161.5 billion cubic meters of gas to Europe, including 86 billion cubic meters through Ukrainian territory. Last year, the biggest consumer of Russian gas in Europe was Germany (41 billion cubic meters); followed by Turkey (26.7 billion cubic meters) and Italy (25.3 billion cubic meters). The list of customers of Russian gas also includes the UK, Austria, the Czech Republic, Poland, France and others - according to RBC Daily.
If Russian gas supplies are stopped, Europe will face a recession and two to three difficult years of gas talks. Last year, Gazprom accounted for about 30 percent of Europe's total gas imports, half of which was delivered via Ukraine. Europe's own gas reserves will not last long and it will have to start thinking how to substitute 'the Ukrainian share'.
As for American LPG (liquefied petroleum gas), there is little hope because it remains unclear when the first deliveries could be arranged and how much it would cost. Supplies of Norwegian gas could not be increased due to constraints on reserves. North Africa will not be increasing its exports either because domestic demand there is on the rise.
For Gazprom, this turn of events would mean a drop in sales and profits and, therefore, a reduction in contributions to the Russian budget. The company will have to cut dividends to shareholders and to give up some investment projects. However, one should not forget that Gazprom possesses Europe's biggest gas reserves and has far more room for maneuver by reducing gas prices.
Alexei Skopin, professor, Higher School of Economics, Moscow
There are unresolved geopolitical and economic reasons for the gas conflict between Russia and Ukraine. The geopolitical reasons consist of the United States' ability to interfere in trade and economic relations between Russia and the European Union by encouraging Ukraine to create problems with gas transit across its territory.
By creating these conflict situations, it is possible to undermine both the EU and Russian economies during specific periods of time, affecting currency exchange rates, commodity prices and other economic variables. The current crisis has been causing trouble for the EU and Russian economies for more than three months already and will result in billions of losses for the larger European economy (the EU and Russia combined).
Russia is making efforts to free itself from its dependency on Ukrainian transit by building the Nord Stream and South Stream pipelines. However, it is only the Nord Stream project that does not present a potential transit problem, while South Stream may end up in a situation similar to the current problem with Ukrainian transit because it runs through the territory of countries that depend on U.S. policies.
The economic reasons come down to the fact that Ukraine receives money only for the transit of gas across its territory ($3 billion a year) and a discount for the Russian gas it buys for domestic consumption. Under an agreement between Gazprom and Naftogaz, Gazprom sells gas on the border between Ukraine and European countries at a price set in contracts between Russia (Gazprom) and European buyers. Ukraine wants to receive a far bigger profit not from gas transit but from participating in selling gas as an intermediary.
By leaning on the United States' political power, Ukraine could propose to Russia that it will buy gas at a low price on the Russian-Ukrainian border and then sell it at a higher price to European consumers. Given the expected difference of $100 per 1,000 cubic meters of gas and the expected volume of supplies of 80 billion cubic meters a year, Ukraine's revenues may rise from $3 to $8 billion a year. Russia is absolutely against this because it would deliver a serious blow to Gazprom's revenues; as are European consumers, for whom an unpredictable Ukraine could become a far more serious problem than Russia.
All rights reserved by Rossiyskaya Gazeta.