Press Digest: Will Ukraine use IMF money to finance military operations?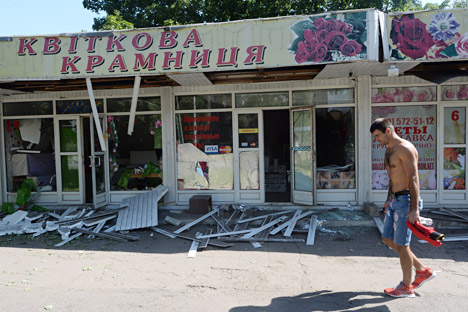 Source: Mikhail Voskresenskiy / RIA Novosti
RBTH presents a selection of views from leading Russian media on the latest developments in Ukraine, including analysis of whether Ukraine will be able to fulfil the anti-crisis plan set out for it by the IMF, fears over the country's energy supply and how Kiev's gas crisis may affect its relations with Europe, and growing food shortages in Donetsk.
The newspaper Vzglyad analyzes Ukraine's prospects of receiving the second, $1.4-billion tranche, of its International Monetary Fund (IMF) loan. Ukraine is set to receive a combined $17 billion in IMF aid over a two-year period.
However, whether or not the Ukrainian authorities will fulfill the anti-crisis plan set out by the IMF is being called into question. According to Vzglyad, the government is failing to revive the war-weakened economy, and IMF experts forecast a 6.5 percent drop in the Ukrainian economy this year. This forecast may even be too optimistic. The Investment Capital Ukraine (ICU) Group foresees a 1.9 percent contraction in Ukrainian GDP next year, while it had anticipated 2 percent growth back in April. Meanwhile, inflation is rising rapidly on the backdrop of a depreciating hryvnia.
Russian Deputy Finance Minister Sergei Storchak told Vzglyad that he seriously doubts Ukraine's ability to fulfill its IMF obligations. "All of this means that Ukraine is unable to cope with economic recovery, and money is slipping through its fingers," Vzglyad reports.
Meanwhile, another expert – Director of the Department for Strategic Analysis at FBK, Igor Nikolayev – told Vzglyad that Ukraine will receive its next tranche no matter what because of the political component of relations with the West. "As long as hostilities are under way in the Donbass, these loans will go not towards the country's economic recovery, but towards financing the so-called anti-terrorist operation," Nikolayev said.
Meanwhile, Moskovsky Komsomolets is of the opinion that Ukraine will soon be facing major problems with its energy supply. Because it has failed to pay its outstanding debts to Gazprom, it is entirely likely that Ukraine will not receive enough Russian gas to cover its heating needs. In addition to that, there is the threat of a coal shortage.
"The main coal-loading stations are not working because the railway infrastructure has been destroyed in the Donetsk Region," the publication writes. In order to save money, Kiev residents are no longer receiving hot water; it will only be piped during the winter season. According to Kiev Mayor Vitali Klitschko, the Ukrainian capital only has half of the gas it needs for the heating season.
Expert continues to analyze the possibility of negotiations between Putin and Poroshenko at the August 26 Customs Union meeting in Minsk, and also touches on the topic of the economy.
"It turns out that Kiev has been unable to develop a coherent strategy as far as surviving the winter without Russian gas is concerned," Expert writes, noting that this will indirectly affect the interests of Ukraine's European partners.
Analysts assume that if there is a fuel shortage in the winter, Ukraine could start siphoning off transit gas intended for Europe, which would be extremely undesirable for Brussels. Expert attributes European Energy Commissioner Günther Oettinger's presence at the Minsk meeting to this concern.
According to the publication, because the situation could potentially take a threatening turn for the European Union, Europe "is indeed gradually drifting towards a more sober position" and will facilitate a compromise between Moscow and Kiev. On the other hand, Expert notes the major influence that the U.S. has on Ukraine's policy, and the former's attitude towards Russia is more aggressive than that of Europe. As a result, Expert thinks that "it is extremely unlikely that any peaceful agreement will be signed in Minsk."
Gazeta.ru writes that it is no accident that the meeting of EU, Customs Union, and Ukrainian delegates is being held in Minsk, and analyzes the policy of Belarusian President Alexander Lukashenko in the context of the Ukraine crisis.
The publication arrives at the conclusion that Lukashenko has managed to take the greatest possible advantage of the situation in Ukraine. It was wise of him to maintain warm relations with the Kremlin, thereby allowing Russia to boost its military presence in the country and supporting it in voting at the United Nations. At the same time, the Belarusian leader was also wise to start cooperating with Ukraine's new authorities and to support the Ukrainian side in its conflict with Russia, while simultaneously making sure not to spoil relations with Russia.
Belarus also benefits from Russia's sanctions on imports from the EU. "The opportunities to process raw materials from the countries that can no longer sell their products to Russia are so broad that investments in production will allow Belarusian companies to occupy serious niches on the Russian market," Gazeta.ru cites Belarusian economist Yaroslav Romanchuk as saying.
Rossiyskaya Gazeta reports that a famine is on the rise in Donetsk, which is surrounded by Ukrainian state troops. Grocery stores are being closed in the city, and the shelves in those whose doors are still open are emptying out before people's very eyes. People have no money because the banking system is paralyzed, and entrepreneurs have stopped bringing foodstuffs into Donetsk. There are still many people left in the city, including refugees – women and children among them. Pensioners and invalids are having the hardest time. Unable to find food for themselves, bedridden invalids are already on the brink of death from starvation.
All rights reserved by Rossiyskaya Gazeta.