Russia recognizes results of Abkhazian presidential elections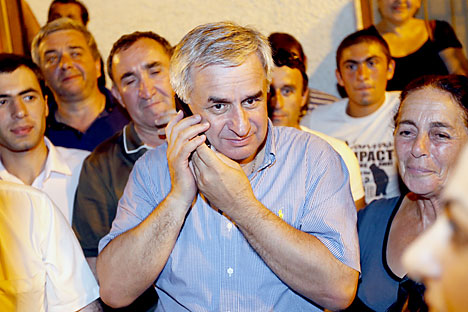 Abkhaz President Elect Raul Khadzhimba gained 50.60% of the vote in the early election, the Central Elections Commission said in a final report on August 26. Source: ITAR-TASS
Opposition leader Raul Khadzhimba has been elected as the new president of the largely unrecognized Black Sea republic of Abkhazia. Russian political scientists say that the new ruler's principal tasks will be to unify the country's elite and to develop investment and tourism.
Moscow has welcomed the election of opposition leader Raul Khadzhimba as president of the Republic of Abkhazia.
Russian President Vladimir Putin congratulated Khadzhimba on his victory and expressed willingness to work together to further strengthen Russian-Abkhazian ties.
Russian political scientists note that the new president will be faced with two difficult tasks: to overcome the schism within the ruling elite and to make Abkhazia – a region that the majority of the world does not recognize as a country – attractive for both investors and tourists.
Putin was one of the first to congratulate Khadzhimba on his victory in the August 24 presidential elections, which were held early. While Khadzhimba had previously expressed the need for Sukhumi and Moscow to sign a new intergovernmental agreement dealing with greater integration in the area of security, he noted that it would be excessive for Abkhazia to have associated relations with Russia.
Despite its recognition by Russia and a handful of other countries, Abkhazia is not recognized by most of the world, which considers its most recent elections illegal. Several countries have already made official statements to that effect.
Georgia's State Minister for Reconciliation and Civic Equality Paata Zakareishvili told RBTH that "Tbilisi is interested in everything that is happening in Abkhazia." The Georgian government considers Abkhazia a part of Georgia and refuses to recognize its independence.
"We are definitely following the elections, although we do not consider them legal. At the same time, we are willing to conduct negotiations and cooperate with the leader that Abkhazian society elects," Zakareishvili said.
Prominent Abkhazian political scientist Ilan Khashig told RBTH that there was no foreign influence involved in Khadzhimba's victory.
"Indeed, unlike in previous years, the republic did not get any messages from the outside during this election campaign. So it can be assumed that the Abkhazian population alone made the choice," said Khashig.
This was the fourth attempt by Khadzhimba, the former KGB chief for Abkhazia and ex-vice president, to win an election. He had earlier lost twice to Sergei Bagapsh and once to Alexander Ankvab. Abkhazia's first president, Vladislav Ardzinba, wanted Khadzhimba to be his successor; however, Khadzhimba lost after a bitter electoral struggle in 2004, which almost erupted into civil strife.
A problematic legacy
Alexei Martynov, who heads the Moscow Institute of New States, told RBTH that the winner of Abkhazia's elections has the difficult challenge of putting together a team of professionals and economists capable of pulling the republic out of economic stagnation.
"It is also important to define a format for relations with neighboring countries Russia and Georgia," Martynov said.
Sergei Markov, head of the Institute of Socio-Political Research and member of the Civic Chamber, told RBTH that he hopes Khadzhimba will prove himself a good leader.
"He has an enormous amount of political experience. Many people in his shoes would have disappeared into the shadows after several defeats, but Khadzhimba continued the political battle and is now a very experienced, strong politician," Markov said.
In the expert's opinion, the new president will have to address issues that, if left unresolved, will make it impossible for Abkhazia to make palpable progress.
"Khadzhimba has to find a scenario for reconciliation between the two rival groups in the Abkhazian elite," Markov told RBTH.
Another task, albeit no less important, will be to provide guarantees to potential investors.
"It will be impossible to turn Abkhazia into a center for international tourism without serious investment. And it has every opportunity to become that kind of center. Mother Nature has given this land everything you could possibly dream of," Markov said.
All rights reserved by Rossiyskaya Gazeta.