Press Digest: Strelkov speaks out in Moscow; Donetsk to abandon hryvnia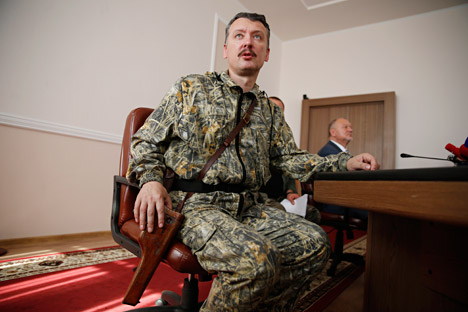 Commander Igor Strelkov. Source: Reuters
RBTH presents a selection of views from leading Russian media on the latest developments in Ukraine, including analysis of Gazprom's move to restrict gas supplies to Poland, plans to abandon the Ukrainian hryvnia in the breakaway Donetsk People's Republic, and a press conference given in Moscow by former militia commander Igor Strelkov.
Moskovsky Komsomolets writes that Ukraine has once again begun stealing transit gas destined for European countries. The Polish oil and gas company PGNiG announced that at the beginning of the fall there was a sharp decline in the volume of Russian gas transiting through Ukraine: On September 8 it fell by 20 percent, the following day by 24 percent and the day after by 45 percent.
Ukraine also reacted to the reduction in Russian gas supplies. According to Ukrstransgaz (a subsidiary of Ukraine's national oil and gas company Naftogaz - RBTH) spokesman Igor Prokopiv, on September 11 Poland requested 11 million cubic meters of gas, but Russia only delivered 7 million. "Four million less," said Prokopiv, "that is the reverse amount that Poland had promised to supply to Ukraine."
One of the theories is that Gazprom has begun limiting supplies in order to avoid the resale of Russian gas to Ukraine via third parties. There is another version, however. Warsaw admits that the fall in export volumes was registered on Ukrainian territory. According to an MK source close to Gazprom, this may mean that part of the gas has been siphoned off into Ukrainian storage, that is, Kiev has resumed stealing gas destined for EU countries.
Analyzing Russia's energy policy, Expert magazine writes that Gazprom, which closely collaborates with the Russian government, is letting Ukraine know that if it does not compromise, it will not be able to rely on the help of its European neighbors. There is nothing good about this situation. "The indecision to supply Russian gas to Ukraine threatens energy security in the southeastern European countries," says General Director of the National Energy Security Foundation Constantine Simonov in an interview with Expert.
If Moscow and Kiev cannot reach an agreement about gas supplies, it is possible that this winter Ukraine will have to close its transit routes. Alexei Kokin, analyst at Uralsib Capital, believes that such a policy may sooner or later affect Gazprom itself. "In the long term such a policy will serve as a prerequisite for EU's optimizing its gas transportation system, which will deprive Gazprom of an opportunity to limit its gas supplies to Ukraine," says Kokin.
Rossiyskaya Gazeta reports on the Donetsk People's Republic's government's intention to abandon the Ukrainian hryvnia as a currency. "The hryvnia is history now," the newspaper cites DPR parliamentarian Boris Litvinov as saying. Rossiyskaya Gazeta links this announcement both to the complete disagreement between the DPR government and Kiev on the future of the unrecognized republic and the hryvnia's difficult position - its value continues to fall. In Litvinov's view, the republic's government is thinking of either switching to the Russian ruble or establishing its own currency. Either possibility would be a long-term decision since, according to experts, both the Ukrainian hryvnia and the Russian ruble will soon be circulating on the territory of the self-proclaimed republic.
Meanwhile, Igor Strelkov (Girkin), one of the leaders of the Donetsk militias and former DPR Minister of Defense, who suddenly abandoned his post under unexplained circumstances at the end of August, recently gave a press conference in Moscow. Gazeta.ru briefly summarizes Strelkov's most important statements: He excludes the possibility of returning to Donetsk and resuming command of the militias; he blames Ukraine for the downing of the Malaysian Boeing; in his view, there are no regular Russian armed forces in Ukraine; and the truce that was established a week ago in Minsk is extremely disadvantageous for the militias, since it will allow Kiev to regroup its forces and go on the offensive.
Strelkov also turned to Russia's internal politics: He support's Vladimir Putin's policies and thinks that a "fifth column" is trying to undermine the government within the country and that it is important to fight it. Gazeta.ru asked political analyst Konstantin Kalachev to comment on Strelkov's speech. Kalachev is convinced that the unrecognized republic's most famous field commander will not become a political figure in Russia. "As long as he and his like recognize Putin as their commander, they will continue being cogs in a huge machine. Replaceable cogs."
All rights reserved by Rossiyskaya Gazeta.