Will Britain turn a new page?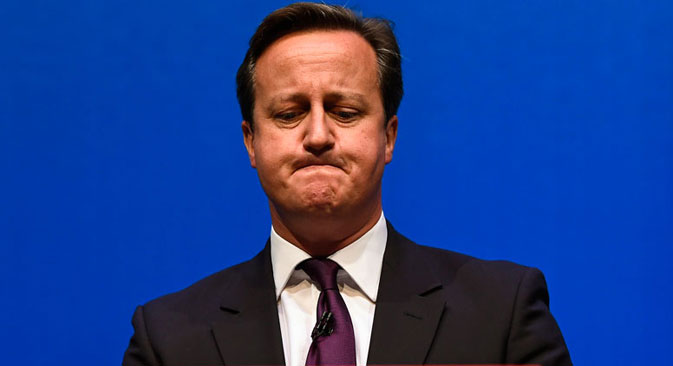 Britain's Prime Minister David Cameron gestures as he delivers a speech at the Aberdeen Exhibition and Conference Centre in Aberdeen, Scotland September 15, 2014. Source: Reuters
A Russian eye on what's happening in Britain this week: As Scotland votes on whether to become independent after 300 years, will we see the end of a British institution - the topless Page 3 girl?
Last night of the Union?
The 120th annual Last Night at the Proms ended with the traditional fare of Rule Britannia, Land of Hope and Glory and God Save the Queen. The audiences in the Royal Albert Hall, Hyde Park, Belfast and Glasgow sang along with a lot more gusto and passion than ever before. The Union Jack was waved around in full swing. Was this the last time it was proudly flying before a "yes" vote in Scotland's referendum on independence banishes it to history books? The anguish of a possible divorce has reached fever pitch lately with the "Yes" campaign accusing the "Nays" of scare-mongering and underhand tactics. The Last Night at The Proms was a welcome departure from the gloom and doom of the "No" campaign, uniting everyone in celebration of their common history and culture. Maybe they should have scheduled it to the very last day before the vote?
New migrants
It has been reported that salmon have been found in a stretch of a Lancashire river for the first time in almost 60 years. It follows the removal in 2010 of a weir on the River Calder constructed in the 1950s near Burnley. After the weir had been removed, rock pools were built to allow salmon and other migratory fish to move upstream. It took those fishy migrants four years to show up. And where have they swum from? Scotland or maybe Norway after Russia banned fish imports in response to sanctions by the European Union?
The big freeze
Talking of sanctions, new EU and US measures against Russia have come into force. Moscow is now pondering an "asymmetrical" response and a ban on imports of cars and household goods is mooted. The import of fridges may even be frozen, which is proving a boon to entrepreneurial vendors in Moscow, who have been urging shoppers to splash out on a new fridge before "it's too late". We recently shopped for fridges for both our London home and my mother-in-law in Russia. In Moscow we were completely stuck. We simply could not choose from among the myriad shapes, sizes, colours and finishes. I liked the wood, my wife – the leather. After such a bonanza we were disappointed by the limited choice in London. Looking at rows of white, silver and black coloured fridges I recalled the famous adage by Henry Ford – "you can have any colour you like as long as it's black". We even thought of bringing a fridge in from Moscow, a real consumers' paradise. Our Russian friends though are worried that this paradise will be hard hit by sanctions. My consolation to them: if the fridge imports cool down, London at last will catch up with Moscow in the consumer stakes.
Sextreme view?
Media mogul Rupert Murdoch has suggested Page 3 girls in the Sun newspaper should start wearing clothes. The boss of News Corp tweeted that topless models were "old fashioned", but admitted that readers might disagree. To the first Russian readers of the Sun after the fall of the Iron Curtain, Page 3 was a revelation. It did not match the perception of the British as having a stiff upper lip and puritan morals. The No More Page 3 campaigners argue that the nude photos condition readers to see women as sex objects and encourage "horrible sexist banter". Sounds feminist? Not to FEMEN, the "sextremist' protest movement that started in Ukraine. To them their bosoms are the weapons of feminism and a wider political protest. They have already outraged churchgoers in several countries by their bare-breasted performances. Maybe Mr. Murdoch was worried that page 3 could be their next platform?
Nikolai Gorshkov is a freelance writer based in London. He served as a BBC correspondent and representative in Russia and the former Soviet Union from 2001-2012.
All rights reserved by Rossiyskaya Gazeta.