Press Digest: Calls in China to follow Kremlin's lead in targeting NGOs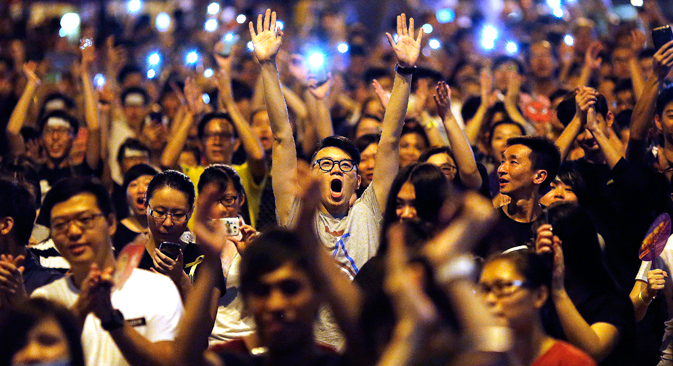 Thousands of pro-democracy protesters thronged the streets of Hong Kong. Source: Reuters
RBTH presents a selection of views from leading Russian media on the big global news stories, featuring analysis of the latest developments in the fight against ISIS militants in the Middle East, as well as the pro-democracy protests in Hong Kong and the inauguration of Jens Stoltenberg as NATO's new secretary general.
The Kommersant daily reports that the war against Islamic State (ISIS) militants in Iraq and Syria has reached a turning point. Turkey is preparing to side with the United States-led coalition against ISIS, and its army may secure permission to deploy troops and perform cross-border operations in Iraq and Syria.
Ankara is also planning to create a safe zone in northern Syria for refugees. However, the cabinet of then-Prime Minister Recep Tayyip Erdogan did not previously make use of parliament's permission, refusing to get involved in a conflict with the Syrian authorities.
"Ankara wants to form a zone on Syrian territory, and that entails the large-scale introduction of Turkish troops there," said Viktor Nadein-Rayevsky, a senior research fellow at the Institute of World Economy and International Relations of the Russian Academy of Sciences.
"Damascus won't stand for that," he added. In such a series of events, Turkey would "occupy a portion of Syrian territory, and that can in no way be considered a legitimate step on Turkey's part," Nadein-Rayevsky said.
Nezavisimaya Gazeta writes that the Hong Kong protests could drive Moscow and Beijing even closer together, as there have been calls in China to use Russian methods to control the activities of non-governmental organizations. Beijing has warned foreign powers against trying to influence events in Hong Kong.
In fact, the Chinese media is directly claiming that Western civil society organizations have contributed to fanning the unrest. China has not forgotten that the U.S. Congress-financed National Endowment for Democracy (NED) supported the Euromaidan movement in Kiev. Now Chinese experts aver that the NED is at work in Hong Kong, with the apparent task of fomenting a coup. Communist Party newspaper Global Times writes, "We should learn a lesson from Russia and adopt a law on foreign agents."
In a conversation with Nezavisimaya Gazeta, Andrei Karneyev, deputy director of Moscow State University's Institute of Asian and African Studies, noted that many people inside China are indeed linking the Hong Kong protests with the U.S., claiming that they never would have happened without the latter's meddling. However, the expert doubts that the events in Ukraine and Hong Kong will bring China and Russia together.
The Americans are already bringing that about themselves; after all, their publicists often refer to Russia and China as hostile states. And of course, Karneyev said, arguments that Beijing is tightening its regime by following Moscow's example should not be taken seriously: The Communist Party in China has much more powerful levers of control over society than the Kremlin does in Russia. "The Chinese simply have nothing to learn from us in that regard," Karneyev said.
The Izvestia newspaper reports on the inauguration of NATO's new secretary general - former Norwegian Prime Minister Jens Stoltenberg. At the beginning of his political career, Stoltenberg was an opponent of U.S. foreign policy and spoke out against Norwegian membership in NATO. However, as prime minister, he actively supported Norwegian participation in NATO operations in Afghanistan and Libya.
According to Veronika Krasheninnikova, a member of the Civic Chamber, NATO will not undergo any special changes with the arrival of its new secretary general.
"The NATO line is established and approved, and Jens Stoltenberg will have to implement that line, which is aimed against Russia," she said.
"It should also be noted that the appointment of a political figure from Norway as NATO secretary general pursues the goal of more actively involving the northern European states in NATO's activities. It has been stated that Sweden and Finland are intensifying their role in the alliance and are offering up their territories for all kinds of different military initiatives," Krasheninnikova said.
All rights reserved by Rossiyskaya Gazeta.