Judging by its online trailer, veteran television presenter Vladimir Pozner gets Britain wrong in a new documentary on English habits and customs, Nick Holdsworth in Moscow finds.
Russia has a long history of fascination, admiration and suspicion of the British.
Allies and enemies by turns over the centuries, the relationship is a complex one that even in the frostiest days of the Cold War was never quite as fraught at that between Russia and the USA.
Vladimir Pozner, long known in the west as a Soviet apologist, is no expert on 'perfidious Albion.'
But now, as part of a long, leisurely series of television documentaries on foreign countries he has been producing in recent years for Russia's Channel One, Pozner is venturing his views on the English.
In 'Angliya v obshchem i v chastnosti' (England in general and particular) Pozner, who was born in France, grew up in the States and received a Soviet passport at the age of 16 after a family move to the Soviet sector of Berlin prompted by revelations in the west that his father was a Soviet spy, tilts his talented journalist hat at the English.
Earlier look at Italy was not well received
Earlier shows on America, France and Italy demonstrate his undeniable talents, although his foray into Italy did not go down well with domestic audiences there. A Teutonic episode, 'The German Puzzle' has yet to be aired and his look at the British, filmed last year, is tentatively scheduled for broadcast in Russia next month. A special screening is scheduled for October 27 at the Moscow residence of the British Ambassador, Tim Barrow.
A three minute trailer of the film and a brief story about it on media website vokrug.tv gives the impression that Pozner has little fresh or original to say about his subject.
Vokrug.tv quotes Pozner as saying the show will "focus on the unconventional England: why people are so fond of the Queen, the role the British played in the Second World War… special attention will be paid to English patriotism, the confidence expressed by every Englishman that there is no better country in the world and that everyone wants to English."
There is nothing new or, indeed unconventional about this view from abroad of the British.
Cliches and convention
The trailer opens with a view of a busy London street, a ubiquitous black cab negotiating the traffic between red double-decker buses and other clichés of life on the capital's streets. Pozner reclines, urbane well dressed and well-spoken, in the back of the cab with his younger co-host (who later doubles as his driver for ventures further afield into the English countryside.)
A montage of images, all deeply conventional, follow: a north country hill farmer carrying eggs from an outhouse in a grubby plastic tub; white-coated experts tasting tea, small piles of the fragrant leaf arranged in delicate porcelain bowls in front of them; a visit to an ardent Royalist, Union Jacks in abundance and a glimpse of a ceremonial coach used by the Queen for events of pomp and circumstance.
Pozner, who has gone on record to express his regret for propagandizing for the Soviet Union back in the bad old days, seems to tread a well-worn, even deeply rutted road, in his view of the English.
Perhaps it is unkind to judge a book by its cover. Pozner is an erudite and engaging television presenter who, in his regular Channel One chat show 'Pozner', displays wit and a talent for asking casually pointed questions. His flawless, American-accented English, good looks and youthful vigour (all the more amazing for a man of 80) are clearly assets on television.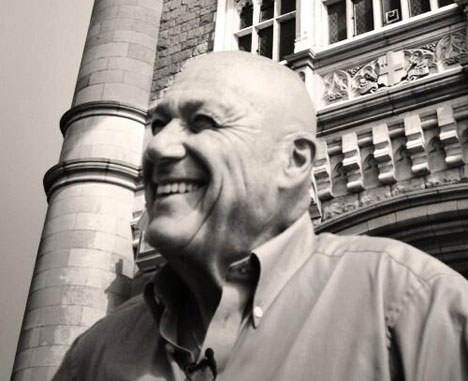 Vladimir Pozner in England. Source: pozneronline.ru
'England in general and particular' is not aimed at a native audience, nor even a merely Anglophone one, so perhaps it is unfair to draw parallels with exponents of the art of probing the lives of others from its own foggy shores.
But if you can find it, don't miss a fabulous jaunt into English eccentricity that the late, much lamented Irish comedian Dave Allen made for the BBC in 1974.
Allen had a long-running one-man comedy show on British television in the 1970s and 80s that was brilliant in its originality and conventions (the glass of whisky, the cigarette, his occasional use of a missing finger on one of his hands for dramatic and hilarious affect).
He took his personal brand of peculiar humour with him to 'Dave Allen In Search of the Great English Eccentric', a show that introduced viewers to a parade of characters that included the businessman obsessed with toy trains ,an elderly man who kept mice and was loved and cared for by his neighbours, and the chap who had lived for 50 years in a box on wheels that was so short it had to have a small extension added to accommodate his lower legs when he lay down to sleep at night.
Given two other pieces of British news that surfaced last week in the Russian media, one about an 81 year old grandfather who has had a sex change operation and now goes by the name of Rose, and the other about a British army office stripped of his Military Cross after revelations he falsified evidence of his bravery under fire, Pozner's quaint view of life in England may just be a bit wide of the mark.
The opinion of the writer may not necessarily reflect the position of RBTH.
All rights reserved by Rossiyskaya Gazeta.