Press Digest: Putin and Poroshenko meet in Milan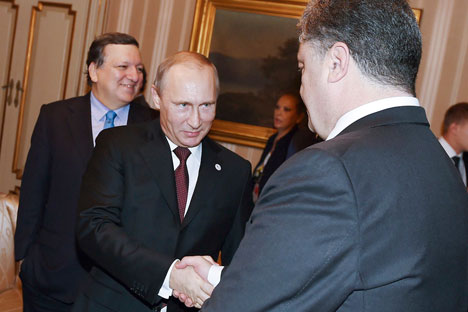 Russia's President Vladimir Putin (L) shakes hands with Ukraine's President Petro Poroshenko as he arrives for a meeting on the sidelines of a Europe-Asia summit (ASEM) in Milan October 17, 2014. Source: Reuters
This special edition of the RBTH round-up of Russian press focuses on the Asia-Europe summit in Milan and the meeting between Russian President Vladimir Putin and Ukrainian President Petro Poroshenko, which took place on the sidelines of the summit.
Russian daily Kommersant reported from Milan that the two presidents discussed gas transit and border control during their meeting.
"We just about compared our positions on maps," Putin said to journalists after the discussions. "First, the deciding factor in the Ukraine—or as it's now trendy to say, in Ukraine—needs to be the Minsk Protocol. Second, the line of demarcation has to be finished and complied with. There's also progress on the gas issue. We've agreed on the conditions to renew gas supplies, and on the parameters. The issue lies in the cash shortage in the Ukraine. We can't take on any additional risks. Gazprom has switched to prepayment and we can't change that."
According to Kommersant, the parties have already agreed on the price – it will be the same for Ukraine as for China: $385 per 1,000 cubic meters. "According to a source in the Ukrainian delegation who was unexpectedly talkative, at yesterday's talks the parties agreed that money for this will probably need to be provided by European partners. Both [German Chancellor] Angela Merkel and [French President] François Hollande agreed to this because it appears that there is no other option," Kommersant reported.
In its article about the meeting between Putin and Poroshenko, the news website Gazeta.ru reported that "the summit practically became an arena for discussing the implementation of the Minsk Protocol and the gas issue."
"At a closing press conference, Putin characterized his trip to Italy as beneficial over all. He said that during meetings with European leaders, 'Ukrainian problems were discussed a lot,' particularly the cease-fire and the spread of fighting. 'The reference point for reconciliation in the Ukraine, or as it's now trendy to say, in Ukraine'— Putin could not resist a jab —'needs to be the Minsk accords. They are not yet being entirely fulfilled by the two sides.'" The website reported that the parties also agreed to the completion of a 15-kilometer [9 mile] line of demarcation.
Gazeta.ru noted that on the whole, Putin also responded positively to the law President Poroshenko signed last week guaranteeing the special status of the insurgent southeastern regions.
"It probably isn't an ideal document, but it's a step in the right direction," Putin said.
All rights reserved by Rossiyskaya Gazeta.