Press Digest: Russian-Syrian commission mulls $1 billion loan to Damascus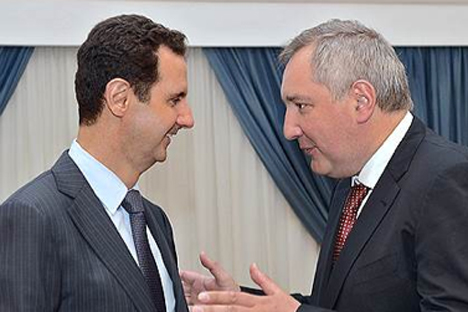 According to the Kommersant newspaper, Russia can allocate $1 billion in loans to Syria. Pictured: Dmitry Rogozin (right) and Bashar al-Assad. Source: Press Photo
RBTH presents a selection of views from leading Russian media on international events, featuring a preview of an upcoming meeting of the Russian-Syrian intergovernmental commission on trade and economic cooperation, alongside news and analysis of the latest breakdown in the long-running gas negotiations between Moscow and Kiev.
The Kommersant daily writes that one of the key topics at a meeting of the Russian-Syrian intergovernmental commission on trade and economic cooperation will be whether to allocate around $1 billion in loans to Damascus. According to the newspaper, Syria needs the money to stabilize its national currency and address social issues.
Kommersant reports that the commission decided at its previous meeting to provide Damascus with 240 million euros ($300 million) to tackle social problems. Of that amount, a sum of 46 million euros was transferred on a grant basis at the Syrian government's request. However, an anonymous government source told Kommersant that Moscow is not yet ready to provide Syria with a $1 billion loan. "The Finance Ministry will be unequivocally against providing such a loan because it is not underpinned by any guarantees," the source said.
Even if Russia does decide to issue a loan, Moscow will not have the ability to transfer the money to Damascus because there are tough U.S. and EU sanctions in place against Syrian financial institutions. According to Kommersant, the two countries are planning to expand bilateral trade in the face of the sanctions, primarily in the textile, agriculture, and energy industries.
In parallel with providing financial and humanitarian aid to Syria, the Russian authorities are taking steps to revive talks on a peaceful settlement of the conflict in Syria. The issue took center stage in a meeting between Russian Foreign Minister Sergei Lavrov and the UN's Special Envoy for Syria, Staffan de Mistura.
Nezavisimaya Gazeta continues to report on the gas negotiations between Moscow and Kiev. The newspaper cites European Energy Commissioner Gunther Oettinger as saying that the countries will sign a temporary gas supply agreement to last until the end of March after Ukraine's parliamentary elections.
Ukraine and Russia have therefore found a way to realize the political agreements reached by Vladimir Putin and Petro Poroshenko in Minsk. However, Russia's terms for resuming supplies remain the same: Ukraine must pay off part of its debt and make advance payments for future supplies. According to Nezavisimaya Gazeta, it has been decided to delay payment of the other portion of the debt until the Stockholm Court of Arbitration has rendered a ruling.
Kiev insists that the agreement fix a price of $385 per 1,000 cubic meters until March, a source close to Ukrainian government circles told the newspaper.
Nezavisimaya Gazeta's experts previously assumed that Ukraine, which is broke, would drag out the gas talks. However, the newspaper cites Ukrainian Prime Minister Arseniy Yatsenyuk as saying that the country has $3.1 billion to pay back its debt.
Meanwhile, the Ukrainian government is attempting to boost volumes of reverse gas supplies from Europe. Nezavisimaya Gazeta writes that Russia intends to block those supplies. Russian Energy Minister Alexander Novak said that Gazprom's contracts with European buyers do not offer the possibility of transferring that gas to a third party.
The newspaper Moskovsky Komsomolets also reports on the Russian-Ukrainian gas discussions. "A gas truce has not been reached between Russia and Ukraine. The latest trilateral negotiations in Brussels seemingly yielded a result – a price of $385 per 1,000 cubic meters was agreed upon. In the summer that would have been a breakthrough, but Kiev has no money. The Ukrainians are counting on solving the debt problem through 'European intermediaries,' which will pay for Ukraine's debts," the newspaper writes.
However, the Europeans are not willing to provide extra money. Both the West and Russia are saying this. "Ukraine has not confirmed its sources of financing for the current supplies," Russian Energy Minister Alexander Novak said.
Moskovsky Komsomolets reports that "Ukraine once again intends to play two hands, begging Russia for fuel on the one hand and suing Gazprom in the Stockholm court on the other."
All rights reserved by Rossiyskaya Gazeta.