Too many cooks spoil the British broth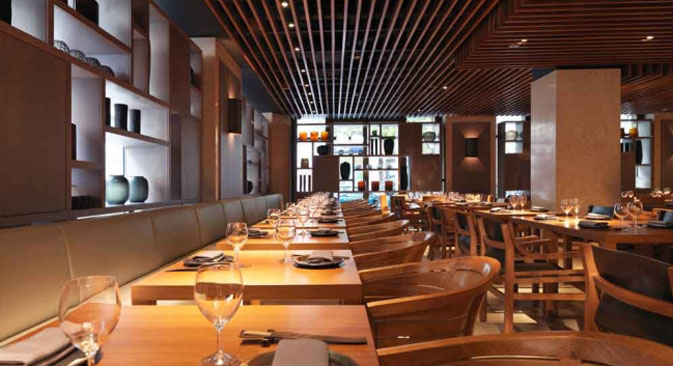 'Novikov' in London. Source: Press photo
Russia comes in for a pasting by a British press corps who find Russian-run restaurants in London leave a bad taste in their mouths, says Nikolai Gorshkov.
Russia simply can't get it right these days if we are to believe its critics in the British press. And not just your usual crop of critics, but those who provide food for thought for readers thinking of eating out. Lately they have been keen to lambast Russian restaurateurs. First they rounded on Novikov in London's Berkley Square, and then turned on Mikhail Zelman's The Beast, delivering a damning verdict that both are "overpriced, pretentious and pathetic".
British attitudes to food and especially foreign cuisine have always been a puzzle wrapped in mystery to me. One of the first things I learnt on arriving in Britain was that "Chinese" or "Italian" more often meant takeaways rather than people. We looked desperately for authentic English eateries only to find that they were few and far between and not exactly priced for our pocket.
British attitudes to food
But even before we settled in Britain some twenty years ago, I had some funny experiences with British attitudes to food. Back in the mid-1990s my Russian boss was expecting an important business contact from London, so he thought of every little detail of entertaining his guest. We went to great lengths to book a popular restaurant and splashed out on some Beluga caviar and champagne only to be asked by our visiting partner if he could have a burger with chips and mashed potatoes. Needless to say, my boss and I stayed behind to finish off the caviar and the bubbly.
At the other extreme of the price spectrum, I remember the longing for some borsch and pelmeni (Siberian dumplings) when I was working at Bush House in London. The choice at the canteen was limited to the usual Chinese or Italian with an occasional splash of Indian, so those with a taste for Russian cuisine were blessed when a Russian café opened in Covent Garden. At last we could have a proper lunch, the way it used to be at home.
Alas, this hope was short lived and we witnessed its demise. Our custom was not enough to keep the café going even though we did our best to encourage other staff to partake in Russian fare. Our colleagues preferred pizzas and burgers to Russian salads and rye bread. One day our small group of Russian foodies was having lunch at the café when a couple of cabbies pulled up. They studied the menu and the dishes on display judiciously and ordered … two teas. When their order came they looked at it with suspicion and left without paying. We all thought that was a death knell for the project and for our dreams of a decent lunch.
The truth is, the British press criticise Russian restaurants as if British pubs serve up gourmet dishes on a daily basis.
Russian fast food
Admittedly, the range of dishes is not limited to fish and chips, steak and melted Camembert. The true problem in Russian catering establishments (at least at home) is the service.
"Rubbish hotels, terrible value and the least helpful locals: Russian capital Moscow voted the worst city in the world to visit," as The Independent's headline had it a few months ago.

The story, based on reports from a popular online travel website, seems a bit too harsh. Those who have not been to Moscow may not believe it, but you can even find decent Russian fast food. Since branches of McDonald's were closed down for health and safety checks recently, Russians have had to turn to their own speedy eateries, such as Yalky Palky or Grabli, both serving up decent fare at honest prices.British takeout or eat-in places could learn a lot from them.
Soggy sandwiches
"The British are simply not adventurous enough with food," I was reminded many times at holiday destinations where most British tourists congregated around "genuine" pubs serving lager with fish and chips. Which made me wonder how on earth they managed to build the biggest Empire on a diet of soggy sandwiches?
The truth is that the British have seen many food invasions of their own territory, and appear to be content with acquired tastes. But the latest onslaught, from Russia, remains difficult to stomach, perhaps because it comes in so many different categories from fast food to haut cuisine, from the affordable to the posh. Could it be that London is a mecca for foreign restaurateurs precisely because, unlike Paris or Rome, it does not have a cuisine of its own to protect?
The opinion of the writer may not necessarily reflect the position of RBTH.
All rights reserved by Rossiyskaya Gazeta.