Spies, submariners and Bond girl goads Fleet Street into action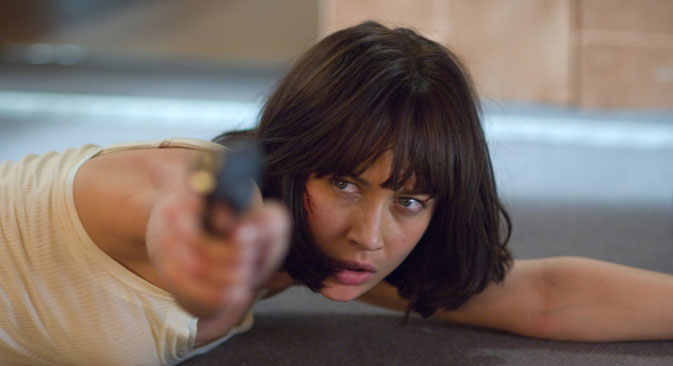 Olga Kurylenko as Bond's girlfriend. Source: AFP / East News
Bond girl Olga Kurylenko brings warmth and glamour to London's Russian Ball as Cold War games make headlines, says Aliya Sayakhova.
Coverage of Russian affairs here is beginning to look dated: spies, submarines, military aircrafts... all very Cold War. It makes you wonder whether websites for papers like the Telegraph had a glitch and accidentally reprinted a 1962 edition with this week's date on it. On closer reading, it looks as if history is repeating itself.
The Telegraph ran a story last week headlined 'Extremely high' number of Russian spies in Czech Republic. It was based on a report from the Czech Security Information Service that Moscow had increased the number of its spies in the former Warsaw Pact country. Numerous intelligence officers are working in the Czech Republic as diplomatsor roaming around posing as tourists, experts, academics or businessmen.
The Telegraph also covers the story of three reported sightings of an unidentified vessel lurking off the Swedish coast, prompting a week of cat and mouse games in the Baltic Sea with what was believed to be a Russian submarine. And last month Poland arrested two men, one of them a high-ranking army officer, on suspicion of working for a foreign power, believed to be Russia. As Russia's most famous fictional spy, Shtirlitz once said: "You can't trust anyone these days. Including yourself."
Bond, James Bond
James Bond, aka Agent 007, Shtirlitz's equally prominent British opposite number, knows this only too well. How often has he been in trouble thanks to a beautiful, apparently trustworthy lady, such as his Russian-speaking (though Ukrainian born) girlfriend Olga Kurylenko? Speaking of which, Olga made a rather stunning appearance at London's Russian ball last Sunday adding "a touch of Bond girl glamour" as the Daily Mail noted. The spectacular event at Old Billingsgate in London's East End is now in its second year. It is a high-profile bash that brings together businessmen, politicians and other wealthy Londoners, mostly Russian, willing to pay up to £790 for a night of waltzing, music and beautiful frocks. Olga's sweeping white lace gown, coupled with a fresh organic peach look, tasteful jewellery and charming smile gave her an unforgettably angelic look. The actress, who starred with Daniel Craig in 2008 Bond movie Quantum Of Solace, seemed to enjoy herself at the dinner table and on the floor where dozens other young ladies in glistening ball gowns, the so-called debutantes of the ball, could not outshine Olga's cool beauty.

Despite the Daily Mail's fixation with Kurylenko's looks, admittedly rather charming, the ball featured other notable cultural highlights, including an opera performance by Bolshoi soprano Venera Gimadieva and ballet by Ketevan Papava and Kirill Kourlaev, from the Vienna State Ballet. Music by the Russian Virtuosi of Europe chamber orchestra conducted by Felix Korobov, which played throughout the night, and the debutants themselves who spent months being coached by choreographer Leonid Pletnev, ensured the ball was a remarkable occasion in Russian-British cultural life.
Bears over Britain

The day before the ball however the news was hardly as optimistic. Fleet Street's finest were all stirred up by reports of a Russian jet approaching UK airspace, the second Russian air force fly-past in three days, according to Britain's Ministry of Defence. A Soviet-era Tupolev Tu-95 aircraft, also known as a Bear bomber, was spotted off the coast of Scotland last Friday. Intercepted by Royal Air Force Typhoon fighters, it was escorted through British skies, the Guardian reports. The intervention follows a similar incident on Wednesday, when two Bear bombers were tracked over the North Sea as NATO radars picked up a series of Russian formations engaged in "significant military manoeuvres" ranging from the Black Sea to the Atlantic Ocean.
The Russian air force seems to have engaged in an 'Occupy Airspace Movement' on a grand scale. There have been more than 100 NATO intercepts of Russian aircrafts overt the past year; three times as many as in 2013. The picture the Telegraph ran looks like an advert for the latest combat flight simulator and is enough to make one seriously regret they were born on the same planet as Russians (or at least Russian Bears).
Mammoth puzzle
As for bears, well…. they seem to have fallen out of fashion in Russia. Mammoths are now all the rage.
A well-preserved female woolly mammoth named Yuka, which died 38,000 years ago, has gone on display in Moscow, London newspapers tell us. Yuka was unearthed in 2010 in the far north region of Yakutia and excavated from the permafrost in great shape. Room there for Yakutia to market itself as a top location for anti-ageing resort spas?
According to Albert Protopopov, a mammoth expert from the Yakutia Academy of Sciences, Yuka's carcass bore traces that she had been hunted during the last Ice Age. This suggests that people lived in Yakutia much earlier than previously thought. "The oldest sites of human habitation in Yakutia date back 32,000 years, but this mammoth is 38,000 years old," Mr Protopopov said.
What remains a puzzle though is why would anyone want to live in Yakutia, particularly 40,000 years ago, way before its oil and diamonds were discovered? Mammoth knows, is the answer. The good thing is that Yuka, which scientists say is the best-preserved mammoth in the history of paleontology, now gets to travel the world far beyond her native Russian Far East. She has been on display in Japan and Taiwan and can now be seen in Moscow, but hurry, tomorrow (November 6 at the Central House of Artists) is the last day!
The opinion of the writer may not necessarily reflect the position of RBTH.
All rights reserved by Rossiyskaya Gazeta.