Global warming v. global cooling, Russia and the world at loggerheads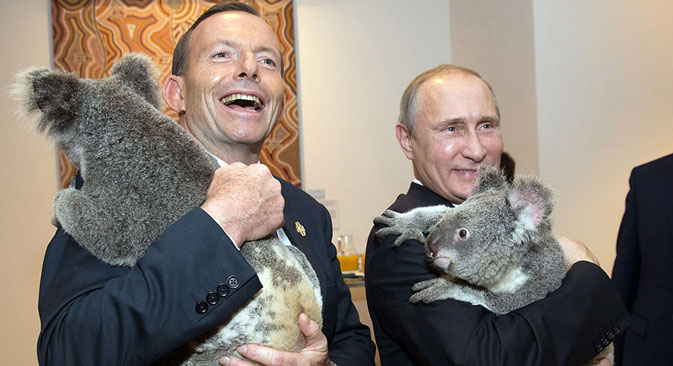 Australia's Prime Minister Tony Abbott (L) and Russia's President Vladimir Putin as they meet Koalas before the start of the first G20. Source: AFP PHOTO / East News
The G20 summit in Brisbane puts Mr. Putin in the frame while reindeer police and Russia Today add spice, says Aliya Sayakhova.
Last week's most important international event was, without a doubt, the G20 summit that took place in Brisbane, Australia, over the weekend. At the end of the two-day summit, the leaders approved a package of 800 measures designed to increase their economic output by a couple of percent by 2018. Another hot topic was global climate change, forcing several countries to reveal new emissions reduction targets in the first few months of next year.
Vladimir Putin, who left the summit early, seems to have found the G20 both constructive and exhausting. The Russian president was the first to head for the exit on Sunday afternoon and fly home. Mr. Putin had to excuse himself in front of Australian Prime Minister, Tony Abbott, explaining he had to undertake an 18-hour flight to get home: first, nine hours to Vladivostok, and then another nine hours from Vladivostok to Moscow. "I came to Tony and told him about it, he understood this. There are no other considerations," the Guardian reported him saying. A tired Mr. Putin left Brisbane praising the summit's "constructive atmosphere" and suggesting that any discord between with leaders of the Western world had been exaggerated.
Challenging journeys
The challenge of long journeys is well known to travellers in Russia. Though everyone knows that Russia is the biggest country in the world, few realise what it means in real terms for people who live there. It's always funny to see Londoners' reaction when told my town of birth is not too far from Moscow, just a two-hour flight away. In little cozy Europe, where it takes two hours by car or train to cross the borders from one country to another, the concepts of distance and proximity have a completely different meaning to those in Russia with its Kaliningrad in the west, Chukotka in the east, and the 5,600 miles in between.
People in the West often announce it's their dream travel the Trans-Siberian railway. For those who live in Russia, however, spending a week on a train can be an expensive and tiresome necessity, very far from a Brit's notion of pleasures of an exotic journey. Crossing eight time zones sounds like a Transatlantic journey to most, and yet it is possible within one country. While that is impressive, one has to bear in mind that the costs associated with such a trip are enormous. How to journey across thousands of miles of steppes and mountains, tundra and taiga, rivers and deserts, industrial cities and small dying villages is a seminal question not just for Mr. Putin flying in from the summit, but for the whole of the country on a daily basis. The social, political and economical costs of "commuting" from the Far East to European Russia presents a multi-faceted challenge and one that explains a lot of peculiarities of Russian political and social order.
Crimebusting reindeer
Before flying back from Brisbane, Mr. Putin posed for what undeniably became the cuddliest shot of the whole summit, the koala-hugging photo with Mr. Abbott.
Russia does not have Koalas, but should Mr. Putin make a stop in Siberia on his way back he could hug some reindeer, as well as learn how these graceful animals are helping police tackle crime.
Reindeer could soon be patrolling alongside police officers in Russia's far north, reports the BBC website, quoting Izvestiya.
Police in the Yamalo-Nenets region of north-west Siberia often struggle to chase suspects who escape via snowy tundra, inaccessible to regular transport. "Of course we have snowmobiles in service, but one should understand that a machine is a machine," says Irina Pimkina, a regional Interior Ministry spokeswoman. "A snowmobile can break down or get stuck in the tundra, but deer will run at all times." As it turns out, Russia's Defence Ministry already has about 150 donkeys and mules serving in special mountain brigades, so nothing unusual in using reindeer.
Sputnik launch
The launch of a new Sputnik made headlines at the BBC. Not a space station, but a new international news service. Headed by Rossiya Segodnya's Dmitry Kiselyov, Sputnik, the new brand name for what used to be Voice of Russia radio and the foreign service of news agency RIA Novosti, plans a network of media hubs in 30 cities. Kiselyov says the project is aimed at a global audience "tired of aggressive propaganda promoting a unipolar world."
Propaganda was something troubling Britain's media authority Ofcom last week. Russia Today (RT), the Kremlin's international TV network, has been ticked off and threatened with statutory sanctions after being accused of breaching impartiality rules in its coverage of the Ukrainian crisis, the Guardian reported.
Measuring objectivity is an inexact science, but I was given the chance to take an impromptu Vox Pop last week in a taxi on the way to work and later, at home in my own kitchen. Learning I was Russian, the cabbie pronounced RT the only "truthful" channel, as well as a great source of alternative stories to those presented by mainstream Western media. Later, my Australian houseguest said he saw Al Jazeera and RT as the ultimate news sources that helped to counteract and balance Western media bias.
My two new friends would be thrilled to find out that information that balances that broadcast by their local news sources is set to expand: in addition to the Sputnik launch, RT is starting its own dedicated news service for viewers in the UK, designed to "promote debate and new ways of thinking about British issues."
The opinion of the writer may not necessarily reflect the position of RBTH.
All rights reserved by Rossiyskaya Gazeta.