Press Digest: ISIS should face trial in Hague, says UN human rights chief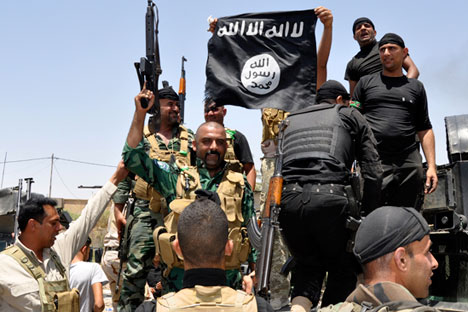 Iraqi security forces pull down a flag belonging to Sunni militant group Islamic State of Iraq and the Levant (ISIL) during a patrol in the town of Dalli Abbas in Diyala province, June 30, 2014. Source: Reuters
RBTH presents a selection of views from leading Russian media on international events, featuring a report on the UN Security Council meeting on the Islamic State (ISIS) militant group, as well as U.S. Vice President Joe Biden's visit to Ukraine, and a speech made by Russian Foreign Minister Sergei Lavrov outlining Russia's foreign policy strategy for 2015.
Nezavisimaya Gazeta reports on a United Nations Security Council meeting focused on the threat posed by the Islamic State jihadist group (ISIS) to the international community.
UN High Commissioner for Human Rights Zeid Ra'ad Al Hussein said ISIS militants are committing "monstrous" atrocities that should be examined by the International Criminal Court (ICC) at the Hague. ISIS could be found guilty of at least six of the 11 offenses that the ICC considers crimes against humanity, including genocide against religious minorities and war crimes.
Stressing that ISIS is the wealthiest and most widely financed jihadist organization in existence, the authors of the report recommended that the UN Security Council undertake effective measures against financial resources and weapons making it into ISIS hands, Nezavisimaya Gazeta writes. The report suggests blocking all cross-border operations by ISIS militants, which means closing borders, delaying freight, and holding up tankers loaded with oil.
Washington is making no secret of the fact that Vice President Joe Biden's trip to Ukraine, which begins on Nov. 20, aims to serve as a warning to the Russian authorities, the Kommersant daily reports. Sources close to the U.S. administration have told Kommersant that the U.S. Department of the Treasury's Office of Foreign Assets Control has already received an order to draft proposals on new lists of sanctions. According to Kommersant, the president may approve them if "Moscow continues to destabilize the situation in eastern Ukraine."
Biden is accompanying Assistant Secretary of State for European and Eurasian Affairs Victoria Nuland to Kiev. His plans include a meeting with the Ukrainian government and a roundtable dedicated to fighting corruption and reforming law enforcement. Kommersant writes that Biden's forthcoming statements are likely to reiterate that Washington is concerned by Moscow's continued violations of the peace agreements signed in Minsk in September.
The newspaper Moskovsky Komsomolets reports on a speech made by Russian Foreign Minister Sergei Lavrov at the State Duma on Nov. 19. In the speech, Lavrov said Russia's recent emphasis on relations with the East is not an alternative to ties with the West. "There is no real alternative to beneficial, equitable cooperation between Russia and the European Union," he said. However, he added that Russia is only willing to work with its partners on an equal and mutually respectful footing.
Lavrov also laid out Russia's foreign policy priorities for 2015, which are connected with Russia's chairmanship of both the BRICS group (Brazil, Russia, India, China and South Africa) and the SCO (Shanghai Cooperation Organization). "We will host the summits of these organizations next summer," said Lavrov. "The significance of the BRICS countries and the coordination of their positions are growing in the international arena, which was confirmed during the G20 summit in Australia."
"Decisions have recently been made to deepen cooperation and our strategic partnership with China. Multifaceted ties are deepening between Russia and India, Vietnam, and our other partners in the Asia-Pacific region," he continued. "That said, the Eastern vector of our policy is viewed not as an alternative to connections with the West, but as a factor for implementing the multi-vector principle of our work in the international arena."
All rights reserved by Rossiyskaya Gazeta.