Press Digest: Is Ukraine forming an alliance with Lithuania and Poland?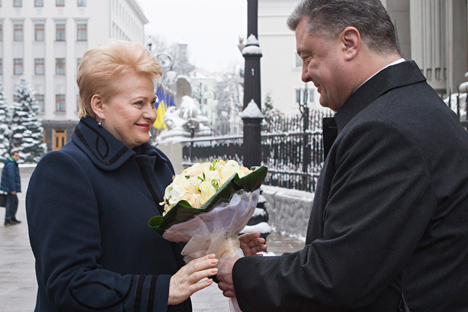 Ukrainian President Petro Poroshenko, right, greets Lithuania's President Dalia Grybauskaite in Kiev, Ukraine, Monday, Nov. 24, 2014. Source: AP
RBTH presents a selection of views from leading Russian media on international events, featuring a report on a mooted military alliance between Lithuania and Ukraine, as well as analysis of France's announcement that it has postponed the delivery of two Mistral warships to Russia indefinitely in connection with the situation in eastern Ukraine.
The Nezavisimaya Gazeta newspaper writes that Ukraine is forming a defensive alliance with Lithuania and Poland. After Lithuanian President Dalia Grybauskaite's recent visit to Ukraine, Kiev has realized that it was pointless to hope for NATO's assistance in the conflict taking place in the Donbass region of eastern Ukraine, and has decided instead to develop defensive ties between separate NATO countries.
During their meeting on Nov. 24, Grybauskaite and Ukrainian President Petro Poroshenko discussed the creation of a Ukrainian-Polish-Lithuanian alliance. "We agreed to prepare officers and participate in multinational drills on Lithuanian territory, to cooperate in the military-technical field, and to supply the Ukrainian armed forces with specific armaments," Nezavisimaya Gazeta cites the Lithuanian President as saying.
Serhiy Taran, director of the Kiev-based International Institute of Democracy, said that Lithuania might supply Ukraine with spare parts for equipment and armaments. However, Taran added that this can happen only after the West is convinced that the Ukrainian government has seriously started carrying out reforms.
Serhiy Zhurets, director of the Center for Army, Conversion, and Disarmament Studies research center in Kiev, explained that western countries would not use Lithuania as a screen to supply Ukraine with armaments and equipment. "Each NATO country acts in accordance with its national legislation, not by some secret decision or recommendation," Zhurets said. Zhurets believes that Ukraine understands that the road to NATO will be very long and is therefore trying to create intermediate alliances that would help strengthen its defensive capabilities. "It's logical that Ukraine's allies are Lithuania and Poland, countries that, like Ukraine, see Russia as a threat to their security," concludes Zhurets.
The Gazeta.ru online newspaper reports that French President Francois Hollande has vetoed the delivery of the two French-built Mistral helicopter carriers due to be sent to Russia. The ships will not receive a military export license, without which they cannot be transferred to Russia, explains the publication.
Gazeta.ru reminds its readers that NATO representatives, as well as influential American congressmen, were against the delivery of the Mistral, since, in their view, Moscow is responsible for the escalation of the conflict in Ukraine.
The publication notes that in the event of the contract's nonfulfillment France may have to pay a penalty of over $3 billion. Russian Deputy Defense Minister Yury Borisov has announced that Moscow is willing "to wait patiently," but may eventually file a lawsuit with the Arbitration Institute of Stockholm.
For now it is not clear whether the court would judge the Ukrainian crisis as a force majeure that gives Paris the right to reconsider the deal. However, Ilya Rachkov, a professor of international law at Moscow State Institute of International Relations, explains that the force majeure clause would go into effect only if there was a military conflict in France.
According to military expert Alexander Goltz, the French president's decision is based on Russia's position on Ukraine, which is unlikely to change, meaning that "the ships will never be delivered to Russia."
The Kommersant newspaper cites a Russian Interior Ministry official as saying that negotiations between Iran and the P5+1 group (the five permanent members of the UN Security Council plus Germany) will restart on Dec. 10. The location of the meeting has not been confirmed, but the official does not exclude that it will be the Arabian state of Oman. Another source said that the negotiations would most likely first be conducted by experts, who, if necessary, would later be joined by the political directors of the respective foreign ministries (from the Russian Federation it would be Deputy Foreign Minister Sergei Ryabkov).
All rights reserved by Rossiyskaya Gazeta.