Press Digest: Bulgaria and Serbia protest scrapping of South Stream project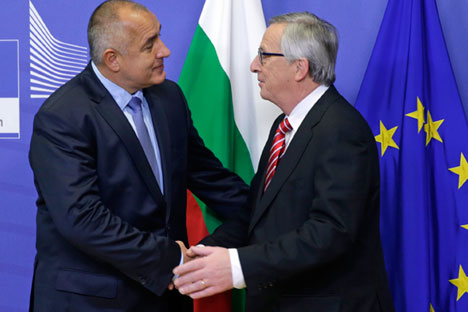 European Commission President Jean-Claude Juncker, right, welcomes Bulgarian Prime Minister Boyko Borisov at the European Commission headquarters in Brussels, Thursday, Dec. 4, 2014. Source: AP
RBTH presents a selection of views from leading Russian media on international events, featuring a report on the reaction in the Balkans to Moscow's abandonment of the South Stream pipeline, as well as the possibility of U.S. gas reaching Europe by 2020, and analysis of the implications of the dissolution of the Israeli parliament.
Nezavisimaya Gazeta writes about the European Union's reaction to the cancelation of the South Stream gas pipeline project linking Russia to Central Europe via the Black Sea and the Balkans, saying Europe has no intention of burying the project that quickly. The newspaper quotes Bulgarian Prime Minister Boyko Borisov as saying that Bulgaria is interested in continuing with the construction (despite the fact that Bulgaria had placed a moratorium on construction of the pipeline in line with EU energy policy – RBTH). Former Bulgarian Energy Minister Rumen Ovcharov told reporters that the country stands to miss out on some $750 million a year because of the project's closure, Nezavisimaya Gazeta writes.
Serbian President Tomislav Nikolic, meanwhile, said he intends to negotiate with the country's European and Russian partners to get a detailed explanation of South Stream's future. Serbia has invested 30 million euros ($37 million) in the project, and it is unclear whom it can address to demand that money back.
Experts questioned by Nezavisimaya Gazeta said the sensational statements being made about South Stream's termination are probably political. "The news about the project being closed had a bombshell effect in the countries that were seriously counting on Russian gas – Austria, Hungary, Bulgaria, and Serbia," Sberbank Investment Research analyst Valery Nesterov told the newspaper. He thinks Moscow's statements are part of a big geopolitical game, as a result of which Brussels will be bound to start discussing the project again.
Moskovsky Komsomolets reports that U.S. Republican Senator John McCain, who is known for his anti-Russian rhetoric, said the United States may start sending gas to Europe by 2020. He expressed pleasure with Bulgaria's decision not to allow South Stream to be built inside its borders.
According to research by Columbia University's Center on Global Energy Policy, Russian gas giant Gazprom could see its revenues dry up by 30-40 percent once liquefied natural gas (particularly from the U.S.) enters world markets. Experts think European consumers could save up to 20 percent thanks to the diversification of the energy market, increased supply, and the resulting price reduction.
However, Moskovsky Komsomolets cites Russian Ambassador to the EU Vladimir Chizhov as saying that at this point it is unlikely that the world will see a dramatic increase in U.S. gas supplies to Europe. According to him, "several thousands of wells would need to be drilled every year to maintain shale gas production even at its current level."
The Kommersant daily writes about the early elections to the Israeli parliament, the Knesset, which voted to dissolve yesterday. The decision to hold early elections was made by Prime Minister Benjamin Netanyahu. Prior to that, he fired two of his key opponents in the cabinet: Finance Minister Yair Lapid from the Yesh Atid Party and Justice Minister Tzipi Livni, who is overseeing the Israeli-Palestinian peace process.
Several major scandals have rocked the government in the last several weeks because of its inability to agree on anything, including the budget and a sensational bill on Israel being "the national state of the Jewish people" being promoted by the right and led by the prime minister. Israeli experts questioned by Kommersant think Netanyahu deliberately made tough demands on his partners as an excuse to call early elections, as a result of which he hopes to strengthen the right and secure a manageable government.
Experts think Netanyahu has an excellent chance of victory thanks to "Operation Protective Edge," which Israel launched against Palestine in the summer of 2014, and in light of recent bloody terrorist attacks. Kommersant reports that Israel could adopt a tougher stance against both Palestine and Iran if the prime minister and his supporters emerge victorious. Israel's relations with Europe and the U.S., who are trying to arrange direct negotiations between Israel and Palestine, might also suffer.
All rights reserved by Rossiyskaya Gazeta.