Press Digest: Kazakh and Belarusian leaders playing chess game with Moscow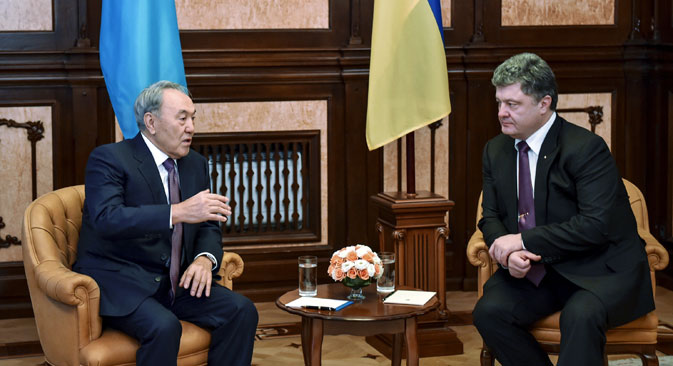 Ukrainian President Petro Poroshenko, right, and Kazakh President Nursultan Nazarbayev during a meeting in Kiev. Source: RIA Novosti / Nikolay Lazarenko
RBTH presents a selection of views from leading Russian media on international events, featuring reports and material devoted to analysing the positions and policies of Kazakh President Nursultan Nazarbayev and Belarusian President Alexander Lukashenko regarding Moscow, Kiev and the resolution of the ongoing crisis in eastern Ukraine.
The Kommersant business daily reports that Kazakh President Nursultan Nazarbayev has involved himself in the ongoing attempts to resolve the crisis in the Donbass region of eastern Ukraine. Nazarbayev met with Ukrainian President Petro Poroshenko and Prime Minister Arseniy Yatsenyuk in Kiev on Dec. 22, after which he flew to Moscow for negotiations with his Russian counterpart Vladimir Putin. The day before, Belarusian President Alexander Lukashenko tried to act as a mediator. The Kremlin hopes to improve the situation by engaging "sensible people" in the dialogue with Kiev. Ukrainian experts interpret the activity on the part of the Belarusian and Kazakh leaders as an attempt to "play their own geopolitical game."
"Their trip to Kiev is a demonstration of their desire for an independent foreign policy. Belarus is aspiring to the role of a common platform for Russia and Ukraine – a mini OSCE of sorts. Kazakhstan has made it clear that it is not satisfied with its position in the European Economic Union and wants to strengthen that position," says political analyst Alexei Poltorakov. According to him, Nazarbayev is "playing Eastern-style" – by flying to Moscow directly from Kiev, the Kazakh president was probably asking the Russian leadership whether it is against deliveries of Kazakh coal to Ukraine.
The tabloid newspaper Moskovsky Komsomolets attempts to make sense of why Belarusian President Alexander Lukashenko has gone from being a true friend of "brother"
According to the newspaper, Lukashenko is mentally closer to Putin's Russia than to Ukraine and its anarchic outlaws. However, the Belarusian president's most prominent trait is his pragmatism. When there is a regular flow of financial and economic aid from Moscow to Minsk, Lukashenko continuously speaks of his love for Moscow. When that flow slows to a trickle, the Belarusian leader immediately reminds the Kremlin that he can have other friends besides Russia. Aid from Russia to Belarus has rapidly shrunk in the last months of 2014.
"Modern Russia does not have money to spare, of course. But we can't afford to seriously quarrel with Belarus for long," Moskovsky Komsomolets writes. "But not to quarrel with Belarus means to once again strike an agreement with Lukashenko, primarily on money. Once that agreement is reached, the number of glitzy statements about the eternal friendship between Kiev and Minsk will noticeably diminish."
According to the centrist newspaper Nezavisimaya Gazeta, Belarus and Kazakhstan are willing to help settle the crisis in the Donbass, as well as develop trade relations with Ukraine. On Sunday, Dec. 21, Alexander Lukashenko promised Poroshenko in Kiev that Belarus "will do everything you ask in a matter of days." On Dec. 22, Nursultan Nazarbayev struck an agreement with the Ukrainian president to resume bilateral military-technical cooperation. Kiev is cautiously talking about a new union emerging in the post-Soviet space. However, it notes that the future of that partnership will depend on Russia's actions.
Experts in Kiev point out that Lukashenko and Poroshenko mostly discussed trade relations during their meeting. Ukraine has been Belarus' third-largest trading partner in terms of overall trade and exports since 2012. Now, as Lukashenko mentioned during his trip to the Ukrainian capital, annual trade stands at about $7 billion. "Who will replace that trade for Belarus and Ukraine? No one," the Belarusian president said. Prior to his trip to Kiev, Lukashenko criticized the sanctions imposed by Russia against Ukraine and said Belarus had never promised to join them.
Nazarbayev and Poroshenko agreed that Kazakhstan would deliver coal to Ukraine and that the two countries would restore military-technical cooperation. But while the coal agreement makes sense – deliveries from the Donbass and Russia are complicated, and the fuel shortage has caused disruptions at several power plants – military-technical cooperation raises questions. "Belarus and Kazakhstan are members of the Collective Security Treaty Organization. They have complex cooperative ties with the Russian defense industry," said Sergei Zgurets, an expert at the Center for Army, Conversion, and Disarmament Studies.
Neither Astana nor Minsk can realistically deliver weaponry or machinery to Ukraine without crossing Russian territory. According to Zgurets, the agreements reached in Kiev indicate concern on the part of Belarus and Kazakhstan regarding the events in Ukraine.
All rights reserved by Rossiyskaya Gazeta.