Can Europe learn from Russia's experience with Islam?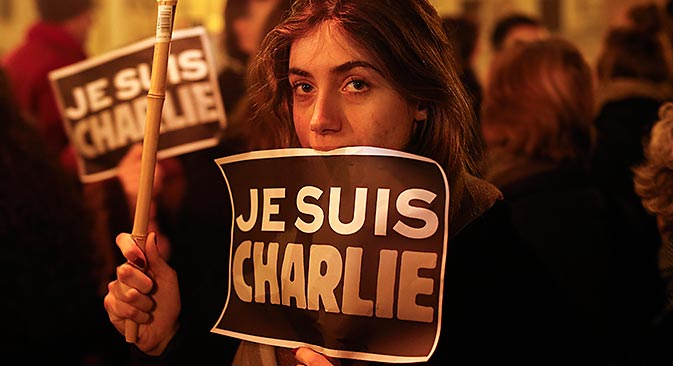 A woman holds a placard reading "I am Charlie" to pay tribute to the victims following a shooting by gunmen at the offices of weekly newspaper Charlie Hebdo in Paris in front of the French embassy in Rome January 8, 2015. Source: Reuters
A modicum of self-governance and a bureaucratization of religious governing bodies are both part of Russia's policies aimed at curbing radical Islam.
In the wake of the massacre of French journalists at the magazine Charlie Hebdo, Russian experts have suggested that France and other European countries could learn from Russia's policies towards its Muslim population.
"Religion is always a challenge for a state. It always suggests, to some extent or another, loyalty and submission to an authority other than the state," said Nikolai Silaev, a senior researcher at the Center for Regional Security and Caucasus Studies at the Moscow State Institute for International Relations (MGIMO) in response to a question about the role European Union policies towards freedom of religion played in the massacre of French journalists at Charlie Hebdo.
One way Russia has confronted this challenge is by creating bureaucratic organizations for each major religion that are monitored by state organizations. In Russia, the Muslim Spiritual Board is responsible for managing Islamic groups, including worship communities and educational institutions.
"The state always attempts to integrate Islam and make it transparent and understandable. It is assumed that Islamic education is organized with government supervision, to create an bureaucracy out of Islam, having established something similar to an ecclesiastical organization," Silaev said.
A bigger part of Russia's policy towards its Muslim-majority regions, however, has been a large amount of local autonomy. Majority-Muslim regions of Russia are mostly known as republics and have presidents rather than governors. They have their own constitutions and the right to establish an official local language alongside Russian.
Ilshat Saetov, the director of the Russian-Turkish Scientific Center at the Library for Foreign Literature, is positive about the role of a minority community's self-governance in maintaining stability within a country and said that in Europe, "there needs to be a broad discussion on the determining the rights of religious communities to have collective rights and powers.
"In the UK, for example, there are already optional Sharia law tribunals for questions relating to marriage and inheritance. If you want your bequest to be divided according to Islamic law, go to an Islamic court."
According to Nikolai Silaev, the recent attack is just the latest indication that a system that considers everyone the same doesn't work. "France and the European Union as a whole have tried to integrate Islam. This has been done through political correctness, the effective transfer of a large degree of autonomy to Islamic communities, providing citizenship, and suppressing Christian teaching and the left-wing liberal press," Silaev said. As a result, the authorities not only failed to achieve the necessary level of integration of Muslims in European society but also created the conditions for the growth of radical communities.
Silaev is not the only Russian researcher to argue that EU policies promoting inclusion and equality instead serve to radicalize both Muslims and non-Muslims who fear radical Islamists.
Igor Alexeev, a scholar of Islam and director of the Mardjani Foundation, a Russian NGO that promotes Islamic culture, agrees that attacks such as the one at Charlie Hebdo could have the effect of leading to a rise in anti-Muslim groups and increased intolerance among Europeans.
"Here we do not have a conflict between Islam and Christianity but a conflict between religious and secular fundamentalism. The terrorist attack in Paris will lead to a radicalization of conservative right wing groups, secular nationalists and liberal fundamentalists, attacking the ideology of tolerance and multiculturalism, and lead to the return from 'neo-colonialism' to direct colonial intervention in the Islamic world under the pretext of the 'War on Terror.'''
Dmitry Suslov, the deputy director of the Center for Comprehensive European and International Studies, says that such radicalization "will threaten the political systems and traditions that have developed in Europe. The result of such radicalization could be the destruction of European democracy and their social systems."
According to Nikolai Silaev, Russia does not face the same challenges because in Russia, "there is some form of unstated social contract."
Dmitry Suslov describes Russia's policy this way: "Essentially the [majority Muslim] republics in the Northern Caucasus live their own lives and are isolated from Russian culture and identity." Suslov says that for the moment, the republics remain within Russia because of the loyalty of local elites to the Kremlin but, he cautions, "this situation will not last forever."
All rights reserved by Rossiyskaya Gazeta.