Time to tighten belts as Russia's credit rating downgraded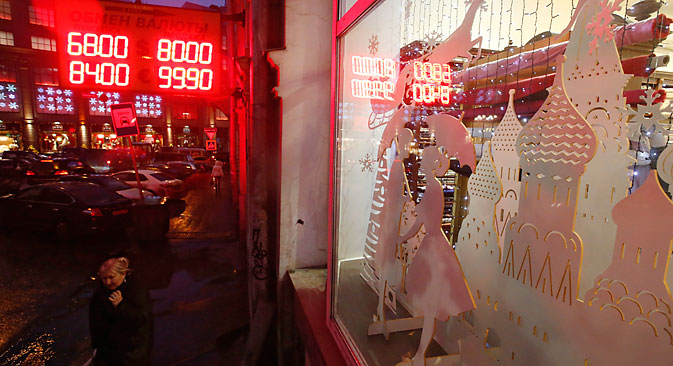 Ruble suffers from the end of 2014. Source: Reuters
Standard & Poor's slashes Russian debt rating to 'junk' but people are used to hardship, says Aliya Sayakhova.
Russian debt has been downgraded to junk status by international investment ratings agency Standard & Poor's, reports the Guardian. It was hardly unexpected: S&P had put Russia on negative credit watch just before Christmas. Monday's announcement to downgrade the country's credit rating to below investment status for the first time in a decade simply confirmed that outlook.
Collapsing oil prices, the plunging value of the rouble and Western sanctions and counter-sanctions imposed by Russia, are all factors. The ratings agency said the Central Bank of Russia "faces increasingly difficult monetary policy decisions while also trying to support sustainable GDP growth."
S&P noted attempts to support the rouble by raising interest rates to 17 percent had been ineffective. The junk status further drove the Russian currency down against the dollar Monday, with it dropping seven percent to close just under 69. A year ago it traded at 35 to the greenback.
Sanguine view
Russia's Finance Minister Anton Siluanov said the junk rating reflected S&P "pessimism" and failed to take into consideration stronger aspects of the Russian economy. Russian authorities have taken a sanguine view of ill economic tidings in recent months, apparently completely unperturbed by all the financial doom and gloom.
During his annual news conference December 18, President Vladimir Putin observed that oil prices would eventually swing back up and Russia's problems disappear. Perhaps, not at once: unfortunately for Russia, rating agencies such as Moody's, Fitch and Standard & Poor's can be highly influential. Pension funds and major investors study the analyses of sovereign debt provided by them to determine which countries are safe to invest into. Many mainstream funds have rules preventing them from buying anything not classed as investment grade, meaning taking out loans will become even more expensive for Russian firms. Russia's credit crunch shows no signs of abating soon.
Russian diet
Russians are no strangers to hardship, the Telegraph says in a story about the stoicism of the Russian muzhik: no matter what, they'll defend Putin against aggression by the West – even if they don't have enough to eat.
"We will tighten our belt, eat less food, suffer any privations, but if outsiders want to force changes on us, we will be united as never before," Igor Shuvalov, Russia's deputy prime minister, said last week at the World Economic Forum in Davos. The West was trying to show Russia its place and refusing to treat it an equal, he said. "They are telling us to sit in a corner quietly", quotes the Telegraph.
Unlike Siluanov, Shuvalov admitted things at home were not good. "The sanctions are very destructive and the longer they last, the worse it is going to be," he said. Russia was seeking urgent help from China to ensure sufficient credit lines and help develop an alternative payments system to the US-dominated SWIFT, he said voicing fears Russia could be locked out of the system. Russian companies that need to repay $12 billion in foreign debt this year face the very real prospect of financial starvation.
Red dare
Two artists have been jailed for 10 days for sprinkling water on the Lenin mausoleum in Moscow's Red Square, the Guardian says.
Performance artists, dance teacher Oleg Basov, and Yevgeny Avilov, a computer programmer, both members of anti-establishment art group Blue Rider, were arrested after throwing holy water over the marble edifice during an event entitled Exorcising the Devil, Desecrating the Mausoleum. In a video posted on YouTube, the two young men are shown carrying five-litre bottles of holy water marked with a cross from a church across the square. They were arrested after throwing the water at the doors and steps of famous tomb as they shouted "Rise up and leave!"
It's not the first time Red Square has been a canvas for what in Soviet times was known as agitprop. In 2013, Petr Pavlensky nailed his scrotum to the square's cobblestones, which artist Oleg Kulik dubbed as a "vivid gesture" and an "accurate and wide-ranging portrait of our time".
The opinion of the writer may not necessarily reflect the position of RBTH.
All rights reserved by Rossiyskaya Gazeta.