Rare books destroyed at top Russian library, but Niva firing on all cylinders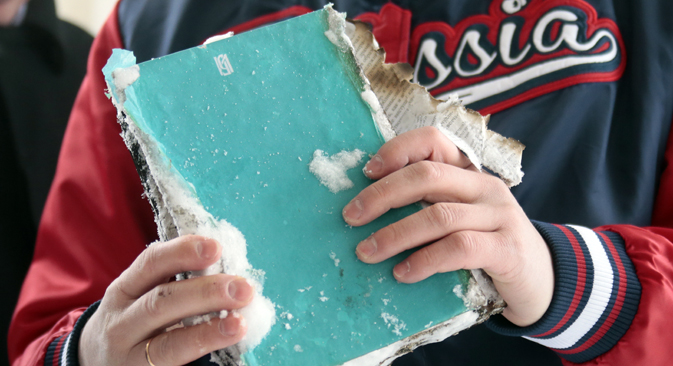 Around 20 percent of Moscow library's collection of 10 million items had been damaged in the fire. Source: TASS
Major Russian library loses a fifth of its collection to fire and Lada Niva sales plummet by 16 percent, but UK market offers carmaker hope, says Aliya Sayakhova.
"Fire in major Russian library destroys 1m historic documents" was a top story on the Guardian and BBC world news websites.
Burning books
The fire began on Friday and quickly spread through Moscow's Institute of Scientific Information on Social Sciences (INION). On Sunday Vladimir Fortov, president of the Russian Academy of Sciences, announced that around 15pc of the library's collection of 10 million items had been damaged but the next day the official figure was upped to 20pc. "What has happened here is reminiscent of Chernobyl" Guardian quoted Fortov as saying.
Founded in 1918, the library is home to one of the world's richest collection of Slavic manuscripts and rare books in Russian, European and Asian languages dating back to the 16th century. It also holds important US and British parliamentary papers, going back to the late 18th and early 19th centuries.
Investigators believe an electrical short-circuit was to blame, says the BBC, though it fails to mention that arson is also suspected. Observers fear powerful businessmen may have been behind the blaze. "Watch them build a new trade centre instead", commented one local on Facebook. The library's director Yuri Pivovarov dismissed the idea, telling a Russian source that he does not believe in conspiracy theories.
Moscow activists have set up a Facebook group to share news and attract volunteers to help restore the library's collections and more than 1,460 have already signed up.
Cheap & Cheerful
Just as depressing as the loss of ancient tomes is Russia's plunging economy.
In what looks like a sign of wider economic gloom, Lada sales in Russia dropped by 16pc in the first 11 months of last year, compared with a fall of 11.6pc for the car market as a whole. The Russian car company's competitive prices protect sales to a certain extent, but cannot entirely shield it from the crisis and falling value of the rouble, which prompted a reported 9pc rise in prices last month. There's one small ray of sunshine: British sales could be Lada's next big hope.
An Express article says that Russia's "much laughed at" Niva Lada is making a UK comeback after 20 years' absence to fill a gap left by Land Rover's decision to stop production of its iconic Defender after 67 years.
A London car dealer's decision to begin importing Nivas could propel Lada to the top of the 4x4 market. Mark Key, who had noticed the chunky Russian car was used in ski resorts by visitors worried snow and ice would scratch more expensive off-road vehicles, seems confident enough, telling the Express that a car once dubbed "a skip on wheels" can outperform many of its more expensive rivals and is already attracting interest from farmers. The Niva is a simple yet effective all-weather vehicle on or off the road and priced at just £13,000 the occasional dent only adds charm: like a real man the cars become more attractive when scarred. "Niva, Lada's 4x4, has a niche market", Key says. "And if something breaks you can quite literally fix it with a hammer."
Perhaps that's why in Russia it is popular with hunters, fishermen and travellers who even have their own Niva fan clubs. Next stop for the Niva, English and Scottish country houses and hunting lodges?
Skating hat-trick
Russian cars may not be very popular in the West, but Russian figure skating has a keen following. Last Sunday, Yuko Kavaguti and Alexander Smirnov won gold medals at the European Figure Skating Championships in Stockholm.
The duo were competing against compatriots, Olympic silver medalists Ksenia Stolbova and Fedor Klimov, who were ahead during Friday's short programme but ended up taking home yet another silver. That may explain their dour expressions in the group photo taken after the awards ceremony.
Evgenia Tarasova and Vladimir Morozov took bronze to give Russia a hat-trick of medals Sunday. The pair was one of the highest climbers of the day, moving from fifth to third position, reports Eurosport.
The opinion of the writer may not necessarily reflect the position of RBTH.
All rights reserved by Rossiyskaya Gazeta.