Press Digest: Spokesman calls claim Putin has Asperger's 'stupid'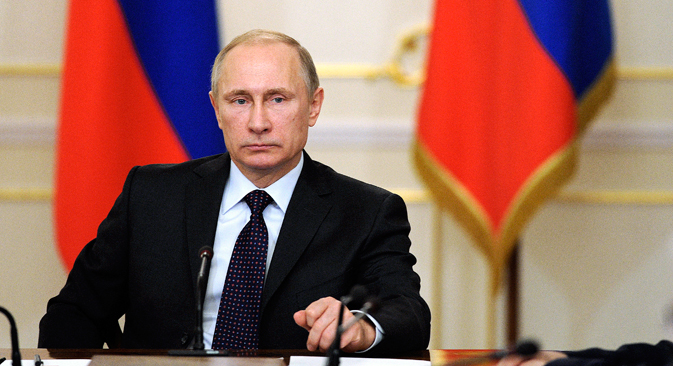 Presidential spokesman called allegations that Russian President Vladimir Putin has Asperger's Syndrome "stupid" and "not worthy of comment. Source: Reuters
RBTH presents a selection of views from leading Russian media on international events, including Russian reaction to the report that President Putin has Asperger's Syndrome, Ukrainian sanctions against Russian companies and a possible ban on Russian imports by Kazakhstan.
Russians react to Pentagon claims about Putin
In comments to news site Gazeta.ru, presidential spokesman Dmitry Peskov called allegations that Russian President Vladimir Putin has Asperger's Syndrome "stupid" and "not worthy of comment. On Wed., Jan. 4, the American newspaper USA Today reported on a 2008 Pentagon memo alleging that Putin has the disease, which impairs a person's ability communicate and socialize.
Political analyst Alexei Makarkin said that the allegations should be considered in the context of the current debate in the U.S. over whether to send arms to Ukraine. "Against the background of the question of supplying weapons to Ukraine, additional arguments are needed that the Russian president is especially odious," Makarkin told Gazeta.ru.
Psychiatrist Pavel Beschastnov told the site that such a diagnosis was impossible to make remotely. "Watching a person remotely with no direct contact to him, you see only one sphere of his behavior, Beschastnov said. "To diagnose someone remotely, despite the heavy media coverage, is absolutely incorrect."
Kazakhstan considers ban on Russian imports
Russian business daily Kommersant reports that Kazakhstan is considering banning or restricting imports of Russian goods because the cheap prices of Russian items are affecting the competitiveness of local producers.
According to Kommersant sources in the Russian Ministry of Agriculture, the items being considered for restriction are petroleum products, cars and car parts, construction materials including glass, chicken, eggs, pasta, baked goods, flour and juices. The ruble has fallen 47 percent against the local currency, the tenge.
Although trade between Russia and Kazakhstan is not large, the potential ban would be a bad sign for the Eurasian Economic Union, a customs union of Russia, Belarus and Russia promoted by Russian President Vladimir Putin.
This is not the first time Kazakhstan has considered restricting imports from Russia. In November, Astana imposed a ban on the supply of Russian beer and vodka, saying that the products did not comply with new Kazakh requirements for the labeling of imported goods. However, the restrictions lasted only a few days.
Ukraine to restrict activities of Russian companies
News site RBC Daily reports that Ukraine will limit the work of 160 Russian companies, citing Economic Development Minister Aivaras Abromavičius, who made the announcement at a meeting of the Ukrainian parliament, the Verkhovna Rada.
Abromavičius said that additionally, Russians who are subject to sanctions from the EU and the U.S. will also be unable to receive any "passive income," such as interest and royalties in Ukraine.
A law regarding additional sanctions on these individuals, including the freezing of assets, is currently making its way through the Rada and will be made public after it is signed by the president.
All rights reserved by Rossiyskaya Gazeta.