Cattle farmers watch the bottom line while cosmonauts watch out for bears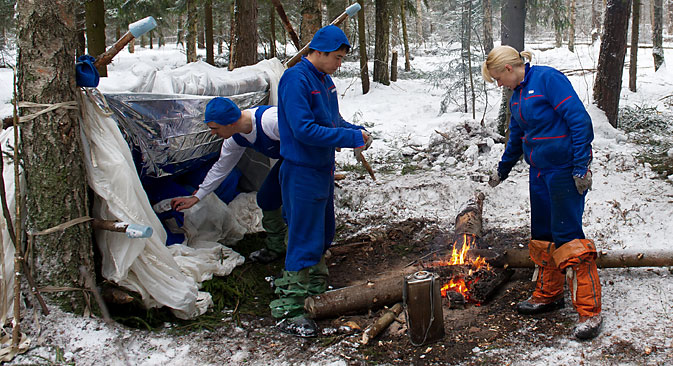 The ISS crew practice survival skills they will need in the event of emergency landing in a forest. Source: RIA Novosti
Russia's rouble crisis and sanctions are having a positive impact on its meat industry, but bear-killing guns have disappeared from astronauts' kit bags, says Aliya Sayakhova.
The BBC posed a poignant question this week when it asked whether Russia's economic turmoil was a nightmare or an opportunity fortuitously finding it was not all doom and gloom.
Cattle country
The economic crisis in Russia can already be seen in a sharp drop in overseas tourism, rising inflation and shrinking government budgets. But for some the crisis is offering opportunity.
In Bryansk, 250 miles southwest of Moscow, a huge cattle farm with tens of thousands of animals is spreading across an area the size of England. Set up by brothers Alexander and Viktor Linnik, the massive ranch is the biggest of its kind in both Russia and Europe. Before the crisis the brothers processed 100 head of cattle per day. Next year it will be 1,000 a day, thanks to import bans that eliminated their competition overnight. There's another added benefit too. The rouble collapse is making Russian meat much cheaper to export, even if rising domestic prices are undercutting the local market. "We have the technology and quality, which makes our products a match for, or even better than, anything similar from Europe," Alexander told the BBC.
Blunderbuss ban
Another area in which Russia has traditionally excelled is cosmonautics. Website Geek.com this week uncovered an intriguing nugget about Russian space mission policy: survival kits packed in Soyuz space capsules between 1982 and 2006 contained, among other things, a shotgun to fend off bears.
A lot can go wrong when launching a manned space mission, the website acknowledges. But coming across a Russian brown bear in orbit is unlikely. But the Space Agency's must-have list made sense. For an astronaut on re-entry to earth, the chance of landing in Russia's vast wilderness is high. And what do you find in Russia's remote areas? Bears. You can bet your last rouble on it. The triple-barrelled TP-82, more blunderbuss than shotgun, was the brilliant solution, the guys at Geek say. The brutal machine fired small shotgun-like shells with enough firepower to bring down a 1,000 lb beast. And just in case, cosmonauts also packed a 14-inch machete and a folding shovel.
Durable and reliable, the TP-82 might still be in service today if not for the fact that its SP-P 5.45 x 39 ammunition was phased out years ago, Geek says. But don't worry: Russian cosmonauts still go into space packing a piece. Only now it is a standard issue military pistol, rather than a blunderbuss fit for felling a bear.
Fiery freefall
For the more earthbound, there are still ways to join the top guns. Do it yourself space launches among them. Self-proclaimed Russian stuntman and 'hotdog', Alexander Chernikov, sets himself on fire before launching himself into freefall from a 9-storey building, reports a fascinated Mirror journalist. A couple of seconds later Chernikov safely lands in a pile of snow below that douses the flames.
A two-minute clip showing the shocking footage on YouTube has been viewed nearly 1.9 million times. Shot in Novoaltaysk in the depths of Siberia, it shows Chernikov perched on the edge of the building before being handed a flaming brand. He sets fire to his legs before jumping from 100 ft, breathlessly explaining to a camera crew shortly after he survives the fall that this is "to show the world what a man is capable of." The local police are less impressed with his artistic performance and drag him roughly from his snowy pillow.
YouTube and other social media sites are full of weird and wonderful photos and videos from Russian life. Observers could be forgiven for pitying "those crazy Russians" but that misses the point. For many Russians living life on the edge is what makes life worth living. As Chernikov succinctly puts it: "Life is beautiful," adding that he considers himself, "a vivid example of "a world without borders; our possibilities are endless."
The opinion of the writer may not necessarily reflect the position of RBTH.
All rights reserved by Rossiyskaya Gazeta.