Students sought in London - as spies by MI5 and tenants by wealthy Russians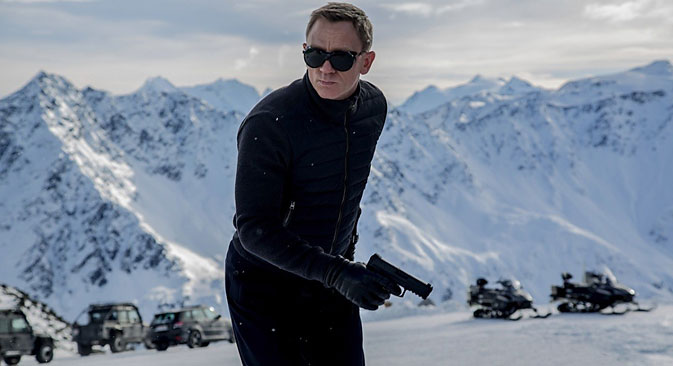 Russian-speaking new Bond can earn up to £30,000 a year. Source: kinopoisk.ru
MI5 seeks Russian-speaking British spooks, while Russian billionaires salt their money away in swanky London student digs, Aliya Sayakhova reports.
Landing a dream job in London remains as tough as ever, but these days even cloak and dagger positions are openly advertised on the web.
Last weekend the Telegraph stumbled upon a job advertisement that piqued the paper's interest: 1,600 words of persuasive text inviting applications from would-be Russian spies. Its article about the advert, which sought James Bond wannabes who are "British, bright and discreet enough not to tweet the good news" makes for fascinating reading.
Shaken, not stirred
In remarkable detail the advert describes the shadowy activities potential spies will undertake if they get the job, such as listening into tapped phone calls, scouring documents "intercepted under warrant" and chasing new leads for a better understanding of the Russian state. The "fascinating and rewarding" position can bring up to £30,000 a year, the advert by Britain's security agency MI5 says, which would hardly stretch to the Tom Ford suits and Omega watches that go with the Aston Martin that Britain's famous fictional spy drives. But then, perhaps the inimitable Agent 007 began his career with M&S sandwiches for lunch and a Ford Cortina in his backyard?
For all our bright Russian-speaking British-born readers: the deadline for application is 26 March.
Hack attack
The shadowy activities of others in the headlines this week are no less discreet than those of MI5 agents, though potentially much more lucrative and certainly illegal.
Russian security company Kaspersky, released a report Monday detailing the world's biggest and most sophisticated series of banking cyber attacks. Some 100 banks and other financial institutions from 30 countries around the world lost up to a combined £1 billion in the hacking operation, says the FT.
Hackers in Russia, Ukraine, China and some European countries carried out the attacks, apparently mounted by an international criminal gang referred to by investigators as Carbanak.
"It's still an attack that's very much active," a spokesman for Kaspersky said, which might make you want to check your account just in case. However rather than stealing information about private accounts as commonly done in the past, this time the hackers penetrated bank accounts by releasing malware into a company's system in order to transfer large amounts of cash to special accounts that had been set up in banks in China and the US. After identifying the most senior administrators inside banks and planting their surveillance tools, the attackers spent months learning how the officials operated before trying to replicate their actions to steal money, according to Russian business publication RBC.
Banking on students
There are other ways to make a mint. Three Russian oligarchs, Mikhail Fridman, Russia's second richest man, German Khan and Alexei Kuzmichev are targeting London's wealthiest students, the Guardian says. The billionaires are planned to acquire luxury student housing blocks for a total of £535 million. Among Pure Student Living's properties to be handed over to the trio is a block in west London built on the site of the Hammersmith Palais, where the Beatles and the Rolling Stones once played, which is now home to 418 "state of the art" student rooms offering "exceptional space and beautiful interior design" for a "modest" rent of up to £22,360 per academic year.
Fridman and his friends are certainly not short of a few bob. Worth a cool combined £20 billion, they will no doubt take good care of their tenants, many of whom are likely to be the offspring of other wealthy Russians.
Russians have long been fond of London property, just as much as they are keen on British education and the country's famous public schools. Around a third of Russians who buy homes in the UK do so to give their children a private education, explained the Guardian in an article published in May last year. "Russians trust bricks and mortar in posh parts of London more than they trust the rouble," the paper presciently noted, months before the Russian currency halved in value against the pound.
The opinion of the writer may not necessarily reflect the position of RBTH.
All rights reserved by Rossiyskaya Gazeta.