Press Digest: Hillary Clinton would be 'hawkish' on Russia as U.S. president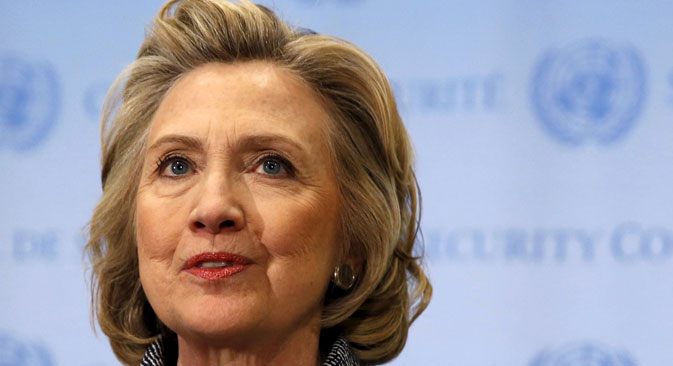 U.S. Secretary of State Hillary Clinton. Source: Reuters
RBTH presents a selection of views from leading Russian media on international events, featuring reports on Hillary Clinton's U.S. presidential ambitions and Greece's possible exit from the eurozone, as well as a review of the geopolitical outcomes of the recent Americas summit of Latin American nations in Panama.
Hillary wants to be next
Online newspaper Gazeta.ru reports that former U.S. Secretary of State Hillary Clinton has announced her intention to run for president. Experts agree that Clinton is likely to win in the Democratic primaries since she has no strong rivals inside the party. Still, Gazeta.ru continues, it does not at all guarantee her victory in the final race for the White House: According to latest Gallup polls, Clinton's approval ratings have dropped from 55 percent to 48 percent. "Her main trump card is that the Democrats do not have a real alternative. If their candidate is not Hillary, the Democrats are likely to lose; if it is Hillary, they are even more likely to win," Gazeta.ru quotes pundit Areg Galstyan, head of the website american-studies.org, as saying.
In the opinion of American political analyst Theodore Karasik, Clinton would pursue a "hawkish" policy towards Russia as president. "She made her attitude to Putin quite clear while she was still secretary of state. The current fashion in Washington is to view Russia as an even greater danger than radical Islamists, which places Russia as the No. 1 threat for Clinton," says Karasik.
Gazeta.ru adds that America is likely to witness an inter-family duel during the next presidential election if the Republican Party nominates Jeb Bush as its candidate.
Landmark summit in Panama augurs reshaping of spheres of influence
The Kommersant business daily reviews the results of the Americas summit in Panama, which concluded on April 11. The gathering of nations in the Americas did not adopt any official documents but it has already been described as a turning point in the history of the Western Hemisphere, with U.S. President Barack Obama taking steps toward normalizing relations with Cuba, Venezuela and Brazil, three countries that have traditionally been a headache for Washington, the paper says.
As Kommersant points out, this was the first Americas summit attended by Cuba. The speeches delivered by the U.S. and Cuban leaders confirmed that the process of resetting their relations had passed the point of no return. Another key event at the summit was the attempt to resolve the traditionally troubled relations between Washington and Caracas, which became even more strained in December 2014 when the U.S. introduced sanctions against a number of Venezuelan officials and put it on the list of countries that pose a danger to the U.S.
Kommersant points out that the attempts to establish a dialogue between the U.S. and its steadfast critics may mean that the leaders of those countries have opted not for a confrontation but for removing barriers in relations with Washington. Having said that, Latin America is still a long way away from abandoning its resentment of the U.S. altogether, Kommersant concludes.
Europe threatens Greece with expulsion from eurozone
The centrist newspaper Nezavisimaya Gazeta says that because of the policy of quantitative easing in Europe and problems with Greece, in a matter of 12 months Russia lost tens of billions of its currency reserve dollars. The paper adds that Russia's losses will be even greater after the news of a secret plan to expel Greece from the eurozone as early as May 2015. Nezavisimaya Gazeta explains that eurozone members expect that Greece will be declared bankrupt in May. Unless EU countries agree to yet another tranche of financial aid within the next three weeks, Athens will not be able to make its debt payments. Therefore a plan is being prepared to expel Greece from the European single currency zone.
The paper points out that this is not the first time that Greece is being threatened with expulsion from the eurozone: Ahead of the latest election in Greece, the German authorities announced that they no longer viewed this scenario as a disaster. Many economists consider Greece's exit from the eurozone quite real, adds Nezavisimaya Gazeta. "Press reports about some secret talks are not bogus but an assessment of one of the likely scenarios," head of the FBK Institute of Strategic Analysis Igor Nikolayev told the paper.
All rights reserved by Rossiyskaya Gazeta.