Press Digest: Zuckerberg dismisses Poroshenko's Facebook office proposal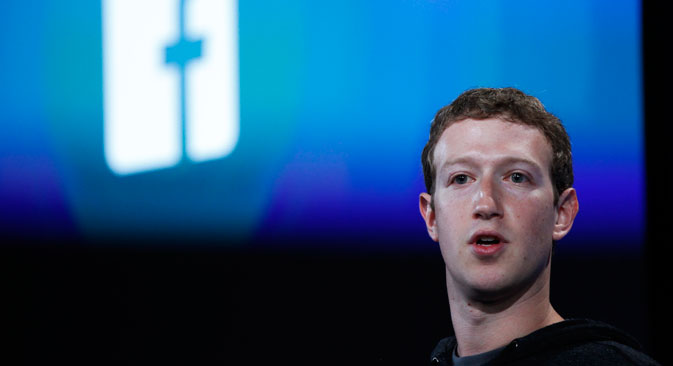 Mark Zuckerberg "did not understand" Ukrainian President Petro Poroshenko's request for the social network to open a dedicated office in Ukraine. Source: Reuters
RBTH presents a selection of views from leading Russian media on international events, featuring a report on Facebook CEO Mark Zuckerberg's response to Ukrainian President Petro Poroshenko's suggestion that the social network open an office in Ukraine, news of Poroshenko and Ukrainian Prime Minister Arseniy Yatsenyuk's visits to France and Germany, and a review of the NATO summit in Turkey.
Zuckerberg responds to Poroshenko over call for Ukrainian Facebook office
The Gazeta.ru online newspaper reports that Facebook CEO Mark Zuckerberg "did not understand" Ukrainian President Petro Poroshenko's request for the social network to open a dedicated office in Ukraine. "Facebook's CEO thinks in global terms and perceives Europe as a complex region with many small countries that have their separate laws and local problems, which impede it from creating a single digital market," writes the publication.
Zuckerberg also remarked that Facebook's rules are the same for the entire world and that the posts in the network's Ukrainian segment are edited not by some "Russian office" (which actually does not exist), but by a team from Dublin "that has Russian-language specialists."
However, Zuckerberg did not exclude the possibility of opening a Ukrainian Facebook office in the future. An anonymous expert who is familiar with the issue said that "the question of opening an office deals mainly with regulation, taxation and the convenience of working with legal entities. The moderation is not at all related to a concrete office: It is carried out semi-automatically, often by external employees."
Changing relations between Russia and EU making Ukraine uneasy
The RBK daily newspaper reports that Ukrainian President Petro Poroshenko and Prime Minister Arseniy Yatsenyuk have held a series of meetings with EU leaders. Poroshenko visited Germany, where he held talks with German Chancellor Angela Merkel, French President Francois Hollande, President of the European Council Donald Tusk and President of the European Commission Jean-Claude Juncker. Yatsenyuk also met with Hollande in France, as well as French Prime Minister Manuel Valls.
RBK writes that Putin's meeting with Merkel and U.S. Secretary of State John Kerry are of great concern for Ukraine. "Ukrainian diplomats feel that the format of relations between Russia and the EU is changing, and are thus trying to make gains in advance," explained Anatoly Oktisyuk, an expert at the Ukrainian International Center for Potential Research. "It is important for Poroshenko that Ukraine does not fall out of the negotiating process."
Besides the implementation of the Minsk peace agreements, Poroshenko and the European partners discussed the preparation of the Eastern Partnership Summit, which will be held in the Latvian capital Riga on May 21-22. RBK reminds its readers that after being elected, Poroshenko promised Ukrainians a non-visa regime with the EU. However, shortly before the May summit it became clear that the decision to cancel EU visas for Ukrainian citizens would not be made.
European politicians criticize Russia and discuss NATO expansion
Business magazine Expert reviews the NATO summit of May 13-14 in Turkey. The publication writes that the principal issue of discussion was Russia's actions in Ukraine, and the hosts of the summit were particularly active. Ankara continued demonstrating, through aggressive rhetoric, its offense at Russian President Vladimir Putin's visit to Yerevan, where he talked about the Armenian Genocide. Consequently Turkish politicians used the occasion of the NATO summit to launch sharp criticism of Moscow's position in Ukraine.
Moreover, NATO Secretary General Jens Stoltenberg announced that U.S. Secretary of State John Kerry's visit to Sochi does not imply any change in the alliance's decision not to cooperate with Russia, a decision that is based on Russia's seizure of Crimea in 2014.
Expert writes that a range of European politicians made it clear that during the next summit in Warsaw decisions could be made about NATO's future expansion. There are four countries that currently have the status of NATO candidates: Bosnia and Herzegovina, Montenegro, Macedonia and Georgia.
The magazine underlines that the process is taking place as Russian-Georgian relations are normalizing: Tbilisi is being extremely pragmatic, trying to distance itself from the Russian-Ukrainian conflict in order not to aggravate Moscow. According to Expert, serious progress toward Georgia entering the alliance will undermine this normalization.
All rights reserved by Rossiyskaya Gazeta.