Eurasian Economic Union ready for FTAs with Asia-Pacific: Dmitry Medvedev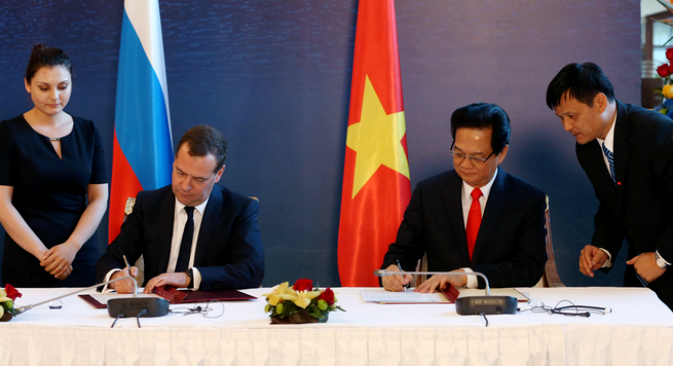 The Vietnam FTA opens the door for other countries in Asia. Source: Government.ru
The Russian Prime Minister believes the free trade agreement between the Eurasian Economic Union and Vietnam could be used as a blueprint for similar deals with other countries in the Asia-Pacific.
The first free trade agreement signed by the Eurasian Economic Union (EAEU) with a third nation paves the way for new and similar agreements, Russian Prime Minister Dmitry Medvedev said, according to TASS.
The recent agreement signed between the EAEU and Vietnam "merely opens the door to the Eurasian Economic Union to prepare similar preferential trade and investment agreements with our countries, including Asia-Pacific nations," Medvedev was quoted by the news agency as saying.
The EAEU, which comprises of Russia, Belarus, Kazakhstan, Armenia and Kyrgyzstan, signed the free trade agreement with Vietnam after a meeting of the Eurasian Intergovernmental Council on May 29 in Kazakhstan. The document was signed by Medvedev and his Vietnamese counterpart Nguyen Tan Dung. The Russian Prime Minister called the agreement "very important and marking a milestone."
Medvedev said he was confident that the agreement would
"deliver benefits to our countries' economies and finally to the peoples of those countries."
The free trade agreement cuts tariffs on 90 percent of all goods traded between Vietnam and the Union. It is expected to raise trade to $10 billion by 2020. The present level of trade between the Union and Vietnam stands at $4 billion.
Within the first year, exporters from the Union will save up to $60 million and those from Vietnam will save up to $10 million. The agreement will enter into force on August 1.
Potential agreements with India and New Zealand
The EAEU is exploring a free trade agreement with India and New Zealand at the moment. Discussions began with India in 2013 and have been a mainstay of the summit level talks between New Delhi and Moscow.
Indian negotiators have insisted that an agreement has to cover free movement of both goods and services. New Delhi would like an agreement to be modeled on the comprehensive economic partnership that it has signed with South Korea.
Sources close to the talks, tell RBTH that countries such as Kazakhstan are reluctant to include services in a future agreement. Talks with New Zealand are yet to progress to the stage they have reached with India.
Medevdev said another 40 countries were keen to sign a similar trade agreement with the Eurasian Economic Union.
All rights reserved by Rossiyskaya Gazeta.