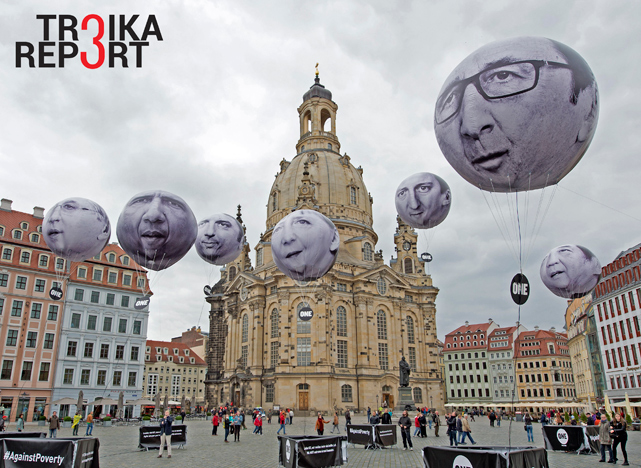 Will the upcoming G7 summit resolve the problems between Russia and the EU? Pictured: Activists of the advocacy organization ONE installed balloons with portraits of the G7 heads of state near the cathedral in the city of Dresden, Germany, May 27, 2015. Germany hosts the G7 summit this year. Source: AP
1. Engaging the West
EU and Russia: The gap widens
With the future of European sanctions against Russia topping the agenda of the upcoming EU summit this month, bilateral relations plunged to a new low after Moscow revealed the long-time existing list of 89 European politicians, military and intelligence officials who are barred from entering the country. "We consider this measure as totally arbitrary and unjustified," read a statement from the EU's foreign service.
The blacklisting of outspoken critics of Russia came in retaliation for a travel ban on numerous Russian individuals as part of the EU sanctions imposed on Russia over its role in the Ukrainian crisis, but the timing of the publication of the list may indicate that Moscow is readying itself for another round of diplomatic and verbal hostilities with the West in general. This would probably set an antagonistic and militant atmosphere at the EU summit and the coming G7 meeting in Germany, where U.S. President Barack Obama is expected to press his European allies to renew the sanctions that were originally intended to expire this summer.
The disclosure of the blacklist is incontrovertible evidence that the crisis between Europe and Russia is "structural and systemic," according to a comment made for Troika Report by Arkady Moshes, the Helsinki-based director of Russian studies at Finland's Institute of International Relations. However, it is unlikely to influence any decision on prolonging sanctions since the genuine prerequisite for their lifting is the full implementation of the Minsk agreements on the settlement of the conflict in eastern Ukraine.
So is it all doom and gloom? Is Europe likely to become entrenched in its critical stance on Russia and pursue a policy of disengagement? Some elements that have recently surfaced in interaction between Moscow and Paris – between which channels remain just about open – could offer faint hopes of a possible change in direction.
While there is still room for positive engagement, the disenchantment between Russia and the nation which was the birthplace of the concept of a united Europe is ominous evidence of how far things have gone wrong. There are only four Frenchmen on Moscow's blacklist, although the group includes President of the European Economic and Social Committee Henri Malosse and parliamentarian Bruno Le Roux.
Yet isolated signs that France is unhappy with the breakdown of dialogue have appeared recently. In the last seven days, Moscow was visited by National Front leader Marine Le Pen, pan-European statesman Valéry Giscard d'Éstaing, and a 90-strong delegation of French businesspeople.
Could this instill some confidence that things may soon begin to change for the better for Moscow? Sergei Utkin, head of the department of strategic assessment and situation analysis at the Russian Academy of Sciences, dispelled any optimism in his comment for Troika Report:
"Most of European business supports engaging with Russia but it does not mean that any European Union nations, including the biggest ones, are ready to simply forget about the events of the Ukrainian crisis and make it look as if nothing has happened. We cannot go back to 'business as usual.' What came to the surface during the Ukrainian crisis is continuing to divide us. The conflict resolution process remains difficult despite the fact that voices supporting Russia have been heard more often in the last months."
"It all boils down to personalities, and in France there are different priorities among politicians, different visions on how it can develop relations with Russia. For a great power such as France is in Europe, its perceptions, on average, are different from those in the Baltic states or Poland. But there are also differences between various political parties in France. That is why we should not regard separate diplomatic moves and efforts by business as a coordinated policy. It is clear that Marine Le Pen and Valéry Giscard d'Éstaing come from different political camps. It is a reflection of the feeling in one of Europe's major nations that it has to send out the right signals."
All in all, there are few, if any, signs of the ice melting. As a matter of fact, most of the "no-go" officials barred from Russia are nationals of Poland (18) and the UK (9), while there is no one from Austria, Greece, Hungary, Ireland, Cyprus and other nations which are taking a softer line and making conciliatory gestures.
Yet, despite a divergence of views within Europe, the EU summits always take a unified stance. It is unlikely that the war of sanctions and counter-sanctions will expire any time soon. As Russian President Vladimir Putin said during a recent meeting with representatives of the Russian business community, they should ready themselves for a prolonged siege.
Moscow will have to console itself with the recent proclamation by eccentric French actor Gerard Depardieu, who last week said he was "ready to die" for Russia, his new homeland – cold comfort, given how far Depardieu's stock has fallen in his native France.
2. Globally speaking
FIFA corruption scandal: fair play or blame game?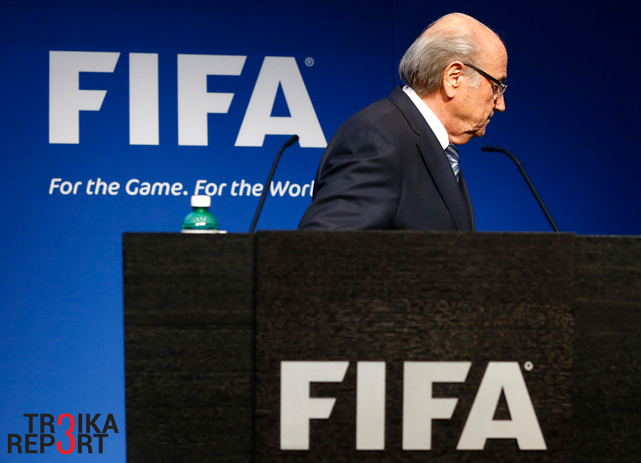 FIFA President Sepp Blatter leaves after his statement during a news conference at the FIFA headquarters in Zurich, June 2, 2015. Source: Reuters
The abrupt departure of FIFA President Sepp Blatter from his post at the head of soccer's global governing body, just four days after being voted in for another term, has sent shockwaves around the world.
While Blatter's resignation was welcomed by politicians and representatives of the soccer world all over Europe and in the Americas, in Russia the dramatic turnaround in the FIFA saga fanned speculation that the charges of corruption against FIFA officials were part of a "plan" aimed at depriving Russia of the privilege of hosting the 2018 World Cup, as well as snatching away the similar rights from 2022 World Cup host Qatar.
Just hours after Blatter's resignation, the U.S. Federal Bureau of Investigation announced that the FIFA head was also a subject of the investigation and not simply a possible witness.
Blatter's fall came amid an unprecedented "name and blame" campaign conducted predominantly in the American and British media, the latter of which had led a long-running campaign against FIFA corruption. For some in Russia this added weight to assumptions that it was no pure coincidence. England was among the nations that lost out to Russia in the bid to host the 2018 World Cup, they argued, while the United States lost the bid for the 2022 World Cup to Qatar. Yet as far as England is concerned at least, the theory doesn't really stack up: Spain and Portugal would have far greater claims to a challenge of the 2018 bidding than England, with their joint bid winning seven votes behind Russia's 13, while England was quickly eliminated in the first round of bidding with just two votes. Furthermore, the conspiracy theory clumsily ignores the distinction between the UK, which has no international soccer team, and England, which is just one of the UK's four international teams.
In any case, it seems the truth will emerge sooner or later: Swiss police have now opened an investigation into the awarding of both tournaments, the bidding processes for both of which are widely seen as being tainted by fraud.
While on the face of it the Russian allegations don't amount to anything more than a conspiracy theory, there is nevertheless an interesting dimension to the case that bears scrutiny. On May 22, 2015, U.S. Republican senators John McCain and Bob Menendez wrote a letter to the FIFA Congress urging delegates not to re-elect Sepp Blatter, ending the letter in a candid manner: "We strongly encourage you to elect a president who will uphold these values and work to deny the Putin regime the privilege of hosting the 2018 World Cup."
Shortly afterwards the U.S. Embassy in Moscow made public a carefully worded statement that the whole affair is "not about Russia," in response to comments from Russian President Vladimir Putin calling the legality of the arrests of FIFA officials into question, though Washington's statement also served to distance the U.S. administration from the letter written by McCain and Menendez.
Originally declared as a drive to root out corruption, in Russian eyes the U.S. investigation of FIFA has swiftly transformed into a political scandal. Many still view it as a smear campaign aimed at dethroning Sepp Blatter as the first step to clearing the way for a revocation of the decision to award the World Cup hosting rights to Russia and Qatar. Is this really a plausible explanation? Alexander Domrin, a professor at Moscow's Higher School of Economics, who has lectured in a number of U.S. universities, expressed his opinion to Troika Report:
"As a lawyer, I need to tell you that from a legal point of view it may be a case of corruption. If some FIFA officials laundered their money through U.S. banks, there are grounds to launch such an investigation. Let me repeat, as a lawyer I am against turning a legal case into a political one. We have no information on what actually happened between the FIFA officials and the U.S. banks. Let them investigate."
—What is it all about then? Is this fair play?
"It is a 'blame game.' We can expect anything from politicians. I am well familiar with the United States, and let me say: whether it is Russian or American politicians, they will drag a legal case into their discussions. Once again, let the U.S. and Switzerland investigate. But nobody would dispute the basic principle: Anyone is innocent unless proven guilty. There is the presumption of innocence."
"Law is more concrete than history or political science. Very often historians and political scientists know the answer long before they start their investigation. We lawyers have to be precise, and that's exactly what I expect from the U.S. investigators and FIFA officials."
There is no denying that it makes sense to separate the search for the truth about the corrupted officials into a legal dossier.
At the same time, it would be wise to keep a close eye on the extraordinary FIFA congress which has been called to find a replacement for Sepp Blatter. Will the rerun of the FIFA presidential elections turn into a highly-politicized game of "horse trading" in smoky back rooms? If last week's election is anything to go by then the next one will be no different, with or without Blatter.
If the new FIFA head comes from the U.S., England or any country under the strong patronage of the two, then the FIFA saga would acquire disturbing political overtones. There would certainly be grounds to suspect that the whole affair is about mixing sports with politics, or to be more correct, with geopolitics. Unlike soccer, in this game both teams would be losers.
3. Going Eastward
Vietnam links up with Eurasian Economic Union

Russian Prime Minister Dmitry Medvedev (right) with his Vietnamese counterpart Nguyen Tan Dung while walking together at the Presidential Palace in Hanoi, April 6, 2015. Source: EPA / Vostock-photo
Amid continuous talk of Russia's failure to make friends and influence the emergence of the "new world order," the new Asian dragon, Vietnam, has chosen to become affiliated to the Moscow-led Eurasian Economic Union, or EEU. This means that the alliance comprised of Belarus, Kazakhstan, Armenia and Russia has entered into its first agreement with a third party, creating the legal basis for a free trade zone covering a market of 276 million customers (176 million in the EEU and 90 million in Vietnam).
A plethora of bilateral agreements already support the ambition of both sides to double turnover to $10 billion by 2020. Actually, it is no big deal since Vietnam's exports are worth $150 billion, with a quarter of all goods earmarked for the U.S. market and half bound for consumers in China and Japan. However, as Vietnam's deputy minister of industry and trade Nguyen Cam Tu emphasized, Hanoi has the intention to increase trade with "fraternal countries," implying Russia.
A visit to Vietnam by Russian Prime Minister Dmitry Medvedev in April saw the signing of a memorandum on cooperation between Russian electricity company Inter Rao Export and Vietnam's North Power Service JSC, on the modernization of power plants in Vietnam. Russia's state nuclear agency Rosatom also has plans to construct Vietnam's first nuclear power plant and set up a center for nuclear science and technology. Russian gas giant Gazprom and the Vietnam Oil and Gas Corporation agreed on the key terms and conditions of the purchase by the Russian energy major of a 49 percent share in Binh Son Refining and Petrochemical Company.
What is the true value of these ambitions to elevate the so far modest bilateral trade and economic cooperation between the two nations? This is the opinion of Dmitry Mosyakov, deputy director of the Institute of Oriental Studies at the Russian Academy of Sciences, pre-recorded by Troika Report:
"The signed agreements form a platform for a huge free trade space. It amounts to a unified common market of 200 million consumers. It opens new opportunities for Vietnam's investments in Russia and nations of the Eurasian Economic Union, and vice versa. What we are witnessing now is the transformation of the inertial mode of partnership development into an accelerated mode. Soon enough it will translate into growth in trade turnover; it will speed up the movement of goods and capital, producing a new economic reality.
"It should be noted that these agreements fall within Russia's declared policy of a 'pivot to Asia.' It will eventually facilitate Russia's restoration of its standing in East Asia and South-East Asia.
"It is not widely known that Vietnam's investments in Russia exceed the capital flow in the other direction. The said agreements will also contribute to the dynamics of the so-called 'zones of advanced development.' These zones represent a cluster of technologically advanced enterprises attracting foreign investors who, in return, receive preferential treatment in terms of tariffs, administrative support, etc."
True enough, the reduction or elimination of import duties for most of the goods traded between the sides offers some benefits. In fact, this is small beer and Moscow clearly has other things in mind, like using Vietnam as a gateway to the Asia-Pacific region and, in particular, to the Association of Southeast Asian Nations trade bloc.
There is another aspect to the agreement: the relative diminishment of the attractiveness of the World Trade Organization in the light of the fact that a new global trade model is now beginning to take precedence. Currently, some 25 percent of the global exchange of goods and commodities is carried out under free trade regimes, but, according to Moscow experts, in matter of 5-6 years this share will rise to 60 percent or even 80 percent.
There is also a political side to the new alliance. In April, Vietnam refused to give in to demands from Washington to prohibit Russia from using the former naval base at Cam Rahn Bay as a support airfield for its strategic bombers, which occasionally patrol the area. The government of Vietnam played it low-key, with no mention at all of the Monsanto "Agent Orange" legacy or its current ambivalent relationship with the U.S. Yet the message was clear.
The link-up of Vietnam with the Eurasian Economic Union comes at a crucial juncture. Some 40 countries have already approached the EEU, which was established only one year ago, with an offer to establish a similar formal bond. Vietnam has broken the ice, and it serves only to boost the credibility of the Russia-led alliance.
The opinion of the writer may not necessarily reflect the position of RBTH or its staff.
All rights reserved by Rossiyskaya Gazeta.