Tony Blair urges the Russian government to reform public sector governance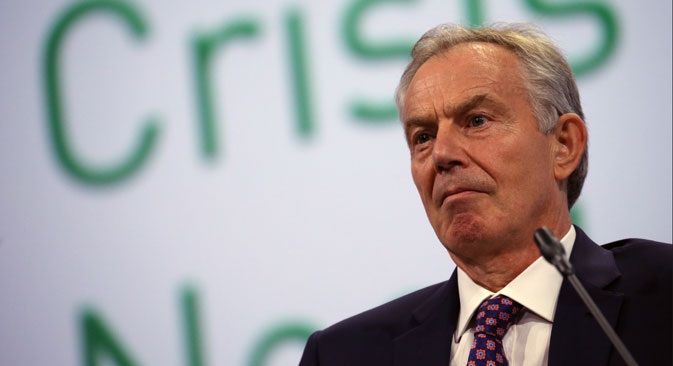 Tony Blair at the St. Petersburg International Economic Forum. Source: Sergey Savostyanov / TASS
Public sector management reform can help ensure Russia's successful future development, former British Prime Minister Tony Blair has told the St. Petersburg International Economic Forum. But past attempts to learn from British experience failed, summit hears.
Reforming the management of Russia's public sector and the delivery of services, can help ensure the country's future success, ex-British premier Tony Blair told the St. Petersburg International Economic Forum, June 18.
"If you look at all the countries, the main challenge for governments is how to make workable solutions," Blair told delegates at the economic summit.
German Gref, head of Russia's biggest bank Sberbank and a former Minister of Economic Development, echoed his sentiments.
"Successful states differ from unsuccessful exclusively in management quality," Gref said. "We know many examples where countries had natural resources and remained poor for centuries. At the same time, there are states with no resources which became rich in a short time."
Malaysia's GDP had jumped by more than 10 percent annually after it reformed its public service management, Gref added. Previously it had significantly lagged behind Singapore.
Reform requisites
"Quality of management is the main source for economic growth in different countries; if the state has the infrastructure and means for reforms, but if there is no way to implement its proposals, then all will be in vain," Dominic Barton, managing director of international management consultants McKinsey told the Forum.
All countries seeking reform should be guided by a standard set of criteria, he suggested.
Firstly, it is necessary to select only a few priorities for development. For example, Malaysia chose seven key aims for it reforms, with the focus on reducing crime; the Colombian government, in contrast, had eight goals.
Monitoring mechanisms should also be used to check the efficiency of reforms, Barton stressed. In Malaysia, the prime minister assesses progress every Monday. A special body should also be set up to carry out the reforms, he added.
Blair said just such a body was set up to improve public sector management in the UK, when he became prime minister; the new agency was called the 'delivery unit'.

"I became prime minister after the Labour Party had been in opposition for 18 years, so I was required to ensure maximum efficiency," Blair said. To achieve this, it is necessary that officials have had experience in the business, and to bring businessmen into government, he added.
Bad experience
Alexei Kudrin, Russia's former finance minister, who now runs a civic organisation, the Committee of Civil Initiatives, said when the Russian government was carrying out management reforms in the 2000s, British experience, among others, was closely studied, but did not lead to any concrete results.
"The concept of long-term development of Russia until 2020, which was developed in 2010, has been implemented in certain areas but only by 15-20 percent," Kudrin said. This suggested the problems were systemic, he added.
Mikhail Abyzov, Development Minister for Open Government (a special department in the Russian cabinet, created to increase its openness), said that implementing reforms in Russia would take several years.
"By some parameters of state efficiency, Russia is lagging behind other countries," he said. The main problem lies in the fact that the state has too many obligations in Russia, he said.
Abyzov, the founder and former head of Russia's largest engineering company E4 Group, whose current personal net worth is estimated by Forbes magazine at $700 million, added that the Russian government had adopted 25,000 documents in 2014, and another government term would be needed to check the quality of the implementation of such a volume of data.
All rights reserved by Rossiyskaya Gazeta.