Russia to respond to sanctions extension by EU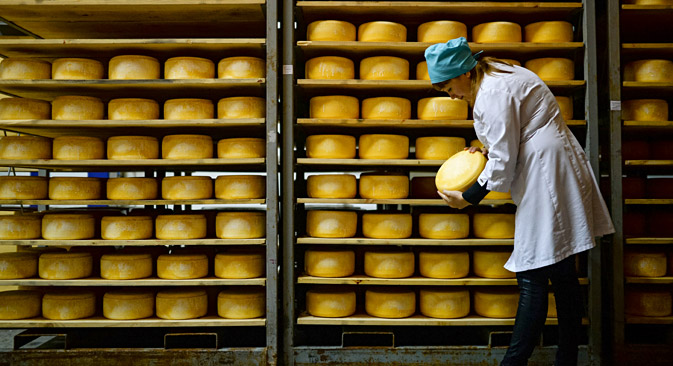 Russia is so far not planning to lift the food embargo it imposed on a number of Western countries in August 2014. Source: Alexander Kryazhev / RIA Novosti
Kremlin will answer European Union's decision with symmetrical response.
The European Union's Official Journal published a legal document on June 23 extending the EU's economic sanctions against Russia until January 31, 2016. Consequently, an appropriate decision adopted by the EU Foreign Affairs Council came into force.
This decision was agreed upon by EU member countries' permanent representatives in Brussels on June 17 and was confirmed at a meeting of the EU Foreign Affairs Council in Luxemburg on June 22.
At the same time, a diplomatic source at the EU told Interfax that this document does not enact the sanctions once again because measures remain in force, but only regularizes the decision to extend them. The document authorizes the decision to prolong these restrictive measures, which concern EU-Russia relations in finances, energy, defense and the trade in dual-purpose products.
Kremlin vows 'prompt' decision on extending food embargo
On June 22 Russian Presidential Press Officer Dmitry Peskov said that Russia regards the EU sanctions as ungrounded and illegal and that Moscow has never initiated sanctions. Russia will respond reciprocally to the European Union's decision to extend anti-Russia sanctions, he told reporters. He also said EU sanctions encroach on the interests of economic actors in Russia, as well as European taxpayers.
"We would like to believe that this is just a coincidence, not a deliberate step," the Russian Foreign Ministry Information and Press Department stated in a commentary posted on the ministry website.
Alexei Pushkov, the head of the State Duma Committee on International Affairs said that this measure had been expected and does not worsen relations between the sides, but does not improve them either.
"We understand that the group of countries that will insist on continuing the sanctions and on virtually severing, or at least minimizing, relations between Russia and the European Union will stay active in the EU," Pushkov added.
Anti-Russian sanctions harm both Russia and EU
The extension of the sanctions against Russia is a harmful decision for both Europe and Russia, says Ivan Melnikov, first deputy speaker of the State Duma and first deputy chairman of the Russian Communist Party.
"The people of Russia are patiently surviving this lengthy attack, but the people of Europe will soon call their governments to task," Melnikov added.
He also believes that "Russia is now playing an indirect, but substantial role in the return of Europe to policies that are independent of the U.S. and good for Europeans."
All rights reserved by Rossiyskaya Gazeta.