Karzai discusses measures to combat ISIS with Putin‏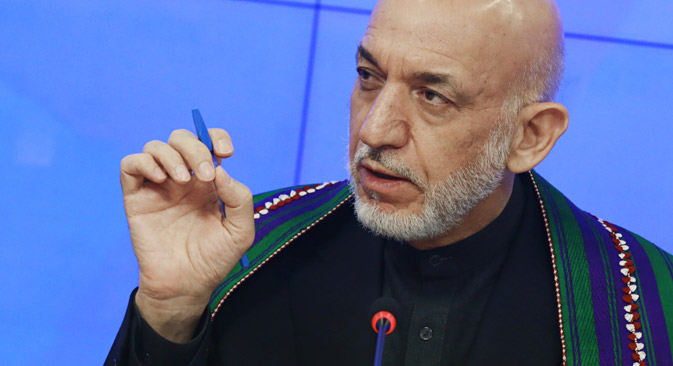 Former Afghan President Hamid Karzai in Moscow. Source: RIA Novosti
The former Afghan President Hamid Karzai said Russia, China and India should work together to combat extremism in Afghanistan. He also called on Washington to enlist Moscow and Beijing's support in battling the Taliban.
Former Afghan President Hamid Karzai said he discussed measures to combat the Islamic State (ISIS) with Russian President Vladimir Putin on June 25. There are several reports of ISIS setting up base in Afghanistan and working with the Taliban. The situation in Afghanistan has a direct effect on Russia and vice versa, Karzai said.
The former Afghan president added that he also met Russian Foreign Minister Sergei Lavrov during his visit to Moscow. Karzai said he proposed combining Russia's and Afghanistan's efforts in combating extremism at his meetings with Putin and Lavrov.
Along with more intensive bilateral interaction between Afghanistan and Russia, it would also be desirable for China and India to be more active in opposing extremism in Afghanistan, Karzai said, adding that these three countries would play a significant role in the region.
Karzai confirmed that President Ashraf Ghani of Afghanistan would visit Russia to attend the upcoming Shanghai Cooperation Organization (SCO) summit in Ufa in July 2015. While visiting Russia, Ghani will meet Putin to promote bilateral relations.
Russia is concerned about the situation in Afghanistan, where the Taliban control a significant part of the country's territory, Putin said at the meeting with Karzai.
SCO summit
Afghan Foreign Minister Salahuddin Rabbani said at a conference in Moscow in early June that his country expected that the SCO member states would continue supporting it and expected that its status in the organization would be changed. Afghanistan currently holds dialogue partner status in the SCO, and would like to become an observer.
The Shanghai Cooperation Organization is an international organization set up in Shanghai in 2001. Its members are China, Kazakhstan, Kyrgyzstan, Russia, Tajikistan, and Uzbekistan.
India and Pakistan are expected to become permanent members of the organization at this year's summit. China has been backing Pakistan's membership, while Russia has called for India's inclusion in the grouping.
U.S. should seek help from China, Russia
Afghanistan is grateful to the United States for its socioeconomic assistance, Karzai said, adding that the war-torn country is not content with the results of American military involvement.
The United States is suffering setbacks in the fight against terrorism in Afghanistan and should ask Russia and China for help, Karzai said.
In an interview with the RT television channel earlier this month, Karzai had hit out at the War on Terror. "The US and its western allies came to Afghanistan to wage war against terrorism, and to bring by that security to Afghanistan, to the region and also to their own countries," he said.
"And this war has now been going on for 13-14 years, without the results that we all expected. Unfortunately, the Afghans suffered heavily in this war on terror, and terrorism and extremism rather than being defeated, or reduced, or eliminated, is steadily and widely on the rise."
He added that that there is more radicalism in the world today than ever before. "We have more extremism than we ever had before. We have more terroristic activity than we ever had before. From Libya, all the way to Pakistan, India and China, and also Russia sees the consequences of that."
Karzai said the U.S. leaders "should explain to the world whether they have failed in the war on terror, or if the war on terror has gone out of hand."
Information from an Interfax report was used in this article.
All rights reserved by Rossiyskaya Gazeta.